SPACE
Dec 7, 2016
India's Mars Orbiter Mission Has a Methane Problem
The methane-detecting instrument aboard the ISRO MOM spacecraft has been re-purposed after NASA scientists uncovered a design flaw.
BY IRENE KLOTZ
ISRO
More than two years after its pioneering Mars Orbiter Mission (MOM) reached the red planet, the Indian Space Research Organization has yet to release highly anticipated measurements of atmospheric methane, a gas which on Earth is strongly tied to life.
Seeker has learned that the data will never come, due to a flaw in the sensor design.
"They did not design this properly for the detection of methane on Mars," Michael Mumma, senior scientist at NASA's Goddard Space Flight Center, told Seeker.
In 2003, Mumma led a team that made the first definitive measurements of methane on Mars using an infrared telescope in Hawaii. The methane, which appeared in plumes over specific regions of Mars, reached a maximum density of about 60 parts per billion.
"The (MOM) instrument is beautifully engineered, but not for the methane task. It has other value, but unfortunately they will not be able to provide measurements of methane at the levels needed to sample even the plumes we saw," Mumma said.
RELATED: Indian Mars Mission Beams Back First Photographs
The problem has to do with how the instrument collects and processes detections of methane in the atmosphere, a technique known as spectroscopy.
"Imagine that you hold your hand in front of you and extend your four fingers … Suppose that each (finger) represents a methane line. What they have is a spectrometer that can be shifted to … sample each one of the four fingers and then they have a second one that samples the region between the fingers.
"The trouble is they don't actually send back the spectra. What they send back is the two numbers — the sum of the fingers measured by the first channel and the sum of gaps measured by the second channel — and then they take a difference of those two numbers and they think that that's going to be the methane signal," Mumma said.
"The problem, of course, is that when you have other spectral lines … like carbon dioxide lines which vary widely with temperature in terms of their intensity, then those two numbers … don't represent methane alone. The net effect is that there is no way that one can back out those two signals in order to retrieve a methane signal," he said.
"It's really unfortunate because they succeeded so spectacularly well in placing the spacecraft into orbit at all, which was the major achievement for the first try," he added. "But the reality is we won't seeing any detections of methane from the Mars methane sensor on MOM."
RELATED: Dusty Days: India Mission Photographs Stormy Mars Globe
Mumma and colleague Geronimo Villanueva, also at Goddard, analyzed the MOM methane instrument design as part of NASA's widening partnership with ISRO.
Their findings were presented to the Indian space agency ISRO in February.
"I believe the resolution is that the Indians now agree that their methane sensor is better used for other purposes, so they are now calling this an albedo mapper and measuring reflected sunlight. It does that, and it does that well," Mumma said.
"The engineers know how to build a good instrument. That's not the issue. The problem is they didn't have the scientific guidance needed to tell them exactly what they needed to do," he said.
Seetha Somasundaram, with ISRO's Satellite Center which designed the instrument, declined to comment and referred Seeker to ISRO spokesman Deviprasad Karnik. Karnik did not responded to requests for comment.
Mumma and other scientists are now pinning their hopes on getting Mars methane measurements from Europe's newly arrived Trace Gas Orbiter.
Update (): ISRO spokesman Deviprasad Karnik emailed the following statement to Seeker: "The Methane sensor onboard MOM has been sending data about atmospheric Methane of planet MARS and the data received is under analysis." Karnik did not address questions about scientists' ability to ferret out methane signals from the data.
India and US join for space science
In a meeting Tuesday in Toronto, NASA Administrator Charles Bolden and K. Radhakrishnan, chairman of the Indian Space Research Organisation (ISRO), signed two documents to launch a NASA-ISRO satellite mission to observe Earth and establish a pathway for future joint missions to explore Mars.
While attending the International Astronautical Congress, the two space agency leaders met to discuss and sign a charter that establishes a NASA-ISRO Mars Working Group to investigate enhanced cooperation between the two countries in Mars exploration. They also signed an international agreement that defines how the two agencies will work together on the NASA-ISRO Synthetic Aperture Radar (NISAR) mission, targeted to launch in 2020. NASA's contribution to NISAR is being managed and implemented by the agency's Jet Propulsion Laboratory in Pasadena, California.
"The signing of these two documents reflects the strong commitment NASA and ISRO have to advancing science and improving life on Earth," said NASA Administrator Charles Bolden. "This partnership will yield tangible benefits to both our countries and the world."
The joint Mars Working Group will seek to identify and implement scientific, programmatic and technological goals that NASA and ISRO have in common regarding Mars exploration. The group will meet once a year to plan cooperative activities, including potential NASA-ISRO cooperation on future missions to Mars.
Both agencies have newly arrived spacecraft in Mars orbit. NASA's Mars Atmosphere and Volatile EvolutioN (MAVEN) spacecraft arrived at Mars Sept. 21. MAVEN is the first spacecraft dedicated to exploring the tenuous upper atmosphere of Mars. ISRO's Mars Orbiter Mission (MOM), India's first spacecraft launched to Mars, arrived Sept. 23 to study the Martian surface and atmosphere and demonstrate technologies needed for interplanetary missions.
One of the working group's objectives will be to explore potential coordinated observations and science analysis between MAVEN and MOM, as well as other current and future Mars missions.
"NASA and Indian scientists have a long history of collaboration in space science," said John Grunsfeld, NASA associate administrator for science. "These new agreements between NASA and ISRO in Earth science and Mars exploration will significantly strengthen our ties and the science that we will be able to produce as a result."
The joint NISAR Earth-observing mission will make global measurements of the causes and consequences of land surface changes. Potential areas of research include ecosystem disturbances, ice sheet collapse and natural hazards. The NISAR mission is optimized to measure subtle changes of Earth's surface associated with motions of the crust and ice surfaces. NISAR will improve our understanding of key impacts of climate change and advance our knowledge of natural hazards.
NISAR will be the first satellite mission to use two different radar frequencies (L-band and S-band) to measure changes in our planet's surface less than a centimeter across. This allows the mission to observe a wide range of changes, from the flow rates of glaciers and ice sheets to the dynamics of earthquakes and volcanoes.
Under the terms of the new agreement, NASA will provide the mission's L-band synthetic aperture radar (SAR), a high-rate communication subsystem for science data, GPS receivers, a solid state recorder, and a payload data subsystem. ISRO will provide the spacecraft bus, an S-band SAR, and the launch vehicle and associated launch services.
NASA had been studying concepts for a SAR mission in response to the National Academy of Science's decadal survey of the agency's Earth science program in 2007. The agency developed a partnership with ISRO that led to this joint mission. The partnership with India has been key to enabling many of the mission's science objectives.
NASA and ISRO have been cooperating under the terms of a framework agreement signed in 2008. This cooperation includes a variety of activities in space sciences such as two NASA payloads -- the Mini-Synthetic Aperture Radar (Mini-SAR) and the Moon Mineralogy Mapper -- on ISRO's Chandrayaan-1 mission to the moon in 2008. During the operational phase of this mission, the Mini-SAR instrument detected ice deposits near the moon's northern pole.
JPL has participated in providing navigation and communication support for ISRO's MOM. JPL provides navigation and Deep Space Network support for MAVEN, as well as Electra telecommunications relay hardware and operations. JPL, a division of the California Institute of Technology in Pasadena, manages the Mars Exploration Program for NASA.
For more information on NASA's Mars exploration program, visit:
http://www.nasa.gov/mars
For more information on the NISAR mission, visit:
http://nisar.jpl.nasa.gov
September 24, 2014
Mars satellite MOM makes India proud!
By Victor Mallet in New Delhi
India placed a satellite in orbit around Mars on Wednesday, confirming its place as a cost-effective explorer of outer space and becoming only the fourth nation to succeed in a scientific mission to the red planet.
"India has successfully reached Mars," a proud Narendra Modi, prime minister, told cheering scientists at the mission control centre of the Indian Space Research Organisation (Isro) in Bangalore.
"History has been created today," he said, sporting a red waistcoat for the occasion and speaking partly in English to reach an international audience. "We have dared to reach out into the unknown and have achieved the near impossible. I congratulate all Isro scientists as well as all my fellow Indians on this historic occasion."
The satellite – called Mangalyaan, or "Mars craft" – was launched from India in November last year and travelled for more than nine months to reach its destination.
By global standards, India's first interplanetary mission is extraordinarily cheap, with a budget of just $72m – as Mr Modi has boasted, that is less than the $100m cost of making the film Gravity, starring Sandra Bullock and George Clooney.
The satellite's primary purpose is to test Indian technology in deep space communication and navigation with the help of Nasa of the US, but it will also examine the Mars atmosphere for methane and study the planet's surface. The satellite's five scientific payloads weight only 15kg in total.
Nasa's Mars Atmosphere and Volatile Evolution (Maven) craft was also successfully placed in orbit earlier this week on its $671m mission to study how the solar wind strips the planet of its atmosphere. Nasa has three satellites orbiting Mars and two rovers on the surface, while Europe has one orbiter.
FT Video
November 2013: Ajey Lele, a research fellow at the Institute for Defence Studies and Analysis, explains what India is hoping to achieve by sending a rocket to Mars.
With radio signals taking 12 minutes to travel the 100m kms between Mars and Earth and the satellite passing behind the planet, Isro scientists had waited nervously on Wednesday morning to discover if their instructions to ignite the main engine – slowing the Indian craft and placing it in orbit around the planet – had been fulfilled.
When Mangalyaan was launched, some Indian critics said the money would be better spent on healthcare and education in one of the world's poorest countries, while others argued that Isro should invest in improving its rockets to allow India to compete more effectively in the business of launching earth satellites.
But the success of the mission so far has silenced most of the naysayers and stoked national pride. "Mangalyaan starts Mars orbit, India succeeds where China, Japan fail" said one early headline on the Firstpost news website.
ISRO's Mars Orbiter just 10 days away from destination!
Posted by: Anisha Nair Updated: Sunday, September 14, 2014, [IST] Use
Chennai, Sep 14: Now this is one news the entire country has been following keenly since a year. ISRO's inception of Mars mission 'Mangalyaan' has completed 95% of its journey and is just 10 more days away from the red planet.
ISRO scientists said that all is well with the Mars Orbiter and it is heading towards Mars at blazing fast speed. The spaceship is just about four million kilometers away from its destination.
ISRO scientists have done a commendable job of not just successfully firing the Mars orbiter, rather they have also been able to successfully monitor and raise its limits. The entire project has been carried out without much outside assistance. ISRO officials said that the orbiter is successfully sending signals from a distance of 211 million km after covering 95% of its journey.
In a latest tweet ISRO while clearing every doubt said, "MOM keeps sending us vital information about the health of its various modules and measurements from sensors. This is called Telemetry signal.
Today's telemetry confirms that MOM is in the pink of health. MOM uses 2.2 m High Gain Antenna to send us signals from the present distance of 211 million kilometer". The Mars orbiter took off around 11 months ago and it is now on verge of finishing its hundreds of millions mile long journey.
Read more at: http://news.oneindia.in/india/isro-s-mars-orbiter-just-10-days-away-from-destination-1521677.html
India's MOM is Half Way To Mars
Chennai: Cruising towards a historic feat, the Indian space mission to Mars crossed half the total distance to the red planet from Earth and was very much along the designated helio-centric trajectory.
At exactly 09.50 am (IST), the Mars Orbiter Mission spacecraft crossed the mid-point of its path to Mars, thereby has travelled 337.5 million km in its elliptical orbit around the sun, ISRO sources said. It took four minutes and 15 seconds for a message to reach the spacecraft and return, they said. Incidentally, the spacecraft is crossing half the total distance on its way to Mars, a day after Earth was at its closest to the red planet, in their respective orbits.
India's Mars Orbiter has reached halfway mark. AP The mission was very much in track and it was evident with the fact that the second Trajectory Correction Manouvre (TCM) planned on the spacecraft has now been considered not necessary and is expected to be performed only in June, scientists said. ISRO has been continuously monitoring the spacecraft using its Deep Space Network complemented by that of Jet Propulsion Laboratory of the NASA and the five scientific instruments onboard the craft were "in good health."
Periodic tests were also being done on the different levels of autonomy built into the spacecraft for managing contingencies. "Soon, the High Gain Antenna of the spacecraft will be put in service for handling communications with the ground stations," an ISRO statement said. Of the four TCMs planned on the spacecraft, the first was performed on December 10 last year and the remaining are scheduled in June, August and September, respectively. India's maiden mission to Mars was successfully launched on board PSLV C 25 from Satish Dhawan Space Centre at Sriharikota spaceport, some 100 km from here, on 5 November last year.
The Rs 450-crore mission intends to explore the presence of Methane in the Red Planet with the help of five scientific instruments on board the spacecraft. Of the total 51 missions undertaken to Mars (excluding MOM), only 21 have been successful. If all goes well and the satellite orbits around Mars, India's national space agency ISRO would be the fourth after agencies in US, Russia and Europe to have undertaken a successful mission to the red planet. Attempts by China and Japan to send missions to Mars have failed.
Read more at:
http://www.firstpost.com/india/indias-mars-bound-orbiter-mission-crosses-half-way-mark-1474165.html?utm_source=ref_article
India's Mars Orbiter Spacecraft Completes 100 Days in Space
Posted by Keith Cowing - Source: ISRO Posted February 14, 2014 AM0
Mars Orbiter Spacecraft, India's first interplanetary probe, was launched by PSLV-C25 at 1438 hours
on November 5, 2013 from Satish Dhawan Space Centre, Sriharikota.
In its voyage towards Mars, the mission successfully completes 100 days in space ton February
12, 2014.
Subsequent to six orbit raising manoeuvres around the Earth following the launch, the Trans Mars
Injection (TMI) Manoeuvre on December 01, 2013 gave necessary thrust to the spacecraft to escape
from Earth and to initiate the journey towards Mars, in a helio-centric Orbit. This journey, of course,
is long wherein the spacecraft has to travel 680 million km out of which a travel of 190 million km is
completed so far.
The First Trajectory Correction Manoeuvre (TCM) was conducted on December 11, 2013.
The trajectory of the spacecraft, till today, is as expected. Three more TCM operations are
planned around April 2014, August 2014 and September 2014.
The spacecraft health is normal. The spacecraft is continuously monitored by the ground
station of ISRO Telemetry, Tracking and Command Network (ISTRAC), located at Byalalu,
near Bangalore. Except for a 40 minute break in the Telemetry data received from the
spacecraft to the ground station, data has been continuously available for all the 100 days.
The propulsion system of the spacecraft is configured for TCMs and the Mars Orbit Insertion
(MOI) Operation. On February 6, 2014, all the five payloads on Mars Orbiter spacecraft were
switched 'ON' to check their health.
The health parameters of all the payloads are normal. Presently, the spacecraft is at a radio
distance of 16 million km causing a one way communication delay of approximately 55 seconds.
After travelling the remaining distance of about 490 million km over the next 210 days, the
spacecraft would be inserted into the Martian Orbit on September 24, 2014
Sun Orbit Next Stop for India's MOM
On November 5, India had a successful launch of its Mars Orbiter. Since that time, the Orbiter has been a tad misnamed – it's actually been orbiting the Earth, using a series of timed rocket bursts and the assistance of Earth's gravity to build up the speed it needs to get to Mars. Today, India's space program has confirmed that the Mars Orbiter has left Earth's orbit and is now on a trajectory that will take it to the Red Planet after a 10 month journey.
At about 12:49am local India time on December 1 ( November 30), scientists at the India Space Research Organization (ISRO) sent commands to the Mars Orbiter to fire its rockets for 22 minutes. That caused the spacecraft to significantly increase its speed and begin its long trip.
"Following the completion of this manoeuvre, the Earth orbiting phase of the spacecraft ended," the organization said in a statement. "The spacecraft is now on a course to encounter Mars after a journey of about 10 months around the Sun."
NASA's Deep Space Network is providing ISRO with communications support for the probe, which has several different instruments to assist it in its mission to study Martian features, including a methane detector, a mass spectrometer, and different types of cameras.
Mars probe enters final orbit around the Earth
Viewd by: 157
Not rated yet
Scientists and engineers of the Indian Space Research Organisation (ISRO) monitor the Mars Orbiter Mission (MOM) at the ISTRAC (ISRO Telemetry, Tracking and Command Network) tracking centre in Bangalore yesterday.
India's Mars Orbiter entered the final orbit around Earth early yesterday to prepare for its injection into the Red Planet's orbit on December 1.
The voyage to Mars will take nine months (280 days).
"The Orbiter has passed its penultimate perigee (closest to equator) and its final orbit around Earth began at 7.10am. It will spin around the Earth over the next four days to leave for Mars early Sunday at 00.49am, a senior official of the state-run Indian Space Research Organisation (ISRO) said.
The 1,337kg Orbiter has already completed the six orbit raising manoeuvres between November 7 and 16, and crossed an apogee (farthest from equator) of 192,915km.
"To put into the trans-Mars injection, the 440 Newton liquid engine will be fired for around 23 minutes to give incremental velocity (speed) of 648m per second to the Orbiter with a fuel consumption of 190kg," ISRO scientific secretary V Koteshwara Rao told reporters at the space agency's telemetry, tracking and command network (Istrac) in Bangalore where the Orbiter's geo-centric phase is being operated.
All going well, the Orbiter will be slung into the heliocentric (sun) orbit towards Mars for a 680mn mile interplanetary voyage.
"The slingshot for the trans-injection will be a complex combination of navigation and propulsion technologies, governed by the gravity of sun and Mars. The Orbiter's trajectory will be achieved using the orbit control thrusters during the correction manoeuvres planned en route," Rao said at a briefing on the Rs4.5bn mission's next phase.
The Orbiter was launched on November 5 from Sriharikota spaceport off the Bay of Bengal, about 80km northeast of Chennai, onboard a 350-tonne rocket - an extended version of the space agency's workhorse - the polar satellite launch vehicle (PSLV-C25) with five scientific experiments to detect methane in the Martian atmosphere, measure thermal emission and capture images of the red planet from its orbit at a distance of 500km.
As the fourth planet from the sun, and behind Earth, Mars is the second smallest celestial body in the solar system. Named after the Roman god of war, it is also known as the Red Planet due to the presence of iron oxide in abundance, giving it a reddish appearance.
Though Earth and Mars have equal period of revolution around their axes, the Red Planet takes 24 hours and 37 minutes to complete a revolution.
The Earth takes around 365 days to orbit the sun and Mars 687 days.
"The spacecraft (Orbiter) will be injected into the outer space in a trajectory by precisely computing 280 days in advance the position it would achieve near Mars on September 14, 2014, which will be 500km above its surface at that time," Rao said.
Mars Orbiter Mission passes by penultimate perigee
Will walk around Earth for the last time over the next 4 days
The Indian Space Research Organisation (Isro) today said the Mars Orbiter Mission (MOM) has just passed by its penultimate perigee.
This means that MOM will walk around the Earth one last time- in its last orbit over the next four days and leave for Mars on Saturday night.
The spacecraft has been in Earth-bound orbits with different apogees since its launch on November 5.
On 1 December, the Trans-Mars Injection will take place at hrs. This will be achieved by a complex combination of navigation and propulsion technologies, governed by the gravity of Sun and Mars, and assisted by the 440 N Liquid engine. Further fine tuning of the trajectory will be done using the Attitude and Orbit Control Thrusters during the Trajectory Correction manoeuvers planned en route.
The December 1 operation would impart a specific velocity to the spacecraft so in September the spacecraft reaches close to Mars (500 km, +/-50).
"The crux of the success of the operation on December 1 is we should be able to estimate precisely the velocity, and the time we need to impart the velocity to the spacecraft so it takes that position. In that, the computation of the spacecraft navigation is important: How it passes from the sphere of influence of the Earth and enters a heliocentric orbit," said Chairman K Radhakrishnan.
On September 24, Isro would have to reduce the velocity. "If we are able to reduce the velocity precisely at that point, we will get the orbit and, finally, the instruments will be operated."
Mars Craft Beams Back First Image
The severe cyclonic storm Helen, hurtling towards Andhra Pradesh coast, was captured by India's Mars Orbiter, the first image the craft beamed back to Earth.
Mangalyaan's first set of pictures of Earth also captured the Indian subcontinent and parts of Africa, ISRO said Thursday. The storm, captured on Tuesday, made landfall in Andhra Pradesh Friday afternoon.
"We are checking the equipment on board the spacecraft. This picture is from Mars Color Camera, fitted on Mars Orbiter spacecraft taken on Tuesday at from over 67,975 km. altitude with a resolution of 3.53 km.," ISRO sources told PTI.
Asked whether the picture was planned since the mission is to Mars, the sources said this was part of checking the equipment on board the spacecraft. Though the national space agency has received more than one picture, it released only one on its official website.
Earlier, the Indian Space Research Organization performed all five orbit-raising maneuvers planned on the Mars Orbiter and raised the apogee of the spacecraft to over 192,000 km.
After the successful completion of these operations, the Mars Orbiter mission is expected to take on the "crucial event" of the trans-Mars injection around on December 1. The craft will reach the red planet's orbit by September 24, 2014.

Read more at http://www.indiawest.com/news/15191-mars-craft-beams-back-first-image.html#up80PcT8IumdhtFd.99
Mars orbiter takes giant leap on its way to Red Planet
Srinivas Laxman, TNN | Nov 17, 2013, 04.59 AM IST
READ MORE Red Planet|Mars Orbiter|Mars Orbiter Mission
MUMBAI: The Rs 450-crore Mars Orbiter Mission (MOM) took a giant leap early on Saturday when its apogee—the furthest point from the earth—was raised by about 1 lakh km, the biggest since it was launched on November 5.

Isro said it was the fifth and the final orbit-raising exercise of the spacecraft before it begins its much-awaited 300-day journey to the Red Planetat on December 1. It is expected to reach Mars on September 24, 2014.

An Isro official present at the space agency's telemetry, tracking and command network in Bangalore told TOI that all the sequences relating to the orbit-raising exercise were pre-loaded into the on-board computer of the spacecraft and were executed flawlessly.

The official said that in the next two weeks the spacecraft will gain velocity as it orbits the earth. "During this period, we will also be making preparations for the orbiter to begin its flight towards Mars and simultaneously test some of the payloads," he said.
Mars orbiter takes giant leap on its way to Red Planet
Srinivas Laxman, TNN | Nov 17, 2013, 04.59 AM IST
MUMBAI: The Rs 450-crore Mars Orbiter Mission (MOM) took a giant leap early on Saturday when its apogee—the furthest point from the earth—was raised by about 1 lakh km, the biggest since it was launched on November 5.
Isro said it was the fifth and the final orbit-raising exercise of the spacecraft before it begins its much-awaited 300-day journey to the Red Planetat 12.42am on December 1. It is expected to reach Mars on September 24, 2014.
An Isro official present at the space agency's telemetry, tracking and command network in Bangalore told TOI that all the sequences relating to the orbit-raising exercise were pre-loaded into the on-board computer of the spacecraft and were executed flawlessly.
The official said that in the next two weeks the spacecraft will gain velocity as it orbits the earth. "During this period, we will also be making preparations for the orbiter to begin its flight towards Mars and simultaneously test some of the payloads," he said.
Mars orbiter takes giant leap on its way to Red Planet
Nov 17, 2013
, 04.59 AM
IST
MUMBAI: The Rs 450-crore Mars Orbiter Mission (MOM) took a giant leap early on Saturday when its apogee—the furthest point from the earth—was raised by about 1 lakh km, the biggest since it was launched on November 5.
Isro said it was the fifth and the final orbit-raising exercise of the spacecraft before it begins its much-awaited 300-day journey to the Red Planetat
12.42am
on December 1. It is expected to reach Mars on
September 24, 2014
.

An Isro official present at the space agency's telemetry, tracking and command network in Bangalore
told TOI that all the sequences relating to the orbit-raising exercise were pre-loaded into the on-board computer of the spacecraft and were executed flawlessly.

The official said that in the next two weeks the spacecraft will gain velocity as it orbits the earth. "During this period, we will also be making preparations for the orbiter to begin its flight towards Mars and simultaneously test some of the payloads," he said.
Mars orbiter takes giant leap on its way to Red Planet
Srinivas Laxman, TNN | Nov 17, 2013, 04.59 AM IST
READ MORE Red Planet|Mars Orbiter|Mars Orbiter Mission
MUMBAI: The Rs 450-crore Mars Orbiter Mission (MOM) took a giant leap early on Saturday when its apogee—the furthest point from the earth—was raised by about 1 lakh km, the biggest since it was launched on November 5.

Isro said it was the fifth and the final orbit-raising exercise of the spacecraft before it begins its much-awaited 300-day journey to the Red Planetat on December 1. It is expected to reach Mars on September 24, 2014.

An Isro official present at the space agency's telemetry, tracking and command network in Bangalore told TOI that all the sequences relating to the orbit-raising exercise were pre-loaded into the on-board computer of the spacecraft and were executed flawlessly.

The official said that in the next two weeks the spacecraft will gain velocity as it orbits the earth. "During this period, we will also be making preparations for the orbiter to begin its flight towards Mars and simultaneously test some of the payloads," he said.
Mars orbiter takes giant leap on its way to Red Planet
Srinivas Laxman, TNN | Nov 17, 2013, 04.59 AM IST
READ MORE Red Planet|Mars Orbiter|Mars Orbiter Mission
MUMBAI: The Rs 450-crore Mars Orbiter Mission (MOM) took a giant leap early on Saturday when its apogee—the furthest point from the earth—was raised by about 1 lakh km, the biggest since it was launched on November 5.

Isro said it was the fifth and the final orbit-raising exercise of the spacecraft before it begins its much-awaited 300-day journey to the Red Planetat on December 1. It is expected to reach Mars on September 24, 2014.

An Isro official present at the space agency's telemetry, tracking and command network in Bangalore told TOI that all the sequences relating to the orbit-raising exercise were pre-loaded into the on-board computer of the spacecraft and were executed flawlessly.

The official said that in the next two weeks the spacecraft will gain velocity as it orbits the earth. "During this period, we will also be making preparations for the orbiter to begin its flight towards Mars and simultaneously test some of the payloads," he said.
Mars orbiter takes giant leap on its way to Red Planet
Srinivas Laxman, TNN | Nov 17, 2013, 04.59 AM IST
READ MORE Red Planet|Mars Orbiter|Mars Orbiter Mission
MUMBAI: The Rs 450-crore Mars Orbiter Mission (MOM) took a giant leap early on Saturday when its apogee—the furthest point from the earth—was raised by about 1 lakh km, the biggest since it was launched on November 5.

Isro said it was the fifth and the final orbit-raising exercise of the spacecraft before it begins its much-awaited 300-day journey to the Red Planetat on December 1. It is expected to reach Mars on September 24, 2014.

An Isro official present at the space agency's telemetry, tracking and command network in Bangalore told TOI that all the sequences relating to the orbit-raising exercise were pre-loaded into the on-board computer of the spacecraft and were executed flawlessly.

The official said that in the next two weeks the spacecraft will gain velocity as it orbits the earth. "During this period, we will also be making preparations for the orbiter to begin its flight towards Mars and simultaneously test some of the payloads," he said.
Mars orbiter takes giant leap on its way to Red Planet
Srinivas Laxman, TNN | Nov 17, 2013, 04.59 AM IST
READ MORE Red Planet|Mars Orbiter|Mars Orbiter Mission
MUMBAI: The Rs 450-crore Mars Orbiter Mission (MOM) took a giant leap early on Saturday when its apogee—the furthest point from the earth—was raised by about 1 lakh km, the biggest since it was launched on November 5.

Isro said it was the fifth and the final orbit-raising exercise of the spacecraft before it begins its much-awaited 300-day journey to the Red Planetat on December 1. It is expected to reach Mars on September 24, 2014.

An Isro official present at the space agency's telemetry, tracking and command network in Bangalore told TOI that all the sequences relating to the orbit-raising exercise were pre-loaded into the on-board computer of the spacecraft and were executed flawlessly.

The official said that in the next two weeks the spacecraft will gain velocity as it orbits the earth. "During this period, we will also be making preparations for the orbiter to begin its flight towards Mars and simultaneously test some of the payloads," he said.
Mars orbiter takes giant leap on its way to Red Planet
Srinivas Laxman, TNN | Nov 17, 2013, 04.59 AM IST
READ MORE Red Planet|Mars Orbiter|Mars Orbiter Mission
MUMBAI: The Rs 450-crore Mars Orbiter Mission (MOM) took a giant leap early on Saturday when its apogee—the furthest point from the earth—was raised by about 1 lakh km, the biggest since it was launched on November 5.

Isro said it was the fifth and the final orbit-raising exercise of the spacecraft before it begins its much-awaited 300-day journey to the Red Planetat on December 1. It is expected to reach Mars on September 24, 2014.

An Isro official present at the space agency's telemetry, tracking and command network in Bangalore told TOI that all the sequences relating to the orbit-raising exercise were pre-loaded into the on-board computer of the spacecraft and were executed flawlessly.

The official said that in the next two weeks the spacecraft will gain velocity as it orbits the earth. "During this period, we will also be making preparations for the orbiter to begin its flight towards Mars and simultaneously test some of the payloads," he said.
Indian Mars mission facing engine issues
By Paul Rincon Science editor, BBC News website
Continue reading the main story


Equipment riding on MOM


Lyman Alpha Photomoter (LAP): Measures amount of hydrogen and deuterium which will help scientists understand the loss of water from Mars
Mars Exospheric Neutral Composition Analyser (MENCA): Studies the neutral composition of the upper atmosphere
Mars colour camera: Takes images of the surface of Mars and its satellites Phobos and Deimos
Thermal Infrared Imaging Spectrometer: Measures thermal emissions and helps map surface composition and minerals
India's mission to Mars has hit a snag, after a planned engine burn failed to raise the spacecraft's orbit around Earth by the intended amount.
The problem occurred during a manoeuvre designed to boost the craft's maximum distance from 71,623km to 100,000km.
A problem with the liquid fuel thruster caused the 1,350kg vehicle to fall short of the mark.
But the head of the Indian Space Research Organisation (Isro) said the spacecraft remained "healthy".
As a solution, the Mars Orbiter Mission (MOM) - known informally as Mangalyaan, or Mars-craft - will be commanded to execute an additional thruster firing at IST on Tuesday ( on Monday) to make up for the shortfall.
Instead of flying directly to Mars, the probe is scheduled to orbit Earth until the end of the month, building up the necessary velocity to break free from our planet's gravitational pull.
This was the fourth in a series of five engine burns known as " manoeuvres" because several constraints require that they are carried out in the early hours of the morning.
Speaking to Pallava Bagla, science editor at Indian broadcasting network NDTV, Isro's chairman K Radhakrishnan said: "The space craft is healthy and it encountered a problem when a specific redundancy test was being conducted and it failed to reach the desired velocity it was to achieve."
This failure to reach the intended velocity raised the spacecraft's apogee (the point in its orbit farthest away from Earth) from 71,623km to just 78,276km - about 25% of the way to the target of 100,000km.
Mr Bagla told BBC News that the attempt on Monday morning used up about 2kg of the craft's 852kg fuel load.
But Mr Bagla added that the spacecraft's insertion into Earth orbit after launch on 5 November had been so precise, 6kg of liquid fuel had been saved. Even with Monday's glitch, the mission still had a fuel surplus of 4kg.
Nevertheless, Mr Radhakrishnan said that a failure analysis committee would examine why the problem occurred.
The BBC's Sanjoy Majumder reports from inside the Satish Dhawan Space Centre
If the additional firing on Tuesday can successfully bridge the gap, a final manoeuvre on 16 November will boost the apogee to 192,000km.
On 1 December, the engine will be fired again for its "trans-Martian injection", despatching the craft on a 300-day journey to Mars.
On 24 September next year, the engine will be fired again to slow down the spacecraft, enabling it to be captured by Mars' gravity and placed into orbit.
India's PSLV rocket - the second choice for the mission after a beefier launcher failed - was not powerful enough to send the MOM on a direct flight to Mars.
So engineers opted for a method of travel called a Hohmann Transfer Orbit to propel the spacecraft from Earth to Mars with the least amount of fuel possible.
At a cost of about $72m (£45m), the MOM is extremely cheap by the standards of planetary missions.
Guest opinion:
You tell 'em Balaji!
India's Mars mission, poverty and closet racism
---
---
India has now successfully launched its mission to Mars. The mission was achieved at an extraordinary low price tag of Rs 450 crore ($74 million) – 1/10 of what a similar mission would cost NASA or ESA. If this successfully reaches Mars, India will be the first country to have the Mars mission succeed on the first try.
The Provocation
Just as quickly as the rocket sped off, the Western journalists who marvelled at the moon walk in their childhood started engaging Indians in an unnecessary provocation. These are not coming from cheap tabloids, but reputed media houses. It is not the criticism that rankles, but how crudely they are hitting below the belt.
This author chose to include poverty right in the headline: India Mars Mission to Launch Amidst Overwhelming Poverty
What a refreshing headline! Not even poverty. It has to be "overwhelming poverty". Who are we to launch into space? Should we not ask our British colonial masters before doing anything?
Apparently the other countries engaging in scientific research face no poverty. Apparently, space has something to do with poverty. Apparently, it is between funding ISRO and solving poverty. You cannot do both. No sir, no. Next time, when you write about something that Britain did well, sure to remember to randomly incorporate the poverty of Birmingham and the riots of London into the title.
"England wins 10 Olympic golds amidst all the poverty"

"NASA begins its moon mission despite failing to manage hurricane relief"

"European Space Agency launches a satellite despite the inability to control religious riots in Paris and Tottenham, London"
This CNN author didn't even pretend to hide the racist idea:
Is India's Mars mission the latest escalation in Asia's space race?
For a country like Australia, the space aspirations are extremely pragmatically driven. On the other hand, a country like Malaysia is intent on putting astronauts in space — that's very prestige-oriented.
Apparently, brown people's ambitions to reach space is not pragmatic enough. Apparently, the $75 million spent on the Mars mission is the only thing that keeps us from building toilets.
This gentleman at Guardian makes a thinly-veiled threat:
ISRO to launch India's first spacecraft to Mars
Critics of Britain's aid programme in the country have also been angered by the mission. The UK gives India around £300m each year.
Britain threatens to pull its aid. This is ghastly. What would India do without all these do-gooder British aid? The Indian economy of £1 trillion was badly depending on these £300 million that come with no strings attached. We are an ungrateful bunch, aren't we? We are supposed to surrender our national priorities and research work and listen to our ex-colonial masters for a paltry £300 million.
This Economist article is more subtle and even more racist:
How can poor countries afford space programmes?
What if the 16,000 scientists and engineers now working on space development were deployed instead to fix rotten sanitation?
Someone from Oxford wants to know why don't we all Indians work on toilets and potty research?
If this author lived at the time of Renaissance, she/he might have written:
Newton, Michelangelo and da Vinci are wasting time instead of building toilets
Poverty should indeed be an excuse to postpone great achievements. Right?
These achievements are the ones that are keeping our kids smiling and hopeful. This kid has an extra inspiration now. She has extra hope.
The Double standards
This is monumental for us Indians. Imagine how the Americans felt when they first landed on the moon. This is a landmark work for Indian scientists and I am filled with pride, just as the 1960s Americans were filled with pride as Armstrong made his stride. Sure, America had plenty of issues in 1969 — Vietnam war, civil rights, inflation, unemployment. But, all that negative news could wait another day. It was time to enjoy the moon.
Actually, these commentators don't give squat about India. They don't have any history of commenting on India's social needs. This is just outright racism clothed in a patronising tone. For me they just look sore losers and cry babies.
The cost
Many of these journalists cribbing about the cost seem disconnected from India. We spent Rs 450 crores on this mission. Let me put that in context. One of the local cricket teams Mumbai Indians alone is worth Rs 1000 crore. Ambani built a home in Mumbai for Rs 5000 crore. Every single day, Indians buy gold jewelry worth Rs 1500 crore. An upcoming Bollywood movie (made about space) is costing over Rs 500 crore. And finally, India's Central Government budget is Rs 17 lakh crore (I actually rounded off this figure and that roundoff error alone could fund 130 such missions).
India doesn't have more toilets, not because we don't have extra Rs 450 crores, but because of our poor execution of things. Don't heap your blame on poor ISRO for India's social conditions (ironically, a non-trivial portion of this poverty and hunger is due to the colonisation under a power from where you are writing these articles).
Desi Wannabes
Not to be outdone by the firangis (foreigners), our Indian wannabes joined action:
Amidst euphoria, some voices question cost of Mars Mission
Social activist Harsh Mander termed the mission as a "remarkable indifference to the dignity" of the poor.
Arre! Poor are so hurt now, because of some big words! Of course, when Mander teaches from an air-conditioned classroom at a business school or gives lectures from comfy podiums, the dignity of the poor is not so much hurt.
An ex-ISRO head was quoted extensively by everyone.
It is not value for money… It is more disturbing that somebody is making a claim that they are going to find presence of life on Mars. This is really a moonshine.
Moonshine? Wow! Of course, none of this bitterness and disgruntlement is due to him being an ex-employee who was disgracefully expelled from ISRO after the S-band scam. He carries out an open war with the current ISRO chief and of course we can expect him to be unbiased and honest in this issue.
Why India needs a MARS program
» It is exciting for the children and teenagers, many of whom might take up a career in science, technology and research. These kids deserve an inspiration in the sky. If we can get a couple of hundred of these kids into hard sciences, the mission would have paid for itself completely.
» ISRO is already using the technology to help other countries put their equipment in space (for a lucrative fee, of course). If we continue to innovate in cost and speed, we could become a big hub for space projects. That would mean employment for thousands of engineers and lot of foreign $$. India successfully launches Indo-French, 6 foreign satellites.
» India needs to prove its technological capabilities as it is building up the technology hub of the future – not just space, but everything. If you could launch a Mars mission at the cost of setting up ERP in an enterprise, you could build anything. There are both direct and intangible effects of this demonstration. This would really benefit India's tech companies. This is actually rocket science! Again more $$.
» India needs to spend on research to master the science of the future. NASA had plenty of spin-offs resulting out of its space program that advanced other fields such as medicine, apparel, food and navigation.
» We could have made the 'Model T' of spacecrafts – inexpensive and quick. The mission was completed in just 14 months and $75 million with little prior expertise. More importantly, the mission got off the ground on the first try. China, Japan and Russia have had to abort Mars missions in the past 2 decades due to launch failures. That is an outstanding engineering feat worth of salute.
» Indians have been fascinated by space since antiquity. Our ancient scientists spent their lives looking at space. In the recent times, scientists such as Subramaniam Chandrashekar (Nobel laureate in astrophysics), SN Bose (Boson particles are named after him) have electrified the field. This mission is deeply fascinating even from a cultural perspective.
» Imagine the potential it has for the humanity if we could launch hundreds of inexpensive missions in our search for alternative life forms and alternative planets. 4 years ago India helped confirm that there is water on moon – the confirmation of which has eluded global researchers for 5 decades. This mission sent to detect methane could be the start of a new life for Indian science. Aryabatta and Bhaskaracharya would be really proud of the lads who worked on this mission.
» We need our Renaissance. We have to start breaking the chain of poverty by thinking outside the box. That would mean being boldly assertive. People in other walks of life can surely draw inspiration from our scientists. This day is so refreshing even though although I have zero connection with anything ISRO did. If we can reach Mars, we can do anything – from politics, arts to science & sports.
Outsiders have no idea of what this all means to Indians. Even a poor, hungry kid could dream for a math olympiad, can't she? In the same way, even a poor hungry nation can participate in a scientific mission, can't we?
We launched a peace project – not a bomb. We didn't go around fighting a poor country citing the presence of fake WMD. We didn't build a vessel to conquer unsuspecting third-worlders. We launched a mission to help humanity and the advancement of science. More importantly, we launched it with our money. We didn't ask for your money nor help. Who are you to patronise us this way?
These journalists are like the rich bullies who enter a poor man's house and mock at the books kept by the poor man – "you poor people can't afford to eat rich food and you can afford to buy more books?"
Yes, these journalists appear to me as bullies. In short, to all these journalists mentioned above here is my finger, shown with love.
(This piece was originally published on Quora and has been reproduced here with the author's explicit permission.)
Guest Opinion
India needs toilets more than Mars Mission
(This is the second part of a two-part article. You can read the first part here.)
This thing about opportunity costs, prioritising and sequencing applies at the level of the collective as much as at the level of the individual. Society too has limited resources which have alternative uses. Based on its priorities, the government chooses how public resources are to be used. If it chooses correctly over an extended period, the outcome is a prosperous society, and vice versa. These are public policy choices and they powerfully determine the prosperity (or lack thereof) of the society, state or nation.
Considered in isolation, the decision to send a probe to Mars can be justified on the grounds that it will add to our knowledge about it. That's a benefit. And of course there's a cost. Whether the cost is less than what it would have cost another country or not is irrelevant. The salient question relates to the opportunity cost of the Mars mission because increasing our knowledge about Mars is not the only thing that needs to be done. Was it the most important thing India could have done at this time expending the same resources? I argue that it was not and that it was a bad decision.
Mars is not relevant to India. Whatever scientific discoveries the Indian probe makes will be quite irrelevant to the people of India — or any other people, for that matter. There can be no conceivable benefit to knowing its geology or atmospheric composition or whatever. True this knowledge will be of some use to someone in the future but right now aside from scientific curiosity, there's little use of it here and now.
But isn't research a good thing? Of course it is. However finding out things about Mars (or any other extraterrestrial body) is not basic research. Basic research is what advances scientific knowledge which in time helps people in figuring out the technology that have beneficial applications. The question isn't whether India should do basic research or not; the question what kind of basic research. There are lots of areas where research and development is sorely required and missing. That should be the priority.
One can easily list dozens of areas where resources for research and development could be spent. Here's one: solar power. India needs to do it because research will lead to technology that will be of use here and now, and in the future. Any resources spent in solar power research will have massive return on investments. The technology it develops will not only directly benefit it (lower energy bills) but also build capacity for research. India is favorably located with immense solar energy potential and that should be top priority for R&D for India. The reasons for investment in solar power research are too many to go into here but the primary reason is that it will directly lead to production and productivity growth — which is sorely needed if India is to stop being poor.
The point here is that there is an endless list of things which require publicly-funded research. Developing countries should focus on those fields that are likely to benefit them most urgently and in fields where other countries are not motivated to invest in. Poor countries should leave it to rich countries to do things like sending missions to Mars. They have a comparative advantage there and it is pointless competing with them. The resources they spend will be dictated by their priorities but the benefits — the knowledge about other planets — anyway will be part of the shared scientific knowledge of humanity.
One argument that is sometimes made has to do with national pride. India is the fourth country to send a probe to Mars, or some such thing. That goes into the "pride" column but what about that item in the "shame" column which says that India ranks 140-something in a list of nations and basic literacy? Now it can be argued that with the (relatively) small amounts that are spent in a Mars mission, you could not make a real dent in literacy. But that is incorrect.
India's literacy problem needs to be solved urgently. A literate population is an absolute minimum if India is to grow economically and socially. The old methods of government schools have failed and are anyway outdated in a world of highly advanced information and communications technologies. Just spending a few tens of millions of dollars on that problem will yield enormous benefits. Gather a stellar group of researchers and practitioners who have the knowledge of that field and let them figure out a solution. That's a research area for you.
Another area of research could be to figure out a better legal system. Courts are backlogged and I am certain that there are laws on the books that are idiotic, outdated and need to be weeded out. How about spending some public resources on them because there are public benefits.
How about doing a bit of research to figure out how best to design public toilets? It may not be the most exciting thing to read about in the newspapers — certainly not as sexy as sending probes to Mars — but it will have enormous public health benefits. The reason this is not on the radar of the policy makers is simply that they themselves have private toilets and cannot empathise with the plight of people who don't have any toilets.
Here's another research area: figure out what's wrong with the Indian constitution and how to get it fixed so that it is sensible. As I see it, I think all the major ills that afflict India flow from a flawed constitution. One of the biggest flaws in it is that it is unreadable and — to a first approximation — nobody has read it. Over the last several years, I have asked at least 10,000 reasonably educated people and not one person has admitted to having read the constitution of India.
Or how about the mother of all research topics: why is India so desperately poor? If we could definitely know the causes of India's continued failure to grow rapidly, we would be able to do something that will benefit the poorest of the poor. Right now there are a bunch of untutored ignoramuses determining public policy, people who would not know the first thing about what causes poverty or prosperity. How about hiring some of the best brains in the business from around the world and giving them the job of dispassionately figuring out what needs to be done?
All those and many other important topics need urgent attention in terms of public spending. If the government is not going to take the lead in funding research in these areas, who will? The private sector does not have the capacity nor the incentive to do so. It is a known fact that public funding is required in any field that has large positive benefits (positive externalities) for the public at large.
India has limited public resources and allocating them sensibly is necessary. For that India needs a well thought-out priority list. Choices have to be made because India cannot afford the opportunity cost of making bad choices. One day, if and when India becomes a middle-income country, maybe then India could indulge in the luxury of spending on irrelevant data gathering. But sending probes to the Moon or Mars is way down on the list right now and this kind of silliness should be called out strenuously and loudly.
Mars probe's orbit raised, all systems normal
The first of the six orbit raising manouevres for the Mars Orbiter was successfully completed early Thursday morning, the Indian space agency said.
According to Indian Space Research Organisation (ISRO), the first orbit raising manouevre that started Thursday has been successfully completed.
The on-board motor of Mars Orbiter was fired for 416 seconds with the commands issued from Spacecraft Control Centre (SCC) at ISRO Telemetry, Tracking and Command Network (ISTRAC) in Bangalore, a statement from the Indian space agency said.
"With this engine firing, the spacecraft's apogee (farthest point to the Earth) has been raised to 28,825 km, while its perigee (nearest point to the Earth) is at 252 km," the statement added.
ISRO launched the Mars Orbiter in earth orbit Tuesday. The spacecraft was placed at an elliptical earth orbit with a perigee of 248.4 km and an apogee of 23,550 km, inclined at an angle of 19.27 degrees to the equator.
The 1,340-kg Mars Orbiter, developed by ISRO at an outlay of around Rs.150 crore, carries 852 kg of fuel on-board. Around 360 kg fuel was likely to be expended on the six orbit raising activities.
During the final orbit raising activity, the Orbiter will be put on Mars Transfer Trajectory Dec 1.
According to ISRO, the Mars Orbiter will travel to the vicinity of the Red Planet in September 2014 after 300 days of deep space voyage.
When the Orbiter is near Mars, the spacecraft's motors will be fired again but in reverse direction to slow it down and let it captured by Martian gravity into an orbit around it, ISRO said.
According to the Indian space agency, all the systems of the Orbiter are functioning normally.
India's first inter-planetary Mars Orbiter Mission costs around Rs.450 crore.
India Launches Mission to Orbit Mars
Anjana Pasricha
November 04, 2013
NEW DELHI — India has taken a giant leap in its space program by launching a spacecraft bound for Mars. If the country's first interplanetary foray is successful, India will become the first Asian country and the fourth worldwide to conduct a mission to the Red Planet.

As a nation watched from its television screens, the 1,350 kilogram unmanned satellite hurtled into space Tuesday afternoon from Sriharikota on the country's east coast.

Within 45 minutes of the launch of the Mars Orbiter mission, Indian Space Research Organization (ISRO) Chairman K. Radhakrishnan announced that it is going according to plan.

"I am very happy to announce that the PSLV C 25 vehicle has placed the Mars Orbiter spacecraft very precisely into an elliptical orbit around earth… it has been a new and complex mission," said Radhakrishnan.

The launch, a proud moment for India, was beamed live. The ambitious goal of reaching earth's closest neighbor has been attempted by major space faring nations. But only three have achieved success - the United States, Russia and the European space agency.

Analysts say competition with China prompted India to assemble the mission at short notice. It was formally announced last August by Prime Minister Manmohan Singh. That was after a Chinese mission to Mars in 2011 failed.

Scientists say the Indian mission is primarily meant to develop the technology to design and conduct interplanetary missions.

Tuesday's successful launch is only the first milestone in this challenging task. Its major test will come nine months on when the spacecraft enters the Mars orbit.

ISRO spokesman, Deviprasad Karnik, explains the critical stages in the Mars Oribter mission.

"By 30th of November the spacecraft is going to leave the influence of sphere of earth and will be on a long trajectory towards Mars for about 300 days. At the end of 300 days, it has to be captured by the Martian orbit. We are expecting this to happen by September of 2014," said Karnik.

Equipped with five instruments, the Indian spacecraft will explore the surface features, atmosphere and geology of the Red Planet. It will also search for methane, which is key to supporting life.
India's Polar Satellite Launch Vehicle, carrying the Mars orbiter, lifts off from Sriharikota, Nov. 5, 2013.
1/4

India has billed its Mars mission as a low cost mission to counter criticism that a country which still confronts major challenges in combating poverty should not spend its resources on a probe with no tangible benefits for its poor.

Indian leaders say the $73 million cost is well within the emerging economy's reach and it represents a huge advance in its space program, which has many social goals. They say the mission will serve to demonstrate that India is developing cost affordable and effective space technology.

There is a huge sense of excitement and optimism among space scientists. The mission to Mars has been put together with technology tested during an unmanned mission to the moon in 2008.

Although that had to be aborted early, India declared it a success after it found evidence of water on the moon.

Former chairman of ISRO, Krishnaswamy Kasturirangan, who played a key role in the moon mission, summed up the mood.

"This is an incredible exciting moment and you pulled it off in a very beautiful and professional manner," he said.

But with so much riding on the long journey to Mars, scientists did not rely on their skills alone. As the countdown began Sunday, the chief of India's space program, Radhakrishnan offered prayers at the famous Tirupati temple with miniature replicas of the spacecraft and the rocket.
NASA sends lucky peanuts to ISRO as good luck for Mars mission
It is a 'lucky peanuts' wish from the NASA to Indian Space Research Organisation on its ambitious mission to Mars.
As the ISRO geared up for the Mars Orbit Mission (MOM) 'Mangalyaan', NASA wished the Indian space agency with lucky peanuts on its Facebook page, for the MOM scheduled for launch on November 5 from Andhra Pradesh's Sriharikota.
The good wishes message titled 'lucky peanuts' was posted on the ISRO's recently created MOM Facebook page, on Thursday, by NASA's Jet Propulsion Lab (JPL). NASA sends lucky peanuts to ISRO as good luck for Mars mission "As you prepare for your launch to Mars, do not forget one of the few, but important action: pass around the peanuts!" a post by JPL on ISRO's MOM Facebook page read.
The American NASA/JPL is also providing communications and navigation support to this mission to the Red Planet with their deep space network facilities. Illustrating the tradition of peanuts for Mars Mission at JPL, the post read: "It goes back to the 1960s with the very first missions we sent to the moon. We had seven mission attempts to go the moon before we succeeded, and on the seventh one, they had passed out peanuts in the control room."
"Ranger 7, which in July 1964 became the first US space probe to successfully transmit close images of the moon's surface back to the earth, made the peanuts into a tradition at JPL," it added.
Stating that ever since, it has been a long standing tradition to hand out peanuts "whenever we launch and whenever we do anything important like land on Mars", the post by JPL read: "We use all the luck we can get!" Giving away another traditional secret to ISRO, followed during the launch that has proved lucky to NASA, the post said "For MSL, (Mars Science Laboratory) we put a label on the jar that says "dare mighty things."
"This phrase was taken from Theodore Roosevelt's quote, "Far better it is to dare mighty things, to win glorious triumphs even though checkered by failure, than to rank with those timid spirits who neither enjoy nor suffer much because they live In the grey twilight that knows nether victory nor defeat.""
The post greeted ISRO and its Scientist's with slogans "GO MOM!!!" "GOOD LUCK MOM!" "DARE MIGHTY THINGS". ISRO's MOM joined Facebook on October 22 and has received more than 11,850 likes in a short span. To update people with the daily developments about India's Mars Orbit Mission,
IRSO has opened the Facebook page. "Our website has daily updates of the developments taking place in the project. Despite this, there were requests from the people and media personnel to have a Facebook page that could give daily updates on the mission," said a senior Institute of Space Research Organisation (ISRO) officer.
The officer said many were of the opinion that receiving Facebook updates on their phone and tablets is easier when one does not have access to laptops or desktops to get the information on the mission.
He also said this offered a faster means of communication, with wider following than making people visit the website and browse through the web-pages. The Facebook page "ISRO's Mars Orbiter Mission" also has over 12,300 likes and over 10,000 are talking about the misson.
The page can also be acessed by visiting ISRO's webiste, if one is not on Facebook. The page not only has updates but also carries informative pieces about the different stages involved in the mission.
Read more at: http://ibnlive.in.com/news/nasa-sends-lucky-peanuts-to-isro-as-good-luck-for-mars-mission/431836-11.html?utm_source=ref_article
Isro, Nasa Mars missions set to see collaboration
Isro's MOM and Nasa's MAVEN spacecraft would join five other operational orbiters and surface rovers exploring the Red Planet
Isro | Nasa | Maven | Mars Mission
RELATED NEWS
The Indian Space Research Organisation (Isro)'s Mars Orbiter Mission (MOM) would see synergy with Nasa's Mars Atmosphere and Volatile Evolution (MAVEN).

While, Isro's PSLV C-25, which would carry the Mars Orbiter spacecraft, is expected to lift off at on November 5 from the organisation's Satish Dhawan Space Centre launch pad at Sriharikota, Nasa is planning to launch its MAVEN spacecraft from the Kennedy Space Center on November 18.

The MOM and MAVEN spacecraft would join five other operational orbiters and surface rovers exploring the Red Planet; these spacecrafts are expected to reach Mars in September 2014.

"If all goes well, Nasa's MAVEN orbiter and India's MOM will work together to help solve the mysteries of the Mars atmosphere. We plan to collaborate on some overlapping objectives," Bruce Jakosky, MAVEN's principal investigator from the University of Colorado at Boulder told space and astronomy news site Universe Today. He added, "There are some overlapping objectives between MAVEN and MOM, and we have had some discussions with the MOM science team."

Nasa/JPL (jet propulsion laboratory), through its deep space network facilities, is providing communications and navigation support to India's Mars mission.

The primary objective of Isro's MOM launch is to study whether Mars had an environment that could support life. It also seeks to explore that planet's surface, topography, mineralogy and atmosphere. MOM also plans to search for methane on Mars. On Earth, the chemical is strongly tied to life. According to a Reuters report, methane, which can be produced by non-biological processes, was first detected in the Martian atmosphere a decade ago.

Nasa's MAVEN mission is the first spacecraft devoted to investigating and understanding the upper atmosphere of Mars. MAVEN would also focus on the thin atmosphere in Mars. The mission is designed to help scientists figure how the planet managed to lose an atmosphere that was earlier believed to be thicker than Earth's.

"MAVEN is going to focus on trying to understand what the history of the atmosphere has been, how the climate has changed through time and how that has influenced the evolution of the surface and the potential habitability, at least by microbes, of Mars," Reuters quoted Jakosky as saying.
Mars mission would have a trickle-down effect: K Radhakrishnan
Interview with Chairman, Indian Space Research Organisation
How has the delay of a week affected the mission?
We had given ourselves a larger window, October 28 to November 19. Generally, we don't have any missions from October, for about three months, as the weather is not conducive for a launch. November 30 is the D-Day, when the Mars orbiter would have to leave the orbit around the Earth. If Isro misses this opportunity, it would have to wait another 26 months. We had given ourselves a buffer so that weather conditions were accounted for. The week-long delay proved advantageous in a way. The exposure to Van Allen radiation would be that much less, as would be the impact of that on the Mars orbiter.
What are the challenges posed by the mission?
One of the technological challenges was to realise related deep-space mission planning and communication management, at a distance of about 370 million km. The spacecraft has been provided with augmented radiation shielding, for prolonged exposure in the Van Allen belt.
What are the primary objectives of the Mars mission?
One of the main objectives of the mission is to develop technologies required for design, planning, management and operations of an interplanetary mission.
What are the technological and scientific objectives?
Technological objectives of the mission include design and realisation of a Mars orbiter, with the capability to survive and perform Earth-bound maneuvers, go through the cruise phase of about 270 days, Mars orbit insertion/capture, and an on-orbit phase around Mars.
In addition, it would help perfect deep-space communication, navigation, mission planning and management. Isro would learn to incorporate autonomous features to handle contingencies. Scientific objectives include exploration of the Mars surface, morphology, mineralogy and Martian atmosphere, through indigenous scientific instruments.
What benefits could the Mars mission have?
Some of the outcomes such as the in-built autonomy we are providing in the spacecraft could become a product or a system. It could be used in satellites to improve their efficiency. So, these trickle down to application, the chief objective of the mission, which could include forecasting cyclones. There is always relevance for a mission like this.
What were the main challenges?
All aspects of the mission were challenges, right from the time available for the mission to the technologies and improvements for propulsion, navigation, tackling the 40-minute communication delay from Mars, readying the ground segment and meeting the November 30 deadline.
Minute errors in calculation could lead to the mission failing---right from the launch into the orbit to the orbiter reaching the Mars orbit. A small error in calculation would miss the target by tens of thousands of miles. The spacecraft's arrival point on Mars has to be calculated to an accuracy of 60 miles, about 270 days in advance.
How does it compare with Chandrayaan-I?
Compared to Chandrayaan-I, which Isro launched in 2008-09, the Mars mission saw new challenges. While both have the PSLV rocket and an elliptical orbit for the spacecraft, for the Mars mission, you have the 'argument of perigee' of about 270 degrees, which requires a longer flight and a different trajectory. It is aimed at minimising the use of fuel to transfer it from an Earth orbit to a Martian one. That is also why we need the two ship-borne terminals. There would be a long coasting between the third and fourth stages, which would see a 1,500 second delay. As we have to get ignition on real time, we have monitoring stations at Sriharikota, Port Blair and Brunei.
What infrastructure did you set up for the mission?
At the ground station, we enhanced the two-Kw power system in the 32-metre antenna in our deep space network to 20 Kw. We also introduced a new system for precise ranging of the orbiter. The orbiter has been built to withstand different temperatures and conduct many tasks. Mars is about 370 million km away and there would be a communication delay of 20 minutes with Earth, each way. Rather than send a chain of commands from here to check its health and correct a problem, these are stored in the system.
Still, we can trigger these. During the 270 days of its transit, if the spacecraft develops a problem, it has to be put into a safe mode so that ground controllers can set it right. The spacecraft propulsion system must be put into sleep during the journey, and reactivated after 270 days. We made new software to know positions during the trans-Mars injection and to estimate the influence of other planets and the Sun on the orbiter.
Could you not have waited for the GSLV before launching this mission? Did competition with China hasten it?
We accommodated whatever instruments could be accommodated in these two years. The GSLV would have been an advantage only in the initial phase; otherwise, it was not important. The PSLV-XL has proven its reliability. We are not in competition with China. They have their own missions.
What was the support from Nasa?
The spacecraft has to be tracked continuously and it has to be visible at all times. While we use our own ground station at Byalalu near Bangalore, for some phases of the mission, until the spacecraft is put into the Martian orbit, we would take the support of Nasa's jet propulsion lab's deep space network and its three international ground stations.
What after Mars?
For now, the plan is the moon, Mars and the sun. Scientists are looking at the universe. For the next mission, we should look at larger scientific objectives, with more partners. But that depends on the progress of this mission. Then, there is the all-Indian Chandrayaan-II, with a lander and a rover, as well as the launch of the GSLV.
For ISRO, Mars mission may turn out to be "rocket science"
Published October 25, 2013 | By admin
SOURCE: ECONOMIC TIMES
If the Polar Satellite Launch Vehicle (PSLV) lifts off on November 5 from Sriharikota as planned, it will be watched by more than a normal share of anxious eyes. It is a difficult mission, and fickle weather adds to the complexity.
But ISRO chairman K Radhakrishnan is not prone to fits of worry. "The PSLV is the best vehicle in its class," he says, "which is why many countries are using it now to launch their satellites." A mission to Mars will require taking into account the influence of earth, the moon, the sun and, of course, the destination planet, all of which keep changing positions with the day of the launch.
A small error in calculation will miss the target by tens of thousands of miles. "The spacecraft's arrival point on Mars has to be calculated to an accuracy of 60 miles about 280 days in advance," says Radhakrishnan. "It takes beyond textbook mechanics to achieve this precision." An excursion to the red planet does not come easy to even to the most experienced.
The Russians have a long history of failures in Mars missions. The Chinese have not yet attempted its own mission, and so Mangalyaan is extra special for India. "It will be a big leap for the country," says Goverdhan Mehta, space commission member. The Americans, Russians and Europeans have used larger rockets for their Mars missions. India is using the smaller PSLV, usually used to put small satellites into a low-earth orbit over the poles. The launch window to Mars is very small, the next one being available only in 2018. ISRO has already postponed the launch once due to bad weather.
If the PSLV does not go up before November 19, ISRO has to wait for another five years to get similar conditions. The PSLV is India's most mature rocket. ISRO has launched 35 satellites so far using PSLV and 10 are in waiting list for launch. The Mars mission will use PSLV in new ways, thereby adding new complexities. The trajectory of the spacecraft is very different to begin with.
The spacecraft's arrival point on Mars has to be calculated to an accuracy of 60 miles about 280 days in advance," says Radhakrishnan.
This new trajectory, the calculations for which are different for each launch date, requires a long coasting of the rocket between third and fourth stage. "The management of the long coast between third and fourth stage is a complex issue," says V Adimurthy, Satish Dhawan professor and senior advisor (interplanetary missions) of ISRO. There is only one time slot for lift-off- with five minutes leeway – available for launch during a specific day.
"The time of lift-off and required coasting duration is different for each day of launch; and one has to work out a series of different trajectory management strategies corresponding to each possible launch date," says Adimurthy. The satellite is first launched into an elliptical orbit at a velocity far less than what is required – over 11 km per second – for it to escape from the earth.
To make it come up to this velocity would require three to five manouevres using rockets in the spacecraft, depending on the velocity and position of the spacecraft when first injected. When it finally reaches Mars, not more than 60 km away from the intended spot, the spacecraft has to slow down for it to be captured into the Mars orbit. If this is not done with precision, the spacecraft will either fly by or crash into the Martian surface.Some of the difficulty is in the constraints imposed by the need to lower energy use. "We have devised an orbit that reaches Mars with minimum use of energy," says Radhakrishnan. The more the energy required for the travel, the more the fuel the spacecraft has to carry, and hence the more the weight and more the cost. Other constraints were imposed by the harsh interplanetary environment like intense cold and high radiation.
Delay in communication is another problem as the spacecraft moves further and further away from the earth. The spacecraft has considerable autonomy to take decisions during critical periods.
When the Mangalyaan project was conceived, ISRO got 30 ideas for experiments. Out of these, nine instruments were possible to build and five were flyable. "So all the experiments possible were accommodated," says Radhakrishnan. One of this is a methane sensor. Finding methane conclusively on Mars would be a major achievement for Mangalyaan.
India will send MOM into earth orbit before blasting away toward Mars
MUMBAI: India's prestigious mission to Mars will be launched on November 5 at from Sriharikota.
Called the Mars Orbiter Mission (MOM), an advance version of the highly-proven, four-stage Polar Satellite Launch Vehicle, called the PSLV-XL, will be the rocket used for the Rs 450-crore mission.
The decision to launch was taken at the second meeting of Isro's launch authorization board, which met at Sriharikota on Tuesday. The launch window opens on October 28 and closes on November 19. Originally, it was to open on October 21, but was moved to October 28 for operational reasons.
One of the main reasons that contributed to the "go" at Tuesday's meeting was the arrival of the Shipping Corporation of India's tracking vessel, SCI Nalanda, in Fiji on Monday. The other tracking ship, SCI Yamuna, had already reached Fiji on Saturday.
SCI Nalanda was delayed due to bad weather in the south Pacific. Besides, its generator had developed a snag, which has since been rectified. The two ships will now move to different zones in the south Pacific to track the mission.
On Tuesday, the rocket's heat-shield was closed, marking an important step in the preparations. The shield protects the spacecraft, with its five scientific instruments, from excessive heat post-launch.
The Mars Orbiter Mission will not use a direct trajectory to the Red Planet. Instead, it will initially fly into the earth's orbit, from where it will use its own propulsion system to enter what is known as the trans-Martian trajectory over a period of about 25 days.
The journey to Mars will take about 300 days and is expected to feature a number of trajectory corrections. The orbiter is expected to enter the Martian orbit in September 2014.
According to space experts, the flight will be a demonstration mission, with the main objective of placing the spacecraft in orbit around Mars as a study for future spacecraft and mission design.
If successful, India's mission would be the fourth to have reached Mars, the other three being those of the US, former Soviet Union and the European Space Agency.
Nov. 5 India Heads to Mars
India's ambitious space mission to explore Mars would be launched on Nov. 5 from the spaceport of Sriharikota, the Indian Space Research Organization announced on Tuesday.
The Mars Orbiter Mission, called Mangalyan, would be launched onboard PSLV C25 on Nov. 5 at 2.36 p.m. from the first launch pad of Satish Dhawan Space Centre at Sriharikota, an ISRO spokesperson said.
The powerful XL version of the ISRO's workhorse Polar Satellite Launch Vehicle would be used for the Rs. 450 crore mission.
The primary objectives of the mission are to demonstrate India's technological capability to send a satellite to orbit around Mars and conduct meaningful experiments such as looking for signs of life, take pictures of the red planet and study the Martian environment.
The launch campaign has already commenced in Sriharikota from where the 1,350-kg. MOM spacecraft is slated to be launched by the PSLV.
The satellite will carry compact science experiment instruments, totaling 15 kg. There will be five instruments to study the Martian surface, atmosphere and mineralogy, ISRO said.
After leaving the Earth's orbit, the spacecraft will cruise in deep space for about ten months using its own propulsion system and will reach Martian transfer trajectory in September 2014.

Read more at http://www.indiawest.com/news/14415-mars-mission-mangalyan-to-be-launched-nov-5.html#EEeC8fHjyfdW15b1.99
India's Mars satellite mated with rocket
---
IANS
Chennai, Oct 20: The Indian space agency completed integration of its Mars mission satellite with the rocket while the heat shield is expected to be closed in couple of days, said an official.
"The 1,340 kg satellite was mated with the rocket today (Sunday). The heat shield will be closed in two or three days after tests. Everything is progressing normally on the rocket and the satellite side," an Indian Space Research Organisation (ISRO) official, who did not want to be identified, told IANS.
Editors note: The heat shield also called "the shroud" is one of the two systems that fails more often then not when orbiters leave the earth and expand their array for alignment with the sun and stars and for communications. Very often the shroud only partially opens or does not open at all, leave the spacecraft either deaf or dumb. NASA's shroud contractor Lockheed Martin once built shrouds for Mars missions for honey combed material to reduce weight. HOwever Lockheed forgot the atmosphere in the bubbles of the honeycomb would be different in space from that on earth. The bubbles collapsed as they contracted, locking the Mars-bound spacecraft it a death grip.
On Saturday ISRO chairman K.Radhakrishnan told IANS that the Rs.450 crore Mars Orbiter Mission (MOM) will be delayed by a week as out of of the two ships - Nalanda and Yamuna - carrying rocket tracking systems, only the latter has reached Fiji.
The Nalanda is expected to reach there Oct 21. From there, both the ships have to travel to their respective locations to track the rocket, ISRO officials told IANS.
The ships have terminals to track the rocket, which has a coasting period of around 20 minutes beyond the visibility of existing ground stations.
The Malgalyaan mission was originally slated for Oct 28 from ISRO's rocket launch centre in Sriharikota in Andhra Pradesh, around 80 km from here.
According to ISRO officials, there is no problem as far as the mission is concerned.
Radhakrishnan said as the launch window is between Oct 28-Nov 19, the revised launch date will be decided Oct 22 after the ship reaches Fiji.
Incidentally Oct 22 is seems to be a special date for ISRO. It is a Tuesday and in Tamil, Mars planet is called Sevvai Graham and Tuesday is also called Sevvai. In Hindi, Mars is called Mangal and Tuesday is Mangalwar.
India's first inter-planetary mission was to the Moon Oct 22, 2008 at an outlay of around Rs.390 crore.
Mars mission launch delayed by about a week
By PTI | 19 Oct, 2013, IST
BANGALORE: Launch of India's Mars Orbiter Mission (MOM) has been delayed by almost a week and a decision on the new date would be taken on October 22, ISROsaid today.

The launch window for the MOM mission was earlier slated from October 28 to November 19 and a decision on the launch date was to be taken today.

"The decision on the date of launch of MOM was postponed due to bad weather in the South Pacific Ocean. The ship-borne communication terminals were on their way there," an ISRO spokesman told PTI here.

The two ships SCI Yamuna and SCI Nalanda - leased from the Shipping Corporation of India to study the crucial period when the rocket ejects the spacecraft into space - left for the SouthPacific Ocean in mid-September from Visakhapatnam.

The American NASA/JPL ( Jet Propulsion Laboratory) is also providing communications and navigation support to this mission with their deep space network facilities.

The decision on the date of launch of MOM was to have been taken today.

The spokesman said the Launch Authorization Board would have another session on October 22 when the date would be finalised. "Otherwise, every thing is fine with the satelliteand launch vehicle".
India will go searching for life signature in methane
India is gearing up for its first ever space undertaking to the Red Planet – dubbed the Mars Orbiter Mission, or MOM – which is the brainchild of the Indian Space Research Organization, or ISRO.
Among other objectives, MOM will conduct a highly valuable search for potential signatures of Martian methane – which could stem from either living or non living sources. The historic Mars bound probe also serves as a forerunner to bolder robotic exploration goals.
If all goes well India would become only the 4th nation or entity from Earth to survey Mars up close with spacecraft, following the Soviet Union, the United States and the European Space Agency (ESA).
The 1,350 kilogram (2,980 pound) orbiter, also known as 'Mangalyaan', is slated to blast off as early as Oct. 28 atop India's highly reliable Polar Satellite Launch Vehicle (PSLV) from a seaside launch pad in Srihanikota, India.



MOM is outfitted with an array of five science instruments including a multi color imager and a methane gas sniffer to study the Red Planet's atmosphere, morphology, mineralogy and surface features. Methane on Earth originates from both biological and geological sources.

Read more at: http://phys.org/news/2013-10-india-mars-mission-blast-methane.html#jCp
ISRO has already assembled the more powerful XL extended version of the four stage PSLV launcher at Srihairkota.
MOM's launch window extends about three weeks until Nov. 19 – which roughly coincides with the opening of the launch window for NASA's next mission to Mars, the MAVEN orbiter.
MAVEN's on time blastoff from Florida on Nov. 18, had been threatened by the chaos caused by the partial US government shutdown that finally ended this morning (Oct. 17), until the mission was granted an 'emergency exemption' due to the critical role it will play in relaying data from NASA's ongoing pair of surface rovers – Curiosity and Opportunity


Read more at: http://phys.org/news/2013-10-india-mars-mission-blast-methane.html#jCp
ISRO has already assembled the more powerful XL extended version of the four stage PSLV launcher at Srihairkota.
MOM's launch window extends about three weeks until Nov. 19 – which roughly coincides with the opening of the launch window for NASA's next mission to Mars, the MAVEN orbiter.
MAVEN's on time blastoff from Florida on Nov. 18, had been threatened by the chaos caused by the partial US government shutdown that finally ended this morning (Oct. 17), until the mission was granted an 'emergency exemption' due to the critical role it will play in relaying data from NASA's ongoing pair of surface rovers – Curiosity and Opportunity


Read more at: http://phys.org/news/2013-10-india-mars-mission-blast-methane.html#jCp
NASA is providing key communications and navigation support to ISRO and MOM through the agency's trio of huge tracking antennas in the Deep Space Network (DSN).
As India's initial mission to Mars, ISRO says that the mission's objectives are both technological and scientific to demonstrate the nation's capability to design an interplanetary mission and carry out fundamental Red Planet research with a suite of indigenously built instruments.
MOM's science complement comprises includes the tri color Mars Color Camera to image the planet and its two moon, Phobos and Diemos; the Lyman Alpha Photometer to measure the abundance of hydrogen and deuterium and understand the planets water loss process; a Thermal Imaging Spectrometer to map surface composition and mineralogy, the MENCA mass spectrometer to analyze atmospheric composition, and the Methane Sensor for Mars to measure traces of potential atmospheric methane down to the ppm level.
It will be of extremely great interest to compare any methane detection measurements from MOM to those ongoing from NASA's Curiosity rover – which found ground level methane to be essentially nonexistent – and Europe's planned 2016 ExoMars Trace Gas Orbiter.
MOM's design builds on spacecraft heritage from India's Chandrayaan 1 lunar mission that investigated the Moon from 2008 to 2009.
The 44 meter (144 ft) PSLV will launch MOM into an initially elliptical Earth parking orbit of 248 km x 23,000 km. A series of six orbit raising burns will eventually dispatch MOM on a trajectory to Mars by late November, assuming an Oct. 28 liftoff.
Following a 300 day interplanetary cruise phase, the do or die orbital insertion engine will fire on September 14, 2014 and place MOM into an 377 km x 80,000 km elliptical orbit.
NASA's MAVEN is also due to arrive in Mars orbit during September 2014.
The $69 Million 'Mangalyaan' mission is expected to continue gathering measurements at the Red Planet for at least six months and perhaps ten months or longer
India's Mars mission: The countdown begins for ISRO's voyage to the Red Planet
Johnson T A | Updated: Oct 06 2013, IST
The tried and tested PSLV will serve as the launch vehicle.
SUMMARYThe 299-day voyage to Mars, set to launch on October 28, is also a leap of faith for ISRO.
It's baby steps to deep space. But the 400-million kilometres, 299-day, rs 450-cr voyage to Mars, set to launch on October 28, is also a leap of faith for ISRO, explains JOHNSON T A
Though science is at the core of their work, scientists at the Indian Space Research Organisation are a religious group. In the past, ISRO chairmen have been known to transport toy models of spacecraft and launch vehicles to temples around south India for blessings of gods. As work at over five different ISRO centres began converging this week towards the planned October 28 launch of the space agency's Mission to Mars, or the Mangalyaan Mission, religious rituals are back to the fore.
Ahead of the rollout of the spacecraft—the 1,343-kg main bus carrying the 15-kg Mars Orbiter—prayers were conducted for success and blessings were sought for the spacecraft.
To know answer about life on Mars, ISRO orbiter to sniff for methane
Over the next three weeks, as final checks are conducted, 852 kg of solid and liquid fuel is loaded for rocket engines, the spacecraft is integrated with the launch vehicle and the final countdown is started, a core group of 50 scientists will be at work 24/7.
***
The scientists can be forgiven for invoking god this time. Once at the forefront of space-faring nations, India has fallen behind in recent years, with no commercial launches of note, failed missions—including experiments with the heavy lift Geosynchronous Satellite Launch Vehicle (GSLV)—and a scam embroiled ISRO.
Spacecraft for Mars to reach Sriharikota today for tests
Vanita Srivastava, Hindustan Times New Delhi, October 02, 2013
First Published: IST(2/10/2013) | Last Updated: IST(2/10/2013)
Advertisement
Indian Space Research Organisation (Isro) scientists are gearing for the launch of Mars Mission this month. All the tests have been successfully cleared and the spacecraft for Mars Mission would be taken from Bengaluru to Sriharikota on Wednesday.
"The spacecraft has cleared all environmental tests and will now be moved to Sriharikota in a special container with environmental monitoring system. It will reach Sriharikota by Thursday afternoon," Isro chairman Dr K Radhakrishnan said.
The Mars Orbiter Mission is due to be launched on October 28 at . At Sriharikota, a few more tests would be conducted on the spacecraft followed by fuel filling. This will then finally be integrated with the launch vehicle.
Mars Orbiter Mission —onboard PSLV-C25, is India's maiden effort to explore the red planet.
It will place India among the six nations to launch a mission to Mars.
After leaving the Earth's orbit, the spacecraft will cruise in deep space for about ten months using its own propulsion system and will reach Martian transfer trajectory in September 2014.
Mars mission is a publicity stunt: G Madhavan Nair
BANGALORE, JULY 24:
India's 'Moon Man' has contested ISRO's contention that the upcoming 'desi' Mars orbiter mission would undertake meaningful research, and dubbed the Rs 450 crore venture as a "publicity stunt".
"ISRO is embarking on an extravagant mission which at best can serve as a publicity stunt", G Madhavan Nair, a former chief of the Bangalore-headquartered Indian Space Research Organisation, said here.
The country was facing an acute shortage of communication transporters, noted Nair during whose tenure of six years as ISRO Chairman and Secretary in the Department of Space, 25 successful space missions were accomplished, including India's maiden moon venture Chandrayaan-I.
ISRO should have solved this issue by following the K Kasturirangan Committee recommendation, he argued.
"Even if the launch takes place, it will be yet another PSLV launch only. One has to wait nearly eight months before anything of MARS is heard. This is an issue which needs a serious review by the scientific community", Nair said.
According to him, GSLV was the vehicle identified because it could take a respectable satellite of nearly 1,800 kg. This could have provided more than a dozen instruments on board and the spacecraft would have been placed in a near circular orbit for a meaningful remote sensing mission of Mars.
"But what is the fate of the much hyped Mars Orbiter Mission (ISRO's mars mission as conceived now) – there were delays in solving the problems of GSLV so a study was undertaken to see what can be done with PSLV. Nearly 1500 kg satellite can be taken to Mars, but due to fuel limitation it could at best be placed in an elliptical orbit of 380 km perigee and 80000 km apogee. No one would attempt a resourcesurvey or mapping mission with such widely varying altitudes", Nair said.
ISRO Chairman K Radhakrishnan told PTI recently the Mars mission would undertake meaningful research.
Objectives of Mars mission
The primary objectives of the mission, according to ISRO, are to demonstrate India's technological capability to send a satellite to orbit around Mars and conduct meaningful experiments such as looking for signs of life, take pictures of the red planet and study Martian environment.
ISRO is going to start in August first week the assembly of PSLV-C25, the rocket on board of which the Mars orbiter would be launched any day between October 21 and November 7.
Elaborating further, Nair said though there was an initial estimate of 25 kg for the scientific instruments, on detailed analysis provision it was reduced to a meagre 14 kg.
This may further come down.
As it stands today, there could be just five instruments – a Mars Colour camera (MCC) to take pictures of Mars; Mass Methane Sensor (MMS) to study the amount and origin of Methane on Mars; Lyman Alpha Photometer (LAP), to study the ratio of Hydrogen and Deuterium on Mars; Mars Exosphere Neutral Composition Analyser (MENCA), to study Martian atmosphere and Thermal Infrared ImagingSpectrometer (TIS).
"Constraints on mass are likely to reduce these payloads," he said. "With such skeletal instruments on board a spacecraft travelling at altitudes varying from 380 and 80,000 km what meaningful science can be done is a big question mark. This is exactly a case of cutting the head to suit the hat," he contended.
Nair said in Chandrayaan-I when the number of instruments had to be increased, the propulsive powerof PSLV was enhanced whereas for Mars Orbiter Mission the desired rocket was not available and the spacecraft was curtailed to an insignificant size.
"Not only that, many of the sub-systems of (the proposed) Chandrayan-2 were cannibalised for the Mars Mission delaying the more meaningful Chandrayan-2. Chandrayan-2 may take place in 2016 or beyond. China is going with similar mission to moon later this year, not to Mars," he said.
"Mission to Mars is claimed to be complex and challenging. No one familiar with orbital mechanics will appreciate this. The sequence for Mars Mission is identical from the earth's orbit. It will be catapulted on path which will reach near moon or Mars. It may take five days to Moon and eight months to Mars because of the long distance. One has to wait and watch and nothing significant needs to be done during this long wait."
(This article was published on July 24, 2013)
Keywords: India, Mars Orbiter Mission, ISRO, G Madhavan Nair, Chandrayaan-I, K Kasturirangan Committee, K Radhakrishnan
ISRO gears up for Mars mission
Bangalore, July 7

Preparations are afoot for the upcoming "big-bang" Mars Orbiter Mission in October-November, an ambitious venture that would shed light on the possible existence of life on the planet besides boosting space agency ISRO's brand equity.
The satellite, which would be launched on board Polar Satellite Launch Vehicle (PSLV-XL), will carry compact science instruments totalling a mass of 15 kg, according to ISRO officials. There will be five instruments to study Martian surface, atmosphere and mineralogy.
Lyman Alpha Photometer (LAP) is aimed at studying the escape processes of Mars' upper atmosphere; Methane Sensor for MARS (MSM) will look to detect presence of methane while Martian Exospheric Composition Explorer (MENCA) will study the neutral composition of the Martian upper atmosphere.
MARS Colour Camera (MCC) would undertake optical imaging and TIR imaging spectrometer (TIS) is targeted to map surface composition and mineralogy.
"Mars Orbiter Mission (MOM) spacecraft integration is under progress," an ISRO official said here today. "The spacecraft has to undergo qualification tests for proving space worthiness once the integration is completed."
The mission would help ISRO understand the technological challenges of such an exploration, the possible existence of life and future colonisation of Mars — Earth's nearest planet which resembles it in many ways. This would be India's first mission to a distant planet.
ISRO will launch the mission in October-November. "If launched within the launch window (October 21-November 19), the spacecraft will travel the least distance to reach Mars," the official said.
This is the immediate next available opportunity for such a mission as Earth and Mars would be coming closer then.
The PSLV-XL (PSLV-C25) will inject the spacecraft from the spaceport of Sriharikota in the 250 X 23000 km orbit.
After leaving Earth orbit in November, MOM spacecraft will cruise in deep space for 10 months using its own propulsion system and will reach Mars (Martian transfer trajectory) in September 2014.
The 1,350 kg spacecraft subsequently is planned to enter into a 372 km by 80,000 km elliptical orbit around Mars.
"The primary objective of this challenging mission is to establish the Indian technological capabilities to reach the orbit of Mars," said ISRO Chairman K Radhakrishnan, also Secretary in the Department of Space. "A number of technological challenges need to be negotiated for a successful Mars mission".
Critical mission operations and stringent requirements on propulsion, communications and other bus systems of the spacecraft are sure to keep the Bangalore-headquartered ISRO on the tenterhooks.
"One of the technological challenges is to realise related deep space mission planning and communication management at a distance of nearly 400 million km," an ISRO official said.
The spacecraft has been provided with augmented radiation shielding for its prolonged exposure in the Van Allen belt. Due to the long range of the order of 55-400 million km from Earth to Mars, there is a communication delay of 20 minutes one way itself. For this reason, ISRO has built high level of onboard autonomy within the Mars orbiter. For Chandrayaan-1, ISRO had to deal with only 4 lakh km.
The robustness and reliability of propulsion system is "one order higher" as after leaving the orbit of Earth, the system would require to work after almost 300 days. And during this voyage, the system needs to maintain complete integrity so as to capture the Martian orbit. — PTI
TRIP TO THE RED PLANET
ISRO will launch the mission in October-November
After leaving Earth orbit in November, the Mars Orbiter Mission spacecraft will cruise in deep space for 10 months
It will reach Mars in September 2014
It's important for a surgeon to disinfect his/her hands (and lower arms) before going elbows-deep into a patient's chest. This makes sense; bacteria is everywhere and the last thing you want is some pesky E. coli setting up colonies around coronary arteries.
This is also true for missions to Mars; stringent anti-bacterial measures are taken to make sure every surface mission is as clean as possible. This avoids spoiling the pristine Martian environment; it minimizes the risk of contaminating experimental results; it also reduces the risk creating a species of super-charged terrestrial bacterial setting up home on the Red Planet, waiting to infect future human settlers "Andromeda Strain"-style (however, these bugs wont be alien in origin, they'll be the evolved nightmarish cousins of bacteria you'd normally find in boogers).
But wait. Scientists have aired concern that protecting Mars from our germs is actually hinderingexploration of the Red Planet. Why? Well, keeping clean can be costly and, besides, we've probably already done an interplanetary sneeze into Mars' orbit anyway. Dirty, dirty Earth
PHOTOS: Mars Through Curiosity's Powerful MAHLI Camera
In a study published in the journal Nature Geoscience, astrobiologists Alberto Fairén of Cornell University and Dirk Schulze-Makuch of Washington State University claim "the protocols and policies of Planetary Protection are unnecessarily restricting Mars exploration and need to be revised." The sheer expense of trying to completely sanitize surface missions of Terrestrial microbial life, they argue, is making missions searching for Martian microbial life "unviable."
NASA's Office of Planetary Protection was set up to make sure that all life remains on Earth. So, to make sure we don't accidentally invade Mars with a wave of microbial colonists, NASA (and other space agencies) go through great pains and expense to make sure every component is as microbe-free as possible before launch.
Interestingly, the issue of planetary protection was thrown into the limelight in December 2011when it became known that one of the components attached to NASA's Mars Science Laboratory did not adhere to strict Planetary Protection rules. A set of drill bits did not go through the final ultra-cleanliness step before they were attached to the rover for launch. This mishap was made public days after Curiosity was launched and Earth was in the spacecraft's rearview mirror. Oops.
Also, analysis suggests that no matter how much sterilization of Curiosity was carried out, some hardy Earth-based bacteria may still have hitched a ride in the tread of the rover's wheels. It's exactly this kind of hardy microbe that shouldn't be sent to Mars. Double oops.
PHOTOS: Alien Robots That Left Their Mark on Mars
But what does it take to become a successful Mars-bound bacterial stowaway anyway?
In 2010, University of Central Florida researchers tortured several different species of microbeto see which was made of the "Right Stuff." Microbes including acinetobacter, bacillus,escherichia, staphylococcus and streptococcus were exposed to the freezing, radioactive environment of a Mars environment analog. The results were, well, rather unsanitary. Though none of the species of bacteria really enjoyed their Martian vacations, Escherichia coli camped out and survived the ordeal (although it didn't feel like reproducing very much). A strain of E. coliis most famous for causing food poisoning.
Other, more recent studies have also been carried out and their results are suggestive that a very small number of bacteria may be able to eke out a microbial living in the Martian regolith.
But all of this is OK, according to Fairén and Schulze-Makuch. If these microbes can survive the harsh Mars environment, Earth has probably already infected the planet.
We know that meteorites from Mars have landed on Earth and, logically, meteorites have carried material from Earth to Mars. Energetic asteroid impacts on the solar system's planets' surfaces share material throughout interplanetary space. If a chunk of Earth material were to be blasted into space by a big meteorite impact, any bacteria inside could survive inside their rocky spaceship and crash-land into the Martian crust. Should they survive the voyage, they could already be on Mars, having been deposited there millions of years ago.
Top 10 Places to Find Alien Life
This planetary microbe sharing is known as panspermia, but it is pure conjecture for now as there is no evidence that anything living has been transferred between the planets — although some Earth-based life has shown a certain flair for surviving for long periods in space, so the mechanism at least seems possible.
Although Fairén and Schulze-Makuch's objections to planetary protection seem logical, their motivation is primarily financial. "As planetary exploration faces drastic budget cuts globally, it is critical to avoid unnecessary expenses and reroute the limited taxpayers' money to missions that can have the greatest impact on planetary exploration," they add.
It may be expensive to sanitize missions before landing on any planetary body, but we have little clue about the impacts of accidentally infecting an alien landscape with Earth microbes. Yes, the panspermia mechanism may have already spread Earth life far and wide. And yes, hardy bacteriamay have already stowed away on missions (no matter how well they've been cleaned). But not carrying out these cleaning procedures, increasing the risk of cross-planetary contamination, in an effort to cut costs seems a little reckless at this early stage in our understanding about the potential genesis of life on other worlds.
But still, it would be rather exciting to find biology on Mars with a distinctive Earth Brand™ life flavor — that would at least add some experimental evidence in the favor of panspermia, expanding the possibilities for life beyond terrestrial soil.
Image: Dirty wheels? Curiosity snaps a photo of its wheels using its robotic arm-mounted MAHLI camera. Credit: NASA/JPL-Caltech
The Search for Life on Mars (A Photo Timeline)
by Clara Moskowitz, SPACE.com Assistant Managing Editor
Date: 12 March 2013 Time: 01:40 PM ET


4 of 12

1976: First Photos from the Ground — VikingCredit: NASAIt was more than a decade later that the first Mars landers were able to send back photos from the surface of the planet. NASA's Viking program sent two probes to orbit the Red Planet, which each ejected landers that touched down on its surface. The first man-made vehicle to come in contact with the surface of Mars was Viking 1, which landed July 20, 1976. It was followed on September 3 by Viking 2, which landed in a different spot. The two landers beamed back photos dispelling the notion completely that intelligent life was walking around Mars, or that liquid water was flowing on its surface. Viking was equipped with experiments specifically designed to detect life in Martian soil, if it existed. One experiment did appear to find evidence for metabolic reactions. However, because other Viking experiments failed to detect organic molecules, the results were largely dismissed as being caused by non-living agents in the soil. Later studies, though, suggested that the organic building blocks of life may have been present in the Martian dirt tested by Viking, but that other chemicals there would have destroyed these organics when heated for the experiment. Ultimately, some researchers still debate what Viking's measurements mean.
Detection method modeled after Dr. Gil Levin's Gulliver on Viking
New Papers Coming About Calcium Perchlorate Pervasive on Mars
By Leonard David Howell
Space.com
The pervading carpet of perchlorate chemicals found on Mars may boost the chances that microbial life exists on the Red Planet — but perchlorates are also perilous to the health of future crews destined to explore that way-off world.
Perchlorates are reactive chemicals first detected in arctic Martian soil by NASA's Phoenix lander that plopped down on Mars over five years ago in May 2008.
It is likely both of NASA's Viking Mars landers in 1976 measured signatures of perchlorates, in the form of chlorinated hydrocarbons. Other U.S. Mars robots — the Sojourner, Spirit and Opportunity — detected elemental chlorine. Moreover, orbital measurements taken by the Mars Odyssey spacecraft show that chlorine is globally distributed.
And more recently, NASA's Curiosity rover found perchlorates within Gale Crater, where it landed in August 2012.
Unexpected results
Finding calcium perchlorate "was one of our most unexpected results," said Peter Smith, the Phoenix principal investigator at the University of Arizona in Tucson.
"Perchlorate is not a common word in the English language; all of us had to go and look it up," Smith said during Spacefest V, a conference held May 24-27 in Tucson, Ariz. "Perchlorate has become an important component of the soil … and half a percent is a fair amount," he said.
NASA's Viking project found a place in history when in 1976 it became the first U.S. mission to land a spacecraft successfully on the surface of Mars. The life-detection landers may have measured signatures of perchlorates, in the form of chlorinated hydrocarbons.
Smith said microbes on Earth use perchlorate for an energy source. They actually live off highly oxidized chlorine, and in reducing the chlorine down to chloride, they use the energy in that transaction to power themselves. In fact, when there's too much perchlorate in drinking water, microbes are used to clean it up, he said.
Furthermore, seasonal flow features seen on Mars may be caused by high concentrations of the brines of perchlorate, which has a strong attraction to water and can drastically lower its freezing point, Smith told Space.com.
Devilishly dangerous
The high levels of perchlorate found on Mars would be toxic to humans, Smith said.
"Anybody who is saying they want to go live on the surface of Mars better think about the interaction of perchlorate with the human body," he warned. "At one-half percent, that's a huge amount. Very small amounts are considered toxic. So you'd better have a plan to deal with the poisons on the surface."
Any humans exploring Mars, Smith said, will find it hard to avoid the finest of dust particles. "It'll get into everything…certainly into your habitat."
Undeniably, Martian dust devils laden with perchlorates are sure to be devilishly dangerous.
But Smith also noted that perchlorate is used within the pyrotechnics industry, and ammonium perchlorate is also a component of solid rocket fuel. "So maybe you can mine it as an on-the-spot resource," he said.
Good news, bad news
Perchlorate has made, and continues to make, the search for organics on Mars all but impossible, said astrobiologist Chris McKay of NASA's Ames Research Center in Moffett Field, Calif.
"Its presence is good news for the possibility of life on Mars … but very, very bad news for humans, McKay told Space.com. "Once again, Mars is full of surprises."
"It's bad for astronauts because it is toxic for humans, as it interferes with the thyroid," he said.
NASA / JPL-Caltech / MSSS
NASA's Curiosity Mars rover is on the prowl, armed with a suite of instruments that can help gauge the habitability of the Red Planet — today, for microbes, and tomorrow, for human explorers.
McKay is one of the co-authors of a new research paper delving into perchlorates on Mars; the work was led by Alfonso Davila of the SETI Institute in Mountain View, Calif. That review is slated to appear in the International Journal of Astrobiology and focuses on perchlorate as both a chemical hazard as well as a resource for humans.
Dual implications
The research emphasizes that perchlorate is widespread in Martian soils at concentrations of between 0.5 to 1 percent. There are dual implications of calcium perchlorate on Mars. On one hand, at such concentrations, perchlorate could be an important source of oxygen. But it could also become a critical chemical hazard to astronauts.
In the forthcoming paper, the researchers propose a biochemical approach for the removal of perchlorate from Martian soil that would not only be energetically cheap and environmentally friendly, but could also be used to obtain oxygen both for human consumption and to fuel surface operations. [Search for Life on Mars: A Photo Timeline]
Managing exposure
In many ways, managing calcium perchlorate exposure on Mars is viewed as no different than managing, for example, uranium, lead or general heavy-metal-contaminated areas in modern mines, where dust suppression, dust extraction and regular blood monitoring are employed. Other ideas suggested by the study team include a wash-down spray that can clean suits and equipment of dust deposits.
More proposals are on the table, too. For instance, Mars suits could be kept on the outside of extravehicular activity rovers or habitation modules. The astronauts would climb into their suits through a bulkhead opening, and then the suits would be sealed from within. Thus, Mars crews avoid coming into contact with outside materials.
This approach was originally proposed as a way for astronauts to avoid back contamination when coming in contact with rock and regolith materials. But it might also help in dealing with perchlorates.
Knowledge gaps
There is growing interest in appraising perchlorate as a long-term exposure risk to humans on Mars before the first human sets foot on the Red Planet.
NASA has identified key strategic knowledge gaps that need to be addressed before humans can be sent to Mars. Two key areas are the potential hazards to humans, and the existence of resources that can support human and robotic operations.
Advertise | AdChoices
"I'd put it in the category of, this is exactly why we do robotic exploration before sending humans," Doug Archer, a scientist with the Astromaterials Research and Exploration Science Directorate of NASA's Johnson Space Center in Houston, said of the perchlorate research.
Archer said perchlorate's existence on Mars would have posed an even larger problem had it not been discovered.
"But now that we know it's there, I am confident we will be able to design around it," he said. "I have a lot of co-workers here at Johnson Space Center who work in the human exploration side of things, and none of them seem to think perchlorate is a showstopper. So sending robotic explorers as precursors to human exploration is shown to be a very useful strategy."
Leonard David has been reporting on the space industry for more than five decades. He is former director of research for the National Commission on Space and is co-author of Buzz Aldrin's new book, "Mission to Mars – My Vision for Space Exploration," published by National Geographic. Follow us @Spacedotcom, Facebook and Google+. Original article on Space.com.
Mars Water-Ice Clouds Are Key to Odd Thermal Rhythm
Should decades of Mars data, including Viking results, be reviewed in light of newly documented, twice-a-day changes in atmospheric temperature and water/ice effects? Would life forms adapt to daily temperature cycles as they do on earth? Did we dig for them, or look for them at the correct time?
June 12, 2013
PASADENA, Calif. -- Researchers using NASA's Mars Reconnaissance Orbiter have found that temperatures in the Martian atmosphere regularly rise and fall not just once each day, but twice.

"We see a temperature maximum in the middle of the day, but we also see a temperature maximum a little after midnight," said Armin Kleinboehl of NASA's Jet Propulsion Laboratory in Pasadena, Calif., who is the lead author of a new report on these findings.

Temperatures swing by as much as 58 degrees Fahrenheit (32 kelvins) in this odd, twice-a-day pattern, as detected by the orbiter's Mars Climate Sounder instrument.

The new set of Mars Climate Sounder observations sampled a range of times of day and night all over Mars. The observations found that the pattern is dominant globally and year-round. The report is being published in the journal Geophysical Research Letters.

Global oscillations of wind, temperature and pressure repeating each day or fraction of a day are called atmospheric tides. In contrast to ocean tides, they are driven by variation in heating between day and night. Earth has atmospheric tides, too, but the ones on Earth produce little temperature difference in the lower atmosphere away from the ground. On Mars, which has only about one percent as much atmosphere as Earth, they dominate short-term temperature variations throughout the atmosphere.

Tides that go up and down once per day are called "diurnal." The twice-a-day ones are called "semi-diurnal." The semi-diurnal pattern on Mars was first seen in the 1970s, but until now it had been thought to appear just in dusty seasons, related to sunlight warming dust in the atmosphere.

"We were surprised to find this strong twice-a-day structure in the temperatures of the non-dusty Mars atmosphere," Kleinboehl said. "While the diurnal tide as a dominant temperature response to the day-night cycle of solar heating on Mars has been known for decades, the discovery of a persistent semi-diurnal response even outside of major dust storms was quite unexpected, and caused us to wonder what drove this response."

He and his four co-authors found the answer in the water-ice clouds of Mars. The Martian atmosphere has water-ice clouds for most of the year. Clouds in the equatorial region between about 6 to 19 miles (10 to 30 kilometers) above the surface of Mars absorb infrared light emitted from the surface during daytime. These are relatively transparent clouds, like thin cirrus clouds on Earth. Still, the absorption by these clouds is enough to heat the middle atmosphere each day. The observed semi-diurnal temperature pattern, with its maximum temperature swings occurring away from the tropics, was also unexpected, but has been replicated in Mars climate models when the radiative effects of water-ice clouds are included.

"We think of Mars as a cold and dry world with little water, but there is actually more water vapor in the Martian atmosphere than in the upper layers of Earth's atmosphere," Kleinboehl said. "Water-ice clouds have been known to form in regions of cold temperatures, but the feedback of these clouds on the Mars temperature structure had not been appreciated. We know now that we will have to consider the cloud structure if we want to understand the Martian atmosphere. This is comparable to scientific studies concerning Earth's atmosphere, where we have to better understand clouds to estimate their influence on climate."

JPL, a division of the California Institute of Technology in Pasadena, provided the Mars Climate Sounder instrument and manages the Mars Reconnaissance Orbiter project for NASA's Science Mission Directorate, Washington.
Mission Accomplished. NASA confirms that life could have lived on Mars!
Viking Gulliver results demand review.
NASA's Curiosity Mars Rover Nears Turning Point
Now Let's Go Exploring !
Photo 1 of 8
Drilled Hole and ChemCam Marks at ' Cumberland'
The Chemistry and Camera (ChemCam) instrument on NASA's Mars rover Curiosity was used to check the composition of gray tailings from the hole in rock target "Cumberland" that the rover drilled on May 19, 2013. Image credit: NASA/JPL-Caltech/MSSS
› Full image and caption
Mars Science Laboratory Mission Status Report

PASADENA, Calif. - NASA's Mars Science Laboratory mission is approaching its biggest turning point since landing its rover, Curiosity, inside Mars' Gale Crater last summer.

Curiosity is finishing investigations in an area smaller than a football field where it has been working for six months, and it will soon shift to a distance-driving mode headed for an area about 5 miles (8 kilometers) away, at the base Mount Sharp.

In May, the mission drilled a second rock target for sample material and delivered portions of that rock powder into laboratory instruments in one week, about one-fourth as much time as needed at the first drilled rock.

"We're hitting full stride," said Mars Science Laboratory Project Manager Jim Erickson of NASA's Jet Propulsion Laboratory, Pasadena, Calif. "We needed a more deliberate pace for all the first-time activities by Curiosity since landing, but we won't have many more of those."

No additional rock drilling or soil scooping is planned in the "Glenelg" area that Curiosity entered last fall as the mission's first destination after landing. To reach Glenelg, the rover drove east about a third of a mile (500 meters) from the landing site. To reach the next destination, Mount Sharp, Curiosity will drive toward the southwest for many months.

"We don't know when we'll get to Mount Sharp," Erickson said. "This truly is a mission of exploration, so just because our end goal is Mount Sharp doesn't mean we're not going to investigate interesting features along the way."

Images of Mount Sharp taken from orbit and images Curiosity has taken from a distance reveal many layers where scientists anticipate finding evidence about how the ancient Martian environment changed and evolved.

While completing major first-time activities since landing, the mission has also already accomplished its main science objective. Analysis of rock powder from the first drilled rock target, "John Klein," provided evidence that an ancient environment in Gale Crater had favorable conditions for microbial life: the essential elemental ingredients, energy and ponded water that was neither too acidic nor too briny.

The rover team chose a similar rock, "Cumberland," as the second drilling target to provide a check for the findings at John Klein. Scientists are analyzing laboratory-instrument results from portions of the Cumberland sample. One new capability being used is to drive away while still holding rock powder in Curiosity's sample-handling device to supply additional material to instruments later if desired by the science team.

For the drill campaign at Cumberland, steps that each took a day or more at John Klein could be combined into a single day's sequence of commands. "We used the experience and lessons from our first drilling campaign, as well as new cached sample capabilities, to do the second drill campaign far more efficiently," said sampling activity lead Joe Melko of JPL. "In addition, we increased use of the rover's autonomous self-protection. This allowed more activities to be strung together before the ground team had to check in on the rover."

The science team has chosen three targets for brief observations before Curiosity leaves the Glenelg area: the boundary between bedrock areas of mudstone and sandstone, a layered outcrop called "Shaler" and a pitted outcrop called "Point Lake."

JPL's Joy Crisp, deputy project scientist for Curiosity, said "Shaler might be a river deposit. Point Lake might be volcanic or sedimentary. A closer look at them could give us better understanding of how the rocks we sampled with the drill fit into the history of how the environment changed."

JPL, a division of the California Institute of Technology, Pasadena, manages the Mars Science Laboratory Project for NASA's Science Mission Directorate in Washington. For more about the mission, visit:http://www.jpl.nasa.gov/msl , http://www.nasa.gov/msl and http://mars.jpl.nasa.gov/msl .

You can follow the mission on Facebook and Twitter at: http://www.facebook.com/marscuriosity andhttp://www.twitter.com/marscuriosity .
Guy Webster 818-354-6278
Jet Propulsion Laboratory, Pasadena, Calif.
guy.webster@jpl.nasa.gov
Radiation dose on Mars mission at least two thirds safe lifetime limit
Nasa estimate of radiation exposure is based on a round trip and excludes time spent on the surface of Mars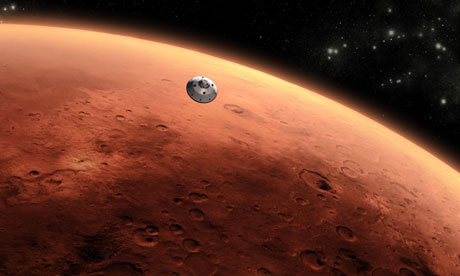 Worrying news for anyone keen on taking a trip to Mars: flying to the Red Planet and back could, in a single mission, expose you to a dose of radiation equivalent to two-thirds of the safe lifetime limit for astronauts, according to a new study led by Nasa.
Scientists used measurements from the Mars Science Laboratory (MSL), the spacecraft that took the Curiosity rover to the Red Planet in 2012, to work out the radiation threat to humans travelling through deep space for long periods of time.
Missions to the Red Planet would take several years to complete and, during that time, astronauts would face health risks from two main types of radiation: cosmic rays and energetic particles from the sun, associated with solar flares and coronal mass ejections. Both types of radiation can damage DNA and increase the risk of an astronaut developing cancer.
On missions in low-Earth orbit, which include all shuttle flights and stays on the International Space Station, astronauts are largely protected from the most harmful effects of the radiation thanks to the Earth's magnetic field, which creates a bubble around the planet that deflects much of the radiation. In interplanetary space, however, astronauts will not have this protection.
Nasa's guidelines say that astronauts should not be exposed to more than 1,000 millisieverts (mSv) of radiation in a lifetime, which is associated with a 5% increase in risk of developing a fatal cancer. According to the latest study, based on data from MSL's Radiation Assessment Detector (RAD), astronauts on a 360-day round trip to Mars would get a dose of 662mSv on their journey.
"In terms of accumulated dose, it's like getting a whole-body CT scan once every five or six days," said Cary Zeitlin, a principal scientist in the Space Science and Engineering Division of the Southwest Research Institute in Boulder, Colorado, who led the study. His results arepublished on Thursday in the journal Science.
Geraint Jones, a space scientist at University College London, said that a dose of 662mSv over the course of a single trip would be "at a level where changes in blood cells can easily be observed, and over half the dose at which radiation effects such as nausea kick in. The annual exposure limit for nuclear industry employees in the UK is 20mSv, so the measured dose is clearly well in excess of that. The accumulation of the measured exposure in less than a year is clearly at a dangerous level, not only for astronauts' health and wellbeing, which should always be the priority, but also for their ability to perform their mission tasks successfully."
The high dose means that spacecraft bound for Mars will need good shielding to protect their human inhabitants. "For moon bases, there are already plans to bury habitation modules – a metre or two of lunar soil can reduce the exposure level significantly," said Jones. "Providing effective shielding for an entire spacecraft travelling to Mars is almost certainly impractical - it would be too heavy and therefore costly. It's more realistic to build a 'storm cellar' into the design: a highly shielded module where astronauts could shelter for up to several days during periods of high solar activity."
Lewis Dartnell, an astrobiologist at the University of Leicester, added that shielding was only part of the solution for potential trips to Mars. Scientists would also need to monitor closely the activity of the sun and watch for coronal mass ejections and flares that were headed towards the spacecraft, so they could give the crew timely warnings to get into their shelters. Either that, he said, "or you start changing the level of risk that you deem to be acceptable for your astronauts".
Zeitlin's study is not the final word in working out an astronaut's radiation exposure on a Mars trip. Dartnell pointed out that MSL made its journey to Mars during a relatively quiet phase in the sun's activity cycle. He added that Nasa still had to report on the levels of radiation on the surface of Mars, where astronauts might spend a year or longer during a mission, thus increasing their radiation dose even further.
Curiosity tasked with hunting for elusive Mars organics
BY STEPHEN CLARK
SPACEFLIGHT NOW
Posted: 22 May 2013
Grotzinger and Vasavada have directed their science team to develop a systematic search for organic molecules, driving the rover to locations thought to best sustain carbon.
Back in action after a month out of contact with Earth, NASA's Curiosity rover is renewing its quest to excavate a definitive signal of organic molecules - the building blocks of life - from the red planet's regolith and bedrock after a first taste of Martian soil turned up inconclusive results.
Scientists say there should be plenty of organic molecules on Mars. The red planet has been pummeled by asteroids and comets since it formed, delivering organics to the surface over billions of years.
So far, Curiosity has not encountered the levels of organic material scientists expected to find, but the mission has a long way to go before reaching a verdict on the presence of organics at the rover's Gale Crater exploration site.
The six-wheeled robot's drill bored into a slab of Martian mudstone Sunday to collect the mission's second sample of rock powder. The rover's drill and scoop, mounted on the craft's robotic arm, will deliver the sample to Curiosity's analytical instruments to scrutinize the material for the signature of life-forming organic molecules.
The drill site is at a rock named "Cumberland" about 9 feet away from the location where Curiosity extracted the mission's first powder rock sample from a target called "John Klein."
The drill campaign at Cumberland is the rover's first major scientific research activity since it renewed full communications with Earth in early May. Mars was on the opposite side of the sun from Earth for most of April, and managers instituted a moratorium on commands to the rover in case the sun disrupted or corrupted signals passing between Curiosity and ground antennas.
Scientists will use the Cumberland sample to confirm results from an analysis of Curiosity's John Klein sample collected in February, which showed the rover is in a region that was once habitable for life on ancient Mars.
The second drill sample will help ensure the findings from the John Klein analysis were not affected by contamination from other types of Martian soil.
"The idea is to follow up on all these discoveries we've been making at this John Klein drill site," said Ashwin Vasavada, the rover's deputy project scientist, in an interview before the May 19 drill at Cumberland. "The team has done a really extensive analysis of the first powder that was acquired during the drilling, but to confirm some of those results and maybe slightly tweak some of experiments for even better analysis, we'd like to do a second drill hole somewhere around the current drill site."
Both drill locations are in a shallow depression named Yellowknife Bay, where Curiosity has explored rocks and soil since autumn. Scientists believe the Yellowknife Bay site is at the end of an ancient river system.
Despite the promising discovery that Yellowknife Bay was once habitable for microbial life, studies of drill and scoop samples gathered by Curiosity have been inconclusive on the hunt for organic compounds - the chemical building blocks necessary for the formation of life.
Vasavada said he expects Curiosity will spend a few more weeks at Yellowknife Bay, then drive toward Mount Sharp, a three-mile-high peak nearby that might offer a more definitive measurement for Curiosity's instruments sensitive to organic molecules.
Since landing on Mars in August, Curiosity has driven about a half-mile across rocks and dusty soil to the Yellowknife Bay region. The rover's on-board instruments tasted powder from mudstone and found an array of elements essential for life.
Carbon? Check. Hydrogen? Absolutely. Oxygen? Yep. Nitrogen? Sure. Phosphorus? You bet. Sulfur? Plenty.
"You add it all up, and the presence of minerals in various states of oxidation would provide a source of energy for primitive biology," said John Grotzinger, Curiosity's lead scientist from NASA's Jet Propulsion Laboratory.
That finding is enough for Curiosity's mission to be considered a success, Grotzinger told a NASA advisory panel in April.
"This meets our mission success criteria, and we're having a good time," he said.
But in its first thorough check of Martian soil, Curiosity's SAM sample-analyzing instrument, designed to sniff out the building blocks of life, did not detect the kind of complex organic molecules many scientists hoped to find.
"So far, we detected some carbon in the rocks and some very simple carbon-containing molecules, but nothing you would call the organics that people were excited to find," Vasavada said. "That's kind of a mystery because we expect there to be carbon or even organics on Mars delivered naturally. We know that, for example, asteroids and comets have organic molecules in them. They form naturally in space and would be delivered to Mars."
Grotzinger and Vasavada have directed their science team to develop a systematic search for organic molecules, driving the rover to locations thought to best sustain carbon. Curiosity is not equipped to find extant life, but there is much to learn about the red planet's ability to preserve organics and how to uncover them.
It won't be easy, Grotzinger said.
"I just think we'd be nuts to go around promising people that we have even a good chance of finding organics," Grotzinger said in April. "On the other hand, I think, as a mission, we have to undertake this search systematically, so that if we don't find anything, we can do a proper post-mortem and say here's what we tried, here's what we discovered, and here's our best attempt to explain why we might have failed."
And if scientists are lucky, the rover could make a discovery, he said.
Curiosity is first continuing the work at Yellowknife Bay.
Managers selected the Cumberland drill site because it is near the location Curiosity retrieved the mission's first powder sample.
But one difference is the Cumberland rock is covered with tiny spherical concretions, which look similar to 'blueberries' discovered by NASA's Opportunity rover on the other side of Mars.
Opportunity found the blueberry concretions were made of hematite - a strongly oxidized iron-bearing mineral - left behind as water saturated Martian bedrock in an earlier wetter period in the red planet's history.
While Curiosity's finding looks similar to Opportunity's blueberries, scientists say the granules are made of different material. One possibility is the concretions are made of magnetite - an iron-based mineral with less oxidation than hematite - and formed in an aquatic environment in a similar way to the hematite blueberries.
Curiosity's chemical and mineralogical instrument indicated the rocks near the rover are rich in magnetite, and trailings from both of the rover's drill holes are gray, suggesting the material is less oxidized than the reddish rock present at Opportunity's landing site.
Scientists will have to wait several weeks to learn whether Curiosity's instruments find organic molecules in the Cumberland concretions. Their wait is even longer before Curiosity searches for organics amid the layers of clay on Mount Sharp, which researchers suspect holds the mission's best shot for finding more complex organic molecules than found so far.
Curiosity will start driving toward Mount Sharp as soon as June, making brief stops to investigate rocks and other interesting research targets before beginning the climb up the flank of the central peak of Gale Crater, the rover's landing site.
When NASA selected the Curiosity landing site, the prevailing theory was Mount Sharp was formed in a long-gone lake. But new research from scientists at Princeton University and the California Institute of Technology suggests Mount Sharp was assembled over eons by silt lifted into the Martian sky by winds.
The theory of wind formation for Mount Sharp would throw into doubt whether Mount Sharp is the best spot on Mars for a rover to seek evidence for past life, according to Kevin Lewis, a Princeton associate research scholar in geosciences and a participating scientist on the Curiosity rover mission.
This image from Curiosity's navigation camera captured a view of the rover's robot arm and turret, which holds the drill and other instrumentation. Credit: NASA/JPL-Caltech
Based on researchers' understanding of how organics are transported through the solar system, Vasavada said there should be many more carbon compounds than what Curiosity has discovered to date.
Paul Mahaffy, principal investigator for Curiosity's Sample Analysis at Mars instrument package, said ancient stream systems and layered clays like Yellowknife Bay and Mount Sharp are typically good preservers of organics on Earth.
"We do believe that there should be a background rain of abiotic carbon that comes in from the cosmos," Grotzinger said. "We would expect, at some point, to actually find, and be able to measure, something more complicated than a single chlorine chlorohydrocarbon - just a one-carbon atom structure."
Although Curiosity's first tastes of soil produced no conclusive results for organics, officials are not close to giving up. But scientists are questioning why the rover did not detect carbon where it was expected.
"Are we even able to detect that background amount we expect to be there, apart from life or anything else? If not, why not? The team has been discussing various ways that organics are destroyed on Mars," Vasavada said. "One possibility is that this particular site we're at wasn't conducive to preserving organics over time. There could be things like UV light, natural high-energy radiation, or different chemical oxidants, all of which could destroy the evidence before we get a chance to detect it with our instruments.
"That's where we're at with this particular site, not having seen much of a signal," Vasavada said. "Now the job is to take out the pencil and paper and figure out what we would have expected to see even from natural sources. Is it telling us this is not a place that would preserve that kind of evidence for us? That would point us to look elsewhere."
Michael Meyer, chief scientist for NASA's Mars program, said the rover's results will not be the final ruling on whether life or organic material existed in the red planet's distant past.
"Even if you understand everything and you don't find any evidence, that doesn't mean there wasn't something going on when those rocks were laid down," Meyer said May 6 in a public discussion at the Humans 2 Mars Summit in Washington.
According to Grotzinger, the rover's science team is thinking of ways "up the bar" and explore for carbon with an eye toward informing upcoming missions of where organics tend to reside on Mars.
"We're learning about how to find areas and samples that would preserve that kind of evidence," Vasavada said. "That helps not only us, but a sample return mission."
NASA's next Mars rover, due for launch in 2020, will likely carry equipment to collect and store soil samples for retrieval by a future spacecraft for return to Earth.
"I see this as something important for us to do because this isn't going to be easy," Grotzinger said. "Somewhere there should be something preserved. I think as we go to Mount Sharp, we'll be able to push more buttons there, and not only explore different habitability scenarios but also explore options that may have preserved organic carbon differently."
Mars rocks examined by NASA rovers
(Sen) - Rovers on Mars have been analysing rocks to gain a clearer picture of the planet's past environment and to understand if it once had conditions suitable for life.
NASA's Curiosity rover has collected a powdered sample from a rock it drilled on May 19. This is the second rock drilled by the rover.
The rover drilled a hole about 1.6 cm in diameter and 6.6 cm deep in the target rock which has been named "Cumberland". The powder collected will be analysed by the rover'sonboard tools in the coming days.
The rock is only about 2.75 metres away from the first rock drilled by Curiosity back in February, named John Klein. Both rocks are in an area named Yellowknife Bay.
Cumberland was chosen as the target rock for the second outing of the drill because it appears similiar to the John Klein rock and the sample collected will be used to verify findings from John Klein. The analysis of John Klein's powder by the rover's onboard laboratory was that in the ancient past there were environmental conditions favourable to microbial life.
Data returned from the John Klein rock indicated that Yellowknife Bay was probably the end of a river system in the ancient past.
After further exploration of the Yellowknife Bay area, Curiosity will begin a month long trek to the base of Aeolis Mons - also known as Mount Sharp - in the middle of Gale Crater.
Whilst Curiosity is the largest and most advanced rover ever built, its smaller hardy cousin, the Mars Exploration Rover Opportunity, has also been studying a rock for clues to the planet's past environment.
The pale rock in the upper center of this image called "Esperance" was inspected by NASA's Mars Exploration Rover Opportunity. Preliminary interpretation points to clay mineral content due to intensive alteration by water. Image Credit: NASA/JPL-Caltech/Cornell/Arizona State Univ.
Opportunity has been at the rim of Endeavour Crater - which has a diameter of 22 kilometres (14 miles) - in an area called Cape York studying a rock dubbed "Esperance".
Although not armed with a drill or the ability to examine samples aboard its own laboratory, Opportunity does have an alpha particle X-ray spectrometer, (APXS) a camera and an abrasion tool. The rover exposed a patch of the rock's interior with the abrasion tool and used the camera and spectrometer to gather data. The rover found evidence the rock was once covered in water.
Scott McLennan, of the State University of New York and a member of the Opportunity science team, said: "What's so special about Esperance is that there was enough water not only for reactions that produced clay minerals, but also enough to flush out ions set loose by those reactions, so that Opportunity can clearly see the alteration."
WATER THAT MOVED THROUGH FRACTURES DURING THIS ROCK'S HISTORY WOULD HAVE PROVIDED MORE FAVOURABLE CONDITIONS FOR BIOLOGY THAN ANY OTHER WET ENVIRONMENT RECORDED IN ROCKS OPPORTUNITY HAS SEEN
Steve Squyres, the mission's Principal Investigator, observed: "Water that moved through fractures during this rock's history would have provided more favourable conditions for biology than any other wet environment recorded in rocks Opportunity has seen."
The team found the rock's composition had higher amounts of aluminium and silica, and lower amounts of calcium and iron, compared to previous rocks studied by the rover.
Opportunity is now making its way around the rim of Endeavour Crater to Solander Point, about 2.2 km (1.4 miles) from its current location.
Opportunity is one of two Mars Exploration Rovers that landed in 2004. Its twin, Spirit, ceased working in 2010. Opportunity has outlived its life expectancy by a considerable margin, having been built for just a 3 month primary mission.
Opportunity is managed by NASA's Jet Propulsion Laboratory (JPL) based in Pasadena, California. JPL also manages Curiosity - formally known as Mars Science Laboratory - which landed on Mars on August 6 2012 (UTC) on a two year mission to study the planet for evidence of whether the planet ever had conditions suitable for life.
Mars Icebreaker Life Mission
Mars
Posted: 05/16/13
Author: Charles Q. Choi, Astrobiology Magazine Contributor

---

Summary: The Icebreaker Life mission to Mars, currently being developed, would drill down about 3 feet and scan the ice shavings for organic biomarkers — molecules that are too complex to be produced non-biologically and could be conclusive evidence of life.
The Icebreaker drill (center), with sample transfer robot arm (to left of drill, extended), and instrument mockups with sample inlet ports (left). Credit:NASA

Missions to Mars have only scratched its surface. To go deeper, scientists are proposing a spacecraft that can drill into the Red Planet to potentially find signs of life.

The driving goal for exploring Mars is finding signs of life, said planetary scientist Christopher McKay at NASA's Ames Research Center. There are mountains of evidence that Mars was once home to liquid water on its surface, and virtually wherever there is water on Earth, there is life. Some researchers have even suggested that life on Earth may have originally come from Mars, stemming from microbes in rocks blasted off the Red Planet by cosmic impacts — some 220 pounds (100 kilograms) or so of meteorites from Mars are known to have landed on Earth.

Although the cold, thin atmosphere Mars has now means that liquid water cannot last on its surface long, orbital images from NASA's Mariner 9 mission and many other findings since then suggest Mars was once covered in rivers and seas, and that water may have even flowed there recently. Mars also has an atmosphere possessing carbon and nitrogen, essential elements for life as we know it, and organic molecules — the carbon-based compounds that building blocks of life such as proteins and DNA are made from — are expected to rain down in meteorites onto Mars, potentially once serving as the raw material for life.

Some who have not bothered to study the evidence in detail still believe NASA's Viking landers failed to find organic compounds or active microbes on Mars in the 1970s. However, in the last five years, NASA'sPhoenix lander unexpectedly discovered that perchlorates seemed common in Martian dirt. Perchlorates are thermally reactive compounds that would destroy organic compounds when heated with them, which the Viking probes did when they analyzed dirt they'd scooped up. As such, the fact Viking did not find organics is no longer conclusive evidence that organics are absent on Mars.

One of the best places to potentially find signs of life or "biomarkers" on Mars is within its near-surface ice, which the Mars Odyssey orbiter revealed is widespread. Such ground ice on Earth is good at preserving organic compounds and biological material — indeed, experiments have suggested it can preserve living cells for up to millions of years. Ice can also protect organic biomarkers from destruction from radiation from space and harsh chemicals on Mars.

"Why search for a second genesis of life?" McKay asked. "The implication is that life is common in the universe."

As such, McKay and his colleagues have spent about a decade developing the Icebreaker Life mission to Mars. The spacecraft would drill up to about 3 feet (1 meter) down and scan ice shavings for organic biomarkers — molecules that would be conclusive evidence of life, ones too complex to be produced non-biologically. Discovering any organic biomarkers such as enzymes would not only be evidence of life, but also shed light on the biology of any putative organisms, potentially yielding hints to their genetics and metabolism.


Team members (Glass, Mellerowicz) try to stay warm during drill automation testing at the University Valley Mars-analog site. Credit: NASA

An ideal region for the Icebreaker Life mission to drill would actually be the area where Phoenix landed in 2008. The ice-cemented ground in the northern plains of Mars are the most recently habitable places currently known on Mars — the atmospheric pressure there is high enough to keep water from automatically boiling away. And as recently as 5 million years ago, Mars was tilted in relation to the Sun enough for its polar regions to receive roughly the same level of summer sunlight as Earth's polar regions do nowadays, so ice might have melted.

"This mission focuses on a far more recent time period of Mars than almost any other mission has. And that is wonderful," said planetary scientist Norbert Schorghofer at the University of Hawaii at Manoa, who did not take part in this research.

The Icebreaker Life drill is rotary-percussive, meaning it both spins and hammers. The drill bit has a heat sensor to detect if the ice is close to melting; the drill will slow or stop to prevent melting, since the water could refreeze and lock the drill. Using a separate robotic arm, the lander could pack samples into a capsule that a future mission could return to Earth.

After every 2 inches (5 centimeters) the drill goes into the ground, a brush collects samples off the drill. A battery of instruments can then analyze this material. For instance, the Signs of Life Detector (SOLID) can detect whole cells, complex organic molecules, and simple compounds of potential biological origin with the aid of a digital camera and the latest generation of lab-on-a-chip technology that essentially shrinks a lab's worth of beakers, flasks and other equipment to fit onto microchips for chemistry experiments.

Other potential instruments can measure acidity, alkalinity, dissolved salts and elemental composition, or use lasers to vaporize samples and scan the gas for organic molecules at low enough temperatures for them not to react with perchlorates. The way compounds soluble in water are spread out in the dirt could shed light on how liquid water might once have flowed on Mars.

Analyses of perchlorates could be especially useful. A number of microbes on Earth are known to live off perchlorates in combination with iron found in volcanic rock, so any microbes on Mars could have done the same thing, the researchers noted. Moreover, perchlorates are toxic to humans, so even if no life is found on Mars, learning more about the chemistry and distribution of perchlorates there might be important for any human missions to the Red Planet.

McKay and his colleagues tested the drill up to 3 feet (1 m) depth at Mars atmospheric pressure and against a wide range of materials, including ice, icy soils, icy soils with rocks, and rocks. They also tested it in the Arctic and the Antarctic, where the ice-cemented ground mimics Mars. In all cases, the drill reached 3 feet (1 m) in depth after about an hour.


2013 University Valley field camp. Credit: NASA

The Icebreaker Life mission currently uses the same design as the NASA's solar-powered Phoenix spacecraft with only minor adjustments, and would land near the Phoenix site, operating only during polar summers, the researchers said. Their scenario involves a launch in December 2018 and landing in August 2019.

The scientists also noted the Icebreaker Life payload could accompany other Mars landing systems. For instance, while the SpaceX Dragon capsule is aimed primarily at delivering crew and cargo to the International Space Station, it was also designed to land on Mars, and could deliver the Icebreaker Life mission there. The mission does not have to land at the poles, and does not even have to drill into ice — for instance, if any massive salt deposits are found on Mars, salt could be nearly as good a preservative for life as ice.

McKay cautioned Mars might neither have life now nor ever had it in the past. In addition, critics might say "we are advocating the search for organic biomarkers and we do not yet have direct evidence for organics. This is a valid criticism," McKay said.

Nevertheless, in the hope a future Icebreaker mission could discover signs of life on Mars, "we continue to develop the drill, the sample handling tools and the biomarker detection instrument," McKay said. The researchers would like to improve how deep Icebreaker can drill — "right now we're only 1 meter deep. I would like to be deeper," McKay said.

"A question that needs be asked for every life detection mission is: What will we learn if no life is detected?" Schorghofer asked. "For theIcebreaker mission, the answer is delightfully clear — we will learn a tremendous amount about Mars' recent climate history."

However, the current government financial crisis might doom the Icebreaker Life mission more than any threats on Mars.

"From a technical point of view, it is perfectly possible," Schorghofer added. "From a budgetary and programmatic point of view, it is unlikely to launch as soon as 2018."

The scientists detailed their findings online April 5 in the journal Astrobiology.
Billion-year-old underground water could hold clues to early life on Earth, Mars
BY SHERYL UBELACKER, THE CANADIAN PRESS MAY 15, 2013
TORONTO - Deep underground within the Canadian Shield, scientists are probing for life — yes, life.
Their laboratory is found at the bottom of mine shafts in Timmins, Ont., where pockets of water trapped inside crystalline granite rock have existed for at least a billion years, and may be as ancient as the geology itself — 2.7 billion years old.
That chemical-rich water is seeping, at times even pouring, out of mine bore holes and naturally occurring fissures in the rock 2.4 kilometres below the surface. The water has been captured in what are known as "fractures" within the rocks.
And scientists are keen to find out what that water contains.
"These are the oldest waters that have ever been identified," said Barbara Sherwood Lollar, a geoscientist at the University of Toronto who is part of a research team that will be looking for life forms in samples of water from the site.
"The Canadian Shield is some of the oldest rocks on Earth. These are billions of years old," she said Wednesday. "And what we've shown is despite that, these fractures are still releasing water that are full of energy that could support life.
"We don't know yet if there's life in this, but what we've been able to show is it is habitable, meaning (having the) potential to support life because of the energy that's there."
It's not the kind of oxygen-fuelled life forms found on our planet's surface, but microbes that have evolved in an environment devoid of sunlight and photosynthesis, said Sherwood Lollar, co-author of a research paper published Thursday in the journal Nature.
Such life has already been found at 2.7 kilometres underground at a gold mine in South Africa, though the rocks there date in the tens of millions of years, not billions as the Canadian site does.
Many species have also been discovered in and around hydrothermal vents in the inky darkness at the bottom of oceans, where no sunlight ever penetrates. Water from these vents, which is rich in dissolved minerals that would be toxic to surface dwellers, teem with these "chemoautotrophic" bacteria.
The chemical makeup of the water at the Timmins mine is similar to that produced at hydrothermal vents, said Sherwood Lollar. "It's loaded with dissolved chemistry that actually can support life."
The water's chemistry could provide a snapshot of Earth's atmosphere billions of years ago, when it was transitioning to oxygen, as well as helping scientists better understand the nature of "deep life."
"It's really only in my lifetime that we've begun to understand that the subsurface of our planet isn't just a sterile wasteland. When I was in first-year university we still thought that," she said.
"We're understanding that there is deep life, that it's run by a different kind of energy, often. What we're really interested in now is finding out more about the nature of that kind of life."
If researchers do turn up life forms in the Canadian water samples, the big question is will they be similar or different from those in South Africa or the ocean's hydrothermal vents?
"It will help us understand how much of our planet is actually habitable. Are we really just a thin film of life on the surface? Or how prevalent is this subsurface life and what percentage of the world's overall biomass is down there?"
The answer won't be known for at least a year, Sherwood Lollar said.
What's also exciting, she said, is what discovering life deep underground could mean for planets beyond Earth, specifically Mars.
"Much of the Mars crust is similar to our ancient (Canadian Shield). It's also billions of years old crystalline rock," with a similar geography to the Timmins site, she said.
That suggests that rocks on Mars could also contain water — and maybe even some kind of life.
"It's reasonable to think that same process could be going on today in the depths of Mars."
Read more: http://www.vancouversun.com/business/fp/yourmoney/Billionyearold+underground+water+could+hold+clues+early/8390915/story.html#ixzz2TVLxTZ8h
Any attorneys out there that think they can win this intellectual property rights case?
November 16, 2010
"It is important to realize that this is not a 'suicide mission,'" the paper said. "The astronauts would go to Mars with the intention of staying for the rest of their lives, as trailblazers of a permanent human Mars colony."
The authors compared space colonists with the first European colonists of North America, who sailed to America not planning to return to Europe with syphilis, although many did, killing millions.
Of course the entire idea is tripe unless the astronauts are scientists who can operate the very heavy and complex scientific instruments they will need to take along to accurately identify the chirality of Martian amino acids and also count the number of amino acids in the DNA of Martian microbes. These are the only two experiments that would actually contribute to the advancement of astrobiology and thus justify the mission.
We are fairly certain today that Viking found evidence of life on Mars. And most scientists believe that life on Mars and life on Earth probably came from the same third source because both planets are too young for chemical evolution to run its almost infinite course. When we find proof of life on Mars we have only proven life can travel among nearby planets, unless life on Mars is different from life on Earth. And that cosmic consequence requires the chirality and amino acid examination. You can google why.
So I propose an alternative to a dead end mission to Mars. Let's make it a reality show.
First we sign up the sponsors to cover the cost of a cheap round trip to Mars and we offer them this plot. Two astronauts, a man and a woman of great appeal are selected to fly to Mars. They must compete with other astronauts to get on the flight. And they must compete to accomplish every task successfully along the way. The audience gets to vote for their favorite by logging on the Mars Mission ap or on-line at their store. Perhaps Lunesta could be the sponsor, or GEICO.
When our two astronauts get to Mars and do their research the fans get to vote on which one of them gets to come home with the Mars rocks. There is not enough power or air in the return vehicle for both, plus the very important rocks. The other must stay.
In a surprise ending they fall in love and both decide to stay and await the next wave of immigrants.
Ray Bradbury called Star Trek a Wagon Train episode in space. Need we say more?
Back From Far Side of the Sun, Curiosity Rover Gets Ready to Resume Science
After a long period of silence, NASA has reestablished its link with the Curiosity and Opportunity rovers and is getting ready to resume science operations on Mars.
The Red Planet has been hidden behind the sun for most of the month of April, meaning that signals sent from here to there could get interrupted or scrambled. The Mars flotilla — which includes the two rovers, two orbiting satellites, the Mars Reconnaissance Orbiter and Mars Odyssey, and ESA's Mars Express spacecraft – have been on their own for this duration. The rovers have been banned from driving and have mostly been taking routine measurements. Curiosity, for instance, has monitored radiation and atmospheric changes from its position at Gale Crater.
But now the wait is over. Both rovers are reporting healthy status. The smaller and older Opportunity rover, which has been on Mars since 2004, is out of standby mode and executing new instructions from NASA. The first thing in store for Curiosity is a software update.
"From time to time on your laptop, you need to update your operating system," said geologist John Grotzinger of Caltech, the rover's project scientist. "Every couple of months we also upload a new version of Curiosity's flight software and, when it's convenient, we transition to it."
The newest 225-million-kilometer software patch will improve the rover's efficiency. Certain operations, like making sure the robot's ChemCam wasn't pointed at the sun, previously required a human at mission control to be in the loop. Such processes are now automated.
The software update won't go as quickly as getting the newest version of an iPhone app. It will take the rest of the week to make sure everything is properly installed. After that, Curiosity will be ready to resume doing science.
Grotzinger said the science team is looking to document their drill site, perhaps getting some close-up photos and X-ray measurements inside the drill hole. After that, they will probably look to bore another hole about one or two meters from the original drill site to see if there are any mineral variations in the rock.
"Then we'll make sure there aren't some last minute things to wrap up and begin our plan to head to Mount Sharp," said Grotzinger, referring to the 5.5-km-high peak at the center of Gale Crater that is Curiosity's main target.
The rover hopes to investigate the mountain in order to better understand its watery history and whether or not it could have definitively supported life in the past. Curiosity moves slowly, about the same speed as a crawling baby, so it will take a while to reach Mount Sharp, likely after a few stops at areas of geologic interest. Grotzinger is optimistic that the long trek will begin this summer.
Angry, powerful Sun storm
aims at Curiosity Rover on Mars
Totally out of communications with the Curiosity rover and its over-head satellite network, NASA and its team at Jet Propulsion Laboratory are hoping that Curiosity is still alive when the angry Sun moves from between Mars and Earth.
Last week the giant sun storm AR1726 aimed its delta-class magnetic field, capable of X class solar flares, at Earth with little damage sustained. No X class flares were generated.
The Earth is swaddled in a powerful and resilient electromagnetic shield that is all that saves the planet's atmosphere from disintegration when the Sun's most powerful X-class solar flares deliver billions of tons of high energy particles at millions of miles an hour.
The delta class. X flare-threat has now shifted to the far side of the sun. Earth is safe, but, according to the experts both Mercury and Mars are in the line of fire from incredible radiation levels. And these levels are far greater than the storm that caused JPL to shut down Curiosity on March 5.
Curiosity's handlers put the rover on standby after the sun unleashed a medium-strength flare in the Red Planet's direction on March 5. It's the second recent shutdown for Curiosity, which had just come out of protective "safe mode" on March 2 as engineers work through an issue with its primary computer system.
"Storm's a-comin'! There's a solar storm heading for Mars. I'm going back to sleep to weather it out," NASA officials wrote on behalf of the rover via Curiosity's Twitter feed on March 6.
Mars has no atmosphere to speak of and no lead core to generate a magnetic field, so it can be peeled like a fruit by solar blasts in the X range, and it sometimes is.
It will be a week or so before the NASA rover ventriloquists can hear the faint beep from the red planet that tells them MSL Curiosity lander has endured its greatest threat.
Where life could have lived on Mars,
Today it is "cold, oxidizing and acidic." Curiosity vulcanologist says
ST. CATHARINES - In eight months since NASA's Mars Science Laboratory landed on Mars, there's more tantalizing evidence the planet could once support life.
That's a conclusion from Mariek Schmidt, a Brock University professor and scientist with the laboratory and its rover Curiosity.
Schmidt spoke at a Wednesday lecture as part of a Brock math and science department distinguished speaker series.
"Life was possible at one time on Mars," the vulcanologist and assistance professor of earth sciences told the group of about 100.
"We do not have life, but we found an environment that could have sustained life at one time — and that's very exciting."
The Curiosity Rover landed in the 150-km. wide Gale Crater that also contains a massive peak called Mt. Sharp.
Schmidt spent two months working on the project at NASA's Jet Propulsion Laboratory in Pasadena, CA.
She's among only three Canadian scientists working on the $2.5 billion international mission. Schmidt has since returned to Brock, where she's analyzing data and helping develop plans for the rover.
Among recent discoveries by the nuclear-powered Curiosity is evidence of water affecting rocks and surfaces, and ponded water.
There may have even been potential energy sources for former life.
In an exploration area called Yellowknife Bay, "collectively we found ... very good evidence for an ancient habitable environment," she said.
"The minerology indicates sustained interaction with liquid water, that was not too acidic, not too alkaline and relatively low (salt content)."
Key ingredients for life, like carbon, nitrogen, oxygen, nitrogen were also uncovered. Other minerals had different levels of oxidization, which could have been a microorganism energy source.
She said it's clear Mars was once much more active, with volcanoes and lava rocks.
In her speech, Schmidt said the mission also has a human component in gathering information on what it would be like to visit the planet.
Curiosity has learned Mars is a "cold, dry, dusty place, and wind dominates," she said. "It's an oxidizing and acidic place."
Its sensors have recorded temperatures varying from zero celcius to -90°C. "It's a pretty extreme difference between day and night," she said.
NASA scientists also examined the radiation visitors might be exposed to.
"The other thing that came out of (measurements) is 'yes we could visit Mars and we wouldn't (soon) die of cancer,'" she said, adding she believes people will physically explore the planet in her lifetime.
Meanwhile, the lander is now drilling in the area. It will eventually move toward Mt. Sharp to examine dunes and lower regions there.
The mission is deemed a success if it lasts two years, and the nuclear-powered lander could theoretically be powered for decades.
Asked for whether she thought life exists on Mars now, Schmidt said it's simply not known.
"It is possible," she said. "(And) we can't say for sure but ... it was possible in the past."
don.fraser@sunmedia.ca
NASA puts Mars rover Curiosity on standby after solar flare
The rover team views the shutdown as merely a precaution, as Curiosity was designed to withstand such solar outbursts.
By
Mike Wall, SPACE.com
Thu, Mar 07 2013 at
NASA's Curiosity rover has powered down to wait out a Mars-bound solar blast, complicating efforts to bring the 1-ton robot back from a computer glitch.
Curiosity's handlers put the rover on standby after the sun unleashed a medium-strength flare in the Red Planet's direction on March 5. It's the second recent shutdown for Curiosity, which had just come out of protective "safe mode" on March 2 as engineers work through an issue with its primary computer system.
"Storm's a-comin'! There's a solar storm heading for Mars. I'm going back to sleep to weather it out," NASA officials wrote on behalf of the rover via Curiosity's Twitter feed on March 6.
The rover team views the shutdown as merely a precaution, as Curiosity was designed to withstand such solar outbursts, the Associated Press reported. But the move could delay the rover's return to science operations, which had been anticipated as early as this weekend.
Curiosity landed inside Mars' huge Gale Crater last August to determine if the area has ever been capable of supporting microbial life. The robot had been operating pretty much flawlessly on the Red Planet until Feb. 27, when it failed to send recorded data home to Earth and didn't shift into its daily sleep mode as planned.
[Curiosity Rover's Latest Amazing Mars Photos]
The mission team determined that a glitch had affected the flash memory on Curiosity's main, or A-side, computer system. So engineers swapped the rover over to its backup (B-side) computer, which spurred Curiosity to go into safe mode on Feb. 28.
Since then, the robot's handlers have been working to configure the B-side computer for surface operations and fix the problem with the A-side, which they think may have been caused by a fast-moving charged particle known as a cosmic ray.
Curiosity has been on the road to recovery. The rover came out of safe mode on Saturday and began using its high-gain antenna again a day later. Mission officials have expressed confidence that engineers will fix or troubleshoot the glitch soon, saying Curiosity may resume science operations as early as this weekend if all continues to go well.
The solar flare may now push that timeline back a bit, however.
NASA officials do not expect Tuesday's solar flare to seriously affect any of the agency's other robotic Mars explorers, such as the Mars Reconnaissance Orbiter or Opportunity rover, the Associated Press reported.
The flare was accompanied by a coronal mass ejection (CME), which blasted a huge cloud of solar plasma toward the Red Planet. CMEs that slam into Earth inject large amounts of energy into our planet's magnetic field, spawning potentially devastating geomagnetic storms that can disrupt GPS signals, radio communications and power grids for days.
But CMEs don't have a similar impact on Mars, which lacks a global magnetic field, scientists say.
Follow Mike Wall on Twitter @michaeldwall. Follow us @Spacedotcom, Facebook or Google+. Originally published on SPACE.com.

March 27, 2013: Over the years, the spacefaring nations of Earth have sent dozens of probes and rovers to explore Mars. Today there are three active satellites circling the red planet while two rovers, Opportunity and Curiosity, wheel across the red sands below. Mars is dry, barren, and apparently lifeless.
Soon, those assets could find themselves exploring a very different kind of world.
"There is a small but non-negligible chance that Comet 2013 A1 will strike Mars next year in October of 2014," says Don Yeomans of NASA's Near-Earth Object Program at JPL. "Current solutions put the odds of impact at 1 in 2000."
The nucleus of the comet is probably 1 to 3 km in diameter, and it is coming in fast, around 56 km/s (125,000 mph). "It if does hit Mars, it would deliver as much energy as 35 million megatons of TNT," estimates Yeomans.
For comparison, the asteroid strike that ended the dinosaurs on Earth 65 million years ago was about three times as powerful, 100 million megatons. Another point of comparison is the meteor that exploded over Chelyabinsk, Russia, in February of 2013, damaging buildings and knocking people down. The Mars comet is packing 80 million times more energy than that relatively puny asteroid.
An impact wouldn't necessarily mean the end of NASA's Mars program. But it would transform the program-- along with Mars itself.
"I think of it as a giant climate experiment," says Michael Meyer, lead scientist for the Mars Exploration Program at NASA headquarters. "An impact would loft a lot of stuff into the Martian atmosphere--dust, sand, water and other debris. The result could be a warmer, wetter Mars than we're accustomed to today."
Meyer worries that solar-powered Opportunity might have a hard time surviving if the atmosphere became opaque. Nuclear-powered Curiosity, though, would carry on just fine. He also notes that Mars orbiters might have trouble seeing the surface, for a while at least, until the debris begins to clear.
A direct impact remains unlikely. Paul Chodas of NASA's Near-Earth Object Program stresses that a 1 in 2000 chance of impact means there's a 1999 in 2000 chance of no impact. "A near-miss is far more likely," he points out.
Even a near miss is a potentially big event. The latest orbit solutions put the comet somewhere within 300,000 km of the red planet at closest approach. That means Mars could find itself inside the comet's gassy, dusty atmosphere or "coma." Visually, the comet would reach 0th magnitude, that is, a few times brighter than a 1st magnitude star, as seen from the Red Planet.
"Cameras on ALL of NASA's spacecraft currently operating at Mars should be able to take photographs of Comet 2013 A1," says Jim Bell, a planetary scientist and Mars imaging specialist at Arizona State University. "The issue with Mars Odyssey and the Mars Reconnaissance Orbiter will be the ability to point them in the right direction; they are used to looking down, not up. Mission designers will have to figure out if that is possible."
"The issue with the Opportunity and Curiosity rovers will be power for imaging at night," he continues. "Opportunity is solar powered and so would need to dip into reserve battery power to operate the cameras at night. Whether or not we will be able to do this will depend on how much power the rover is getting from dusty solar panels in the daytime. On the other hand, Curiosity is nuclear powered, so it could have better odds at night-time imaging."
Researchers will be keenly interested to see how the comet's atmosphere interacts with the atmosphere of Mars. For one thing, there could be a meteor shower. "Analyzing the spectrum of disintegrating meteors could tell us something interesting about the chemistry of the upper atmosphere," notes Meyer.
Another possibility is Martian auroras. Unlike Earth, which has a global magnetic field that wraps around our entire planet, Mars is only magnetized in patches. Here and there, magnetic umbrellas sprout out of the ground, creating a crazy-quilt of magnetic poles concentrated mainly in the southern hemisphere. Ionized gases hitting the top of the Martian atmosphere could spark auroras in the canopies of the magnetic umbrellas.
Even before the comet flyby was known, NASA had already decided to send a spacecraft to Mars to study the dynamics of the Martian atmosphere. If the probe, named MAVEN (short for "Mars Atmosphere and Volatile Evolution"), is launched on time in November 2013, it would reach Mars just a few weeks before the comet in 2014.
However, notes MAVEN's principal investigator Bruce Jakosky of the University of Colorado, the spacecraft won't be ready to observe the comet when it reaches Mars. "It takes a while to get into our science mapping orbit, deploy the booms, turn on and test the science instruments--and so on," he explains. "MAVEN won't be fully operational until perhaps two weeks after the comet passes. There are some effects that I would expect to linger for a relatively long period--especially if the comet hits Mars--and we will be able to observe those changes."
Astronomers around the world are monitoring 2013 A1. Every day, new data arrive to refine the comet's orbit. As the error bars shrink, Yeomans expects a direct hit to be ruled out. "The odds favor a flyby, not a collision," he says.
Either way, this is going to be good. Stay tuned for updates as the comet approaches.
Mission status report: A side computer functioning
After April 4– sleep Data, sleep….. until May 1.
PASADENA, Calif. - NASA's Mars rover Curiosity has resumed science investigations after recovery from a computer glitch that prompted the engineers to switch the rover to a redundant main computer on Feb. 28.
The rover has been monitoring the weather since March 21 and delivered a new portion of powdered-rock sample for laboratory analysis on March 23, among other activities.
"We are back to full science operations," said Curiosity Deputy Project Manager Jim Erickson of NASA's Jet Propulsion Laboratory, Pasadena, Calif.
The powder delivered on Saturday came from the rover's first full drilling into a rock to collect a sample. The new portion went into the Sample Analysis at Mars (SAM) instrument inside the rover, which began analyzing this material and had previously analyzed other portions from the same drilling. SAM can analyze samples in several different ways, so multiple portions from the same drilling are useful.
The Rover Environmental Monitoring Station (REMS) is recording weather variables. The Radiation Assessment Detector (RAD) is checking the natural radiation environment at the rover's location inside Gale Crater.
Like many spacecraft, Curiosity carries a pair of main computers, redundant to each other, to have a backup available if one fails. Each of the computers, A-side and B-side, also has other redundant subsystems linked to just that computer. Curiosity is now operating on its B-side, as it did during part of the flight from Earth to Mars. The A-side was most recently used starting a few weeks before landing and continuing until Feb. 28, when engineers commanded a switch to the B-side in response to a memory glitch on the A-side. The A-side now is available as a backup if needed.
One aspect of ramping-up activities after switching to the B-side computer has been to check the six engineering cameras that are hard-linked to that computer. The rover's science instruments, including five science cameras, can each be operated by either the A-side or B-side computer, whichever is active. However, each of Curiosity's 12 engineering cameras is linked to just one of the computers. The engineering cameras are the Navigation Camera (Navcam), the Front Hazard-Avoidance Camera (Front Hazcam) and Rear Hazard-Avoidance Camera (Rear Hazcam). Each of those three named cameras has four cameras on it: two stereo pairs of cameras, with one pair linked to each computer. Only the pairs linked to the active computer can be used, and the A-side computer was active from before landing, in August, until Feb. 28.
"This was the first use of the B-side engineering cameras since April 2012, on the way to Mars," said JPL's Justin Maki, team lead for these cameras. "Now we've used them on Mars for the first time, and they've all checked out OK."
Engineers quickly diagnosed a software issue that prompted Curiosity to put itself into a precautionary standby "safe mode" on March 16, and they know how to prevent it from happening again. The rover stayed on its B-side while it was in safe mode and subsequently as science activities resumed.
Upcoming activities include preparations for a moratorium on transmitting commands to Curiosity from April 4 to May 1, while Mars will be passing nearly directly behind the sun from Earth's perspective. The moratorium is a precaution against possible interference by the sun corrupting a command sent to the rover.
NASA's Mars Science Laboratory project is using Curiosity and the rover's 10 science instruments to investigate the environmental history within Gale Crater, a location where the project has found that conditions were long ago favorable for microbial life. JPL, a division of the California Institute of Technology in Pasadena, manages the project for NASA's Science Mission Directorate in Washington.
The definitive interview with John Grotz on the status of Curiosity
Where Life Could Thrive: Interview With John Grotzinger
by Nola Taylor Reddfor Astrobiology Magazine
Moffett Field CA (SPX) Mar 25, 2013
On Tuesday March 13, NASA's Curiosity science team announced that the Martian rover had found the first confirmed site other than Earth where conditions were right to have once hosted ancient life, if it ever evolved on the red planet.
John Grotzinger, project scientist for the Curiosity mission, offered his perspective on the rover's journey of exploration and the historic find at the John Klein drill site.
A lot has happened in the seven months since Curiosity has landed. How does it feel to have accomplished so much in that time?
It feels terrific. I think our team has a really strong feeling of accomplishment. Everybody's worked really hard. We had a year of preparation for surface operations. Before we landed, we were able to get the orbiter data and do advanced mapping of the landing ellipse, that no matter where we landed, we would have an initial guess about where we might want to go. All of that preparation paid off.
We always felt that the placement of the landing ellipse would put us in a good position to have potential for discovery. We never really felt that we had to race out of there right away. Between the particular place that we ended up landing and having done all that preparation, we were really in a good position to have a rapid path of discovery.
However, you don't know what you've got until you see your cards, and so until that, we've been nervously waiting for the drilling to happen to see what we would get into CheMin and SAM. It worked out just about as well as we could have hoped for.
You mentioned that on reaching the site John Klein, the discoveries that were made were not serendipitous.
They were not accidental or luck, but they were very deliberate in terms of actually getting to that point.
Yes, finding the right geological place was something that we did very deliberately, working with the geological model that we began to develop before we landed, that we added to after we landed with the discovery of the ancient pebble bed. All the signs were directing us towards this area.
Now, what was then serendipitous was the discovery of the clays and the sulfates. We would have been happy with either one of them, let alone both of them occurring simultaneously.
Would you have come up with different conclusions if you had found only one rather than both?
It's possible and it depends. The clays point to a neutral pH environment. The calcium sulfate could be consistent with a variety of pH's, but I think together it really adds up to a strong story for the habitable environment.
This is the first definitive habitable environment outside of Earth. Would you like to speak to that?
It feels pretty great. That's always been the goal. Before Mars, we've been getting closer and closer all the time, and we've known that the very ancient [terrain] is the place to go to. We've done a decade of mapping from orbit and we've tried places on the ground with previous rovers. All of this has been adding up to an increasingly positive situation that we've now been finally able to demonstrate.
In principle, this is an ideal kind of habitable environment for microbes, so we feel really good about that. It's the kind of thing that you look at and you realize as a team that we really have been able to do something pretty profound. We benefited from all those that came before us. We had state-of-the-art equipment and we had an incredibly capable rover with what seemed to be a highly improbable landing configuration. So we took risks where we needed to take risks and they were always what we viewed to be relatively small risks, but being aggressive in that kind of exploration has paid off and we feel really, really good about it.
I think it's kind of obvious how the orbiters have helped you with the mapping and pegging sites. How did previous rovers and the work that they've done help to lay the foundation?
Opportunity showed us the vastness over which water can be active but it also showed us that chemically and mineralogically, just water alone isn't enough. The environment at Meridani, which turned out to be a subsurface groundwater environment, was probably very acidic. It was probably extremely salty and we don't see the chemical energy that we have at John Klein. So it provided a calibration point for the orbiters that were trying to map the sulfates. Because we had an instrument on Opportunity that was able to confirm the presence of sulfate minerals, we were then able to do a cross-correlation between the surface and the orbiter. Thus the orbiter was able to do a better job of mapping.
Then with Spirit, at Gusev Crater, it took years and years and years of exploration to finally find something that was really good. When it did, it was very encouraging exploring the much more ancient part of Mars. We saw what looked like a hot spring deposit there that we weren't able to do the full chemical characterization on, lacking instruments like CheMin and SAM, but we saw that water was able to exist in a different, more promising type of environment than it had existed in Meridiani. Now here at Gale, we're exploring something that looks like an ancient river and lake type environment.
Could you kind of touch on why John Klein has good preservation potential for organics?
When you see the reducing compounds and the green color, it's an indication that, all other things being equal, you've got a better environment for preservation of organics than one in which all the minerals are red, which means they're more oxidized. If you introduce oxygen, at least in a chemical way, it can break down organics. That's why I said that really the important thing, the learning point for us going forward as a community, including the media, is that there's three parts to this preservation problem. It's not just one.
Initially, the issue is that of concentration of organic matter in the primary environment. The second thing is what's going on chemically during the conversion of sediment to rock -- what we call diagenesis -- where lithification occurs. That's where the color is relevant. If you have less oxygen available, then you have a better chance to preserve organics, but that presumes that there is something there to preserve to begin with. Then the third part is that, even if all that goes right and organics had accumulated and you also have the right colors, chemicals, and minerals, if you then expose the surface to radiation for a couple of billion years it can break those organics down.
All three of these things are important for preservation. The good thing for us is that, looking at that grayer color and finding those clay minerals and seeing iron in a not-so-oxidized state helps, but it's not the only thing.
One of the comments made during the press briefing was that, since there were four potential landing sites, there was a 75% chance that the wrong one was selected.
To be clear, the others could have also paid off. There were four final landing spots and we picked one that we thought was best for our payload. But with that we took a little bit of a risk, because within the landing site there was no evidence for sulfates or clays from orbit, which we considered to be potential leading indicators of not just water but also potentially the kinds of habitable environments that we would like to find. If we wouldn't have gone to Gale, that's not to say we wouldn't have found those things elsewhere. All four of the landing sites were known to contain clays at least in one place that would have been accessible to the rover.
Gale just seemed to offer the greatest diversity weighed against the risk that there was no signal in the landing ellipse that there were clays or sulfates there. We were willing to accept that risk. Gale Crater is full of rock, but the reason you don't see a signal from orbit is because it's got a thin coating of dust. That turns out to be a real problem for the spectrometers that look from orbit. Even a few microns-thick layer of dust is enough to prevent the signal from being seen.
So there could be other sites that have clays then that would be hidden from orbit.
Right, yep.
In preparation for solar conjunction, when the sun stands between Earth and Mars and you can't communicate with Curiosity, what kind of things will the team be doing?
We as a team will try to focus on getting more SAM and CheMin results. But mostly it will be the engineers working with Curiosity to make absolutely sure that she'll be safe during conjunction, while we have no ability to communicate.
There was a big hoopla over your NPR interview back in November. How did you feel going into that?
It was just a simple misunderstanding. My enthusiasm was about the proven capability of the payload.
Once you see an instrument as complex as SAM have everything work on it perfectly for the second time, that's when you feel really good about the mission. I believe that, even without the results that we announced that, between the landing and the ability of the rover that was doing as well as it did and that all this sophisticated instrument payload technology was working as well as it has, that this would be historic.
It means that we as explorers can continue to do this. Even if we didn't find the stuff that we had set out to discover, you can at least turn around and say we have the capability to do this at one of the other landing sites.
Gale was a site that the team was just really happy with. It was one that we all embraced with very strong consensus as a place that harbored a lot of potential, though we didn't think that we would know about it this soon.
I think you look at something as complicated as this mission, and when you see it all working, that's what makes you feel like it succeeded.
What would you be most excited to see or discover on Mars with Curiosity?
Well, this is it. I feel at this point the rover is not going to ride off into the sunset. We're going to continue to be as aggressive and as focused and determined as we've been in the past to keep exploring.
At this point it would be an issue of what additional things we would like to see. Geologically speaking, we as a science team see that the base of Mt. Sharp has different ancient environments. We have geologic evidence that suggests there are things there that are different than they are here, and I would like for Curiosity to discover as many potentially different habitable environments as possible. So we have more to go.
Then of course, this is one that you can always hope for but you have to temper it with realistic expectation, and that is to find more complex organics.
Life on Mars: Water and lifelike landscape found; now, shhhhh...they are going to look for lif...er..organics
John Grotzinger talks about once-flowing rivers, the drinkable water—and when we'll walk on the red planet
by Kate Lunau on Saturday, March 23, 2013 - 1 Comment
On March 12, John Grotzinger and a team of NASA scientists made a stunning announcement: Mars once had the right conditions for life, with flowing surface water so benign we might drink it. This finding comes courtesy of the Curiosity rover, which drilled and analyzed a rock sample from an ancient stream bed at Gale Crater on Mars. It's the first habitable environment we know of, other than on Earth. As the first primitive forms of life were emerging here, it now seems possible life might have been taking hold on Mars, too. John Grotzinger is chief scientist on Curiosity, which has been exploring the Martian surface since Aug. 5, 2012. This was the last question. We moved it up to the top where it belongs:
Q: What's next for Curiosity?
A: Finishing up what we're doing here. Trying our hand at looking for organics. Then we're off to Mount Sharp [a 5.5-km-tall mountain of sedimentary rock] to decipher the record of planetary history and detect more, and different kinds, of habitable environments.
Q: Scientists have found evidence of water on Mars before. What about this new finding tells you life could have existed there?
A: We're excited because we're getting a peek at what we call "grey Mars," instead of red Mars. [Curiosity's drill cuttings were green-grey in colour, not red like the surface of Mars, which is highly oxidized.] We're seeing not just the presence of water, but water with a chemical composition that looks friendly toward microbial life. This is the kind of water that, if you drank a glass, you wouldn't keel over and curl up, although I'm not sure I would want to plumb it into an urban district. We also see a diversity of minerals, which vary in their oxidation state. We think of these minerals at Gale Crater as though they were little batteries [which can give energy to microbes].
Q: How much water are we talking about? Was it ankle-deep or hip-deep?
A: There would have been flowing rivers at one point. At the ends of these rivers, there may have been lakes. We don't know how long the lake was around for; it could have dried up very quickly. But it looks like we found that place.
Q: How long ago was this?
A: Most of us think it's certainly greater than three billion years. It could be 3.5 billion. This is the same time we see the very oldest records of life on Earth—[when] life may have been evolving on Earth.
Q: So what happened? Why did the habitable environment on Mars disappear?
A: It could be related to the termination of plate tectonics. On Earth, plate tectonics involves churning [of metals] within the mantle and core. When they circulate, it generates a magnetic field, and gives rise to something we call the magnetosphere, which has electrical charges that deflect the cosmic and solar wind that comes to Earth. We already know that, if you stay out in the sun too long, that's bad for you. If you were on the surface of Mars today, you would not last very long—because of all the harmful cosmic and solar radiation. And so the thought is, maybe Mars lost that protective envelope, and with it, Mars may have lost atmosphere. Mars has a much lower gravity, about one-third of Earth's. The thought is that the very light gases—things like hydrogen and oxygen—got stripped away into space. The atmosphere on Mars today is much, much thinner than Earth's: it's about one-thousandth of Earth's, but we think there's a chance that at one time, it may have been as thick as Earth's. It was apocalyptic climate change on Mars that changed it.
Q: Astronomers now say there are probably hundreds of billions of planets in our galaxy alone. If we know that habitable environments can exist off Earth—even right next door—what does that tell us about the chance there's life elsewhere in the galaxy?
A: When you can confirm an ancient aqueous environment to be this benign, on a planet that's as foreign as Mars, you're left to wonder. These are both terrestrial planets; they both have the same prebiotic chemistry available. It seems like the odds of prebiotic reactions happening that did create life could have more readily happened on Mars than we ever would have guessed.
Q: Based on this, do you think there could be life on Mars today? Is there still water at the surface, or under the surface?
A: We're not equipped to do a life-detection mission. But there are orbiter missions that have such high-resolution cameras that they're able to see places that we call "slope streaks." It looks like, on the sunlit side of some hill slopes, there might be places where water could be emerging today. I think most people would agree the current surface environment of Mars is very inhospitable. But if life once originated on Mars, and then the climate changed so dramatically, maybe these microorganisms took refuge in the subsurface. What we are describing is the kind of environment where very primitive microbes could have lived, whose only energy source is really the rocks themselves: they literally eat rocks. They don't need sunlight, and they don't need to be on the surface. They could exist in the subsurface. I think there's a lot of interest on the part of NASA to try to explore those kinds of environments one day.
Q: On Earth, we've found microbes that can thrive in pretty much any environment imaginable, including deep underground.
A: Yeah. Absolutely. In the last 20 years of modern microbiology, we've learned about microbes that grow in extreme environments, and we call them extremophiles. They can live in very low pH; very high pH; very hot water, including boiling water. In the deep mines in Canada, in Timmins [Ont.], people have gone down and discovered that miles deep in the Earth, you find microbial communities. That's the kind of environment we're trying to describe with Curiosity.
Q: How much of a challenge was it for your team to analyze this rock sample? It was the first time a robot sent from Earth actually drilled on another planet.
A: It was a lot of work. There are so many things you have to check to make sure the rover is functioning, and that all the systems are operating, and that the arm is working and the turret at the end of the arm that holds the drill is working, and that it's all precisely placed. Then you look for a rock that you think will be scientifically interesting, but that when you drill it, it won't just turn into quicksand or something. We had to worry about all of these details, and then we had the hand-wringing after drilling the rock. We had to wait a couple of sols [Martian days] until we could get visual confirmation that we had processed a sample. We put maybe a baby Aspirin–size sample into the instruments. It just turns out we hit pay dirt.
Q: Now that NASA has a plutonium-powered, car-sized rover driving around on Mars, how soon will you be able to put some human astronauts there?
A: The key technology for getting humans to Mars is being able to bring them home. It's a longer trip than the moon, but more importantly, Mars has real gravity. So you have to develop a vehicle that will lift something off the surface. The plan is to first do a Mars sample return: to build another rover, drive it around, collect samples and then bring them back. This would be a set of missions, and [it would] take probably a couple of decades. It's in the planning stages now.
[We would start by building] basically the same kind of rover as Curiosity, which would not just drill, but collect sample cores, roughly the size of pens or pencils. It would then cache those cores for return to Earth. The cache would be something that looks like a bowling ball. The next decade, we would send a retrieval vehicle that would go pick up the bowling ball and put it into orbit around Mars. And then, a couple years after that, you'd send a retrieval vehicle that would go get the bowling ball and return it to Earth. Those three steps are what should pave the way for human exploration of Mars.
Q: If we brought a core sample from Mars back to Earth, I'd imagine scientists could do much more with it than Curiosity can manage, even with its high-tech tool kit.
A: As soon as you get a sample back to Earth, you've got instruments that work at such high levels of accuracy. There would be other elements and minerals you could measure. We're beginning to get a whiff of organics with Curiosity, but we're never quite sure: is it contamination we brought with us? The amount we're seeing is small enough that we have to be very careful with what we say. Whereas, if you bring a sample back to Earth, you could work with tiny amounts to find out whether there is organic matter there, and if it has anything to do with biology.
Q: Organics are a key ingredient to life. If Curiosity makes a confirmed find of organic compounds on Mars, what will that mean?
A: The solar system is full of organics. We just had an announcement of organics on the dark side of Mercury. [The organics they found were similar to tar and coal, and are believed to be delivered by comets and asteroids.] Meteorites come into Earth full of organics. So, if Curiosity finds organics and they aren't contamination we brought from Earth, then they either came from Mars or somewhere else in the solar system. If we determine they came from Mars, we have to figure out whether they were manufactured by a biological process, or not.
Mars rover discovering clean water used Wyoming bentonite for test
2013).
14 hours ago •
Last week, NASA's latest rover, Curiosity, drilled its first holes into the red surface of Mars and passed a few tablespoons of rock powder to two of its on-board analytical instruments.
The results of the mineral tests sent scientists, including one in Billings, into a happy orbit.
At a site about one-third of a mile east of where the rover landed eight months ago, Curiosity apparently found proof that the ancient climate on Mars once contained clean liquid water and enough water to possibly support primitive microbial life.
Back in Billings, Richard Brown was thrilled about the news because his family's business, Wyo-Ben Inc., supplied NASA with bentonite that helped calibrate Curiosity's instruments.
"What we gave them was reference materials, so they'd know what they are looking at when they got to Mars," Brown said.
Tests from the Mars sample showed X-ray diffraction patterns that were similar to the Wyoming bentonite. That suggests the Earth and Martian rocks contained the same clay mineral called smectite, which is the principle component of bentonite and can only be formed in water, Brown said.
"It could be sea water or lake water, but is has to have some amount of salts in it or it could be hot thermal water like the water in Yellowstone National Park," said Brown.
However, the careful Brown, who has a deep interest in science, quickly added that Wyo-Ben can only take credit for playing "a tiny part" in helping NASA recognize some clay minerals on Mars. The discovery suggests Mars once had enough water over an extended period perhaps 3 billion years ago to possibly support extremophiles -- life that can live in extreme environments.
Curiosity isn't equipped to test directly for life. But the rover found carbon, sulfur and oxygen and other elements present in forms that life on earth uses, NASA said.
As a kid, Brown skipped school to watch every NASA manned space launch and dreamed of becoming an astronaut. Brown is Wyo-Ben's vice president of resources and his brother, David Brown, is company president.
During the 1920s, their grandfather cobbled together several Big Horn Basin bentonite properties. In 1951, their father, Keith Brown, started Wyo-Ben in Billings and the company mines bentonite -- which has hundreds of uses from women's cosmetics to cat litter and oil and gas drilling -- near Greybull, Wyo.
Richard Brown is a long-time member and past president of The Clay Minerals Society, where he met NASA scientists who later asked him for bentonite samples.
With an undergraduate biology degree and a master's degree in plant genetics from Arizona State, Brown is keenly interested in clay.
Wyo-Ben shipped fist-sized samples of bentonite to NASA when the Opportunity and Spirit rovers headed to Mars in 2003.
When NASA scientists called asking for more bentonite for Curiosity's trip, they wanted loaf-size samples.
"That apparently was so they could drill them and test them before trying to drill into Martian rock," Brown said.
This isn't the first discovery of water on Mars.
"Almost a decade ago, Opportunity and Spirit found evidence of water on Mars, but it would have been acidic and very salty or inhospitable for life," Brown said.
Last year, Curiosity found evidence that Mars once had scarce and acidic water at a site called Yellowknife Bay.
After last week's exciting discovery of evidence of purer water, computer problems sidelined the six-wheeled Curiosity, delaying exploration for two days on this $2.5 billion Mars mission. Next month, Curiosity will go dark when the sun comes between Mars and Earth, blocking clear communications.
In 2016, NASA plans on sending up another stationary probe to look for evidence of seismic activity, including "marsquakes," on a planet where "volcanoes once raged," scientists said.
But the curious scientist in Billings is waiting for another seven years to pass.
By 2020, a more advanced Mars rover will head to what NASA calls a "rocky, cold and sterile" planet with instruments capable of detecting extremophile life.
"That's when things get really interesting," Brown said.
Because intense cosmic radiation appears to have destroyed Mar's atmosphere, scientists will likely have to dig for water, Brown said.
"Mars is too cold, so water has either sublimated – gone directly into vapor and vanished – or it's in the form of ice under the surface, with the exception, perhaps of the poles," he said.
If life is found on Mars and Earthlings realize they aren't alone in the universe, Brown anticipates that knowledge may shift the way humans view themselves, and perhaps relate with each other.
"All the math says there's no reasonable way to expect we are alone," he said.
Kepler, a NASA mission to discover new planets using an infrared telescope in space, has identified about 114 planets and 2,740 candidates since its launch in March 2009, according to NASA.
That's a rate of one new planet discovered every two weeks. Using Kepler's findings, NASA estimates there are at least 100 billion planets in the galaxy.
At the very least, finding microbes on Mars would intensify human's search for a rocky planet in a "Goldilocks" zone.
"Close to a star, but not too close so the water boils away, and not so far away that it freezes," Brown said. "Then you've got the possibility of finding the building blocks of life."
When earth is closest to Mars, the planets are about 35 million miles apart. At their furthest orbit, the distance is more like 250 million miles. Sending humans to Mars would mean six months to get there, a year waiting for the planets to reach their nearest orbit again, and then a six-month return voyage.
"If they were asking for volunteers, my hand would go up," Brown said. "That would be an adventure of a lifetime."

March 21, 2013: Europe's Planck spacecraft has obtained the most accurate and detailed map ever made of the oldest light in the universe. The map results suggest the universe is expanding more slowly than scientists thought, and is 13.8 billion years old, 100 million years older than previous estimates. The data also show there is less dark energy and more matter in the universe than previously known.
"Astronomers worldwide have been on the edge of their seats waiting for this map," said Joan Centrella, Planck program scientist at NASA Headquarters in Washington. "These measurements are profoundly important to many areas of science, as well as future space missions. We are so pleased to have worked with the European Space Agency on such a historic endeavor."
The newly estimated expansion rate of the universe, known as Hubble's constant, is 67.15 plus or minus 1.2 kilometers/second/megaparsec. A megaparsec is roughly 3 million light-years. This is less than prior estimates derived from space telescopes, such as NASA's Spitzer and Hubble, using a different technique. The new estimate of dark matter content in the universe is 26.8 percent, up from 24 percent, while dark energy falls to 68.3 percent, down from 71.4 percent. Normal matter now is 4.9 percent, up from 4.6 percent.
Planck is a European Space Agency mission. NASA contributed mission-enabling technology for both of Planck's science instruments, and U.S., European and Canadian scientists work together to analyze the Planck data.
The map, based on the mission's first 15.5 months of all-sky observations, reveals tiny temperature fluctuations in the cosmic microwave background, ancient light that has traveled for billions of years from the very early universe to reach us. The patterns of light represent the seeds of galaxies and clusters of galaxies we see around us today.
"As that ancient light travels to us, matter acts like an obstacle course getting in its way and changing the patterns slightly," said Charles Lawrence, the U.S. project scientist for Planck at NASA's Jet Propulsion Laboratory in Pasadena, Calif. "The Planck map reveals not only the very young universe, but also matter, including dark matter, everywhere in the universe."
Planck launched in 2009 and has been scanning the skies ever since, mapping the cosmic microwave background, the afterglow of the theorized big bang that created our universe. This relic radiation provides scientists with a snapshot of the universe 370,000 years after the big bang.
The cosmic microwave background is remarkably uniform over the entire sky, but tiny variations reveal the imprints of sound waves triggered by quantum fluctuations in the universe just moments after it was born. These imprints, appearing as splotches in the Planck map, are the seeds from which matter grew, forming stars and galaxies. Prior balloon-based and space missions learned a great deal by studying these patterns, including NASA's Wilkinson Microwave Anisotropy Probe (WMAP) and the Cosmic Background Explorer (COBE), which earned the 2006 Nobel Prize in Physics. Planck is the successor to these satellites, covering a wider range of light frequencies with improved sensitivity and resolution.
The age, contents and other fundamental traits of our universe are described in the so-called "Standard Model" of cosmology, which has been developed over the years by astronomers. These new data have allowed researchers to test and improve the Standard Model with the greatest precision yet. At the same time, some curious features are observed that don't quite fit with the simple picture. For example, the model assumes the sky is the same everywhere, but the light patterns are asymmetrical on two halves of the sky, and there is a spot extending over a patch of sky that is larger than expected.
"On one hand, we have a simple model that fits our observations extremely well, but on the other hand, we see some strange features which force us to rethink some of our basic assumptions," said Jan Tauber, the European Space Agency's Planck project scientist based in the Netherlands. "This is the beginning of a new journey, and we expect our continued analysis of Planck data will help shed light on this conundrum."
Complete results from Planck, which still is scanning the skies, will be released in 2014.
Rover bounces back after 2 technical problems
NASA's Mars rover Curiosity has recovered from two back-to-back technical snafus, mission project manager Richard Cook at Jet Propulsion Laboratory said, and would be conducting more science starting Thursday. (NASA / March 19, 2013)
NASA's Mars rover Curiosity is up and running after a pair of back-to-back computer scares, officials at Jet Propulsion Laboratory said, and should be back to its science tasks in the next two days.
The rover has emerged from a weekend of safe-mode after engineers on the mission discovered a relatively minor glitch in the rover's software, according to Mars Science Laboratory project manager Richard Cook -- one essentially corrected by simply deleting a file.
"It cost us a couple days," Cook said in an interview. "But it turned out to be something we understood very easily so we were able to recover very quickly."
The rover would likely be back in business running science tasks by Thursday, he added.
The delay came just a week after Mars scientists announced the rover's drill had dug up evidence that the Red Planet would have been suitable for primitive life.
In fact, the software problem cropped up just as Curiosity was recovering from an unrelated hardware scare that forced the engineers to switch over to the rover's backup computer system.
"We were right in the final stages of getting back to the science when we had that little glitch over the weekend," Cook said.
This more serious memory problem was likely caused by a recent solar storm, Cook said, in which charged particles may have damaged the rover's hardware. Mission engineers tried to sort out the issue before deciding to switch from the main computers (the A side) to the backups (the B side).
Scientists are often loathe to make the switch, Cook explained, because the backup computers basically have to be "taught" all the rules that Curiosity's main brain has learned through experience. And it's a process that takes time.
Now on the B side, the rover is back on track. But the engineers are still planning to get to the bottom of the original hardware issue.
"The one from three weeks ago – there's still some questions about it more in the form of what was the thing that originally caused the memory corruption," Cook said.
That's a mystery that will have to wait to be solved until May – in about two weeks the sun is set to come between the Earth and Mars in what's known as "solar conjunction," blocking a clear signal to the rover.
Second computer glitch stalls NASA's Mars rover
Crammed with unreported data from the SAM exam, Curiosity puts itself in safe mode because of software bug as April 4 transmission deadline looms
March 19, 2013 06:40 AM ET
Computerworld - After a computer glitch sidelined NASA's Mars rover Curiosity late last month, another problem has it down again.
NASA reported that Curiosity put itself into safe mode on Saturday after a software bug caused a command file to fail a size-check.
"This is a very straightforward matter to deal with," said Richard Cook, Curiosity's project manager. "We can just delete that file, which we don't need any more, and we know how to keep this from occurring in the future."
NASA said late on Monday that bringing Curiosity out of safe mode is expected to take a couple of days.
Curiosity's scientific work has been on hold since a memory glitch on its main, or A-side, computer on Feb. 27 derailed the rover's activities. NASA scientists were forced to switch from the rover's A-side computer to its backup system, or B-side.
Curiosity's B-side is now running the rover, and the A-side has been repaired and will act as the new backup system.
NASA is on a deadline to get the rover fully functional before April 4, when communication with all Mars rovers and orbiters will end for about a month.
A solar conjunction -- when the Sun will be in the path between the Earth and Mars -- is fast approaching and will keep NASA engineers from sending daily instructions to the rover, or from receiving data and images in return.
NASA will have to send all operational instructions for that monthlong period to Curiosity before the solar conjunction begins.
The space agency also reported that even though the rover has been having technical trouble, it's also having a lot of success.
A week ago, NASA announced that Curiosity sent home data proving that that the Red Planet could have supported life in the distant past. The evidence came from inside the first rock that the NASA rover drilled on another planet.
Analysis of the mudstone rock sample that Curiosity's robotic arm collected showed that it contained sulfur, nitrogen, hydrogen, oxygen, phosphorus and carbon -- key chemical ingredients for life.
NASA said Curiosity also found evidence of water-bearing minerals in other rocks in the same area.
The rover used an infrared-imaging capability in one of its cameras and an instrument that shoots neutrons into the ground to probe for life-sustaining chemicals. The discovery is leading NASA scientists to believe there once was water flowing over that area.
Mars Discovery Highlights Need for Sample-Return Mission, Scientist Says
by Miriam Kramer, SPACE.com Staff Writer
Date: 15 March 2013 Time:
Artist's view of the Mars Sample Return (MSR) ascent module lifting off from Mars' surface with the Martian soil samples.
CREDIT: ESA
The announcement this week that Mars definitely could have supported some form of life in the ancient past is an unmistakable reminder that future missions to the Red Planet should focus on bringing Martian rock samples back to Earth, a celebrated planetary scientist says.
NASA unveiled the discovery on Tuesday (March 12) with a bold announcement that Mars could have supported primitive life at some point billions of years ago. The Martian find was made with the help of NASA's Mars rover Curiosity, the largest rover ever to explore the Red Planet. But in order to create a clear picture of the story of habitability and life on Mars, scientists will need to get their hands on fresh samples of the planet collected by an ambitious future mission.
Rendezvous above Mars. This artist's view of the proposed Mars Sample Return mission shows an orbiting sample container loaded with martian rock and soil specimens lining up for capture by an Earth returnvehicle.
CREDIT: NASA/JPL
"On the one hand, it shows what we can do with instruments on the surface of Mars," Bruce Betts, the director of projects at the Planetary Society, told SPACE.com. "We'll always be able to do more with our labs on Earth than what we can do on Mars."
The Curiosity rover was able to bore into a Martian rock and find evidence of a habitable environment, but more comprehensive work can be done in labs on Earth, Betts said.
For this reason, scientists like Betts have campaigned to have sample return added as non-negotiable for the next mission to the Red Planet.
NASA is taking the concept seriously. Sample return is at the top of the space agency's list when planning for missions to Mars in the next decade, Betts added. NASA has placed it as the highest priority for any new missions to the Red Planet. [The Search for Life on Mars (A Photo Timeline)]
"You want rocks that are carefully collected," Betts said.
It's important to know exactly where the rocks are coming from, Betts said. If scientists know the context in which the rocks were found, it will help them analyze them in a broader context.
Although there are no solid plans to build sample return into a mission currently in development, future NASA missions are using other means to investigate the Martian interior and exterior.
The MAVEN mission — a Mars orbiter launching later this year — will investigate the ionosphere of the Red Planet to see how carbon dioxide, oxygen and other compounds could have dissipated over time, leaving Mars with the cold, arid atmosphere scientists see today.
NASA's InSight Mars is a lander that will burrow deep into the Martian dirt to learn more about the planet's geological evolution. It is on track to launch in 2016. The agency is also planning to launch a new Mars rover in 2020, but it won't have the capability for sample return.
Europe and Russia are also planning new Mars missions together, including an orbiter and the ExoMars rover.
NASA's announcement on Tuesday means that astronomers are one step closer to understanding what a primitive Mars could have looked like, something that missions in the future will help clarify, Betts added.
"I think the findings like today's continue to increase the interest in Mars as a complex and interesting place," Betts said.
Follow Miriam Kramer @mirikramer and Google+. Follow us @Spacedotcom, Facebook and Google+. Original article on SPACE.com.
Europe, Russia to launch Mars mission to sample soil for signs of life
Reuters / European Space Agency file
The Europe-Russia mission hopes to take scientists beyond NASA's finding that the surface of Earth's neighboring planet had the right mix of elements to sustain life, by drilling 6 feet below its radiation-hit surface for samples.
By Alissa de Carbonnel, Reuters
MOSCOW — Europe and Russia signed a deal on Thursday for a joint Mars mission which will bore beneath the Red Planet's surface for soil samples they hope will solve the mystery of whether there is life beyond Earth.
Europe's space agency had hoped to work with NASA on the two-spacecraft ExoMars mission but turned to the Russians after the U.S. agency pulled out due to budget shortfalls.
The announcement comes amid heightened excitement over the search for life on the planet in our solar system most like Earth after scientists said analysis from NASA's own mission rover, Curiosity, showed Mars had the right ingredients for life.
European scientists say the two-stage mission, with the two craft to be launched in 2016 and 2018, will pave the way for what NASA has described as the "Holy Grail" of Mars exploration: a separate mission to return dirt samples from the Red Planet.
"Curiosity learnt us a little bit, ExoMars will bring us a step further, but bringing back those samples to Earth you can do 10 to 100 times more analysis," Rolf de Groot, head of the European Space Agency's (ESA) Robotic Exploration Coordination Office, told Reuters.
"That is a goal of everybody who works on Mars exploration."
The Europe-Russia mission hopes to take scientists beyond NASA's finding that the surface of Earth's neighboring planet had the right mix of elements to sustain life, by drilling 2 meters (6 feet) below its radiation-hit surface for samples.
"NASA is also drilling, but 2 centimeters deep," de Groot said, referring to the ongoing Curiosity mission. "It's a completely different story."
"ExoMars, by drilling 2 meters into the ground, might hope to identify really the big molecules because that would be a direct indication of the presence of life or that life once existed on Mars."
He said the ESA's Mars rover would also be equipped with a much more advanced laboratory than Curiosity has, so would be able to carry out more detailed analysis.
Russian rockets
Russian Space Agency Roskosmos will provide the rockets to launch the ExoMars — short for Exobiology on Mars — mission and will also design the descent module and surface platform.
Europe turned to Russia after NASA left the $1.3 billion project in February 2012, citing a budget crunch. The ESA and Roskosmos agreed to cooperate last April, but talks to work out the details dragged on for nearly a year.
"This event was a long time in the making and took a great deal of collaboration," Roskosmos head Vladimir Popovkin said after signing the deal with ESA Director Jean-Jacques Dordain in Paris.
Russia's involvement in the ambitious mission could boost the status of its once-pioneering space agency after a litany of costly and embarrassing failures.
The delays in agreeing the mission hinged on the extent of Russia's participation, according to Russian space experts who said Moscow had seemed to reach its goal of full partnership.
"The agreement implies that Russian scientists and engineers will become full-fledged participants in all the international scientific and technical groups," Roskosmos said in a statement.
What was to be Russia's first deep space mission in more than two decades — the Phobos-Grunt mission to scoop up soil samples from Mars — was among five botched launches that damaged Moscow's reputation as a reliable launch partner.
European governments have so far committed 850 million euros to the mission. The funding cap has been set at 1 billion euros ($1.3 billion) but delays and changes to the scientific aspects of the project are expected to drive up the price tag.
Even though NASA pulled out, it will still provide radio communications equipment, an important organics experiment and engineering and mission support.
The United States also plans to follow up its Curiosity rover with an identical probe, to launch in 2020. It has not yet decided if it will cache samples for a future return to Earth.
The U.S. National Academy of Sciences in 2011 ranked a Mars sample return mission as its top priority in planetary science for the next decade. The long-term goal of the U.S. human space program is to land astronauts on Mars in the 2030s.
NASA Mars Scientist Grotzinger explains
Recent Curiosity Rover's findings
By GRETA SHUM
CONTRIBUTOR
Published: Thursday, March 14th, 2013
Mars Science Lab Project Manager and professor of geology at California Institute of Technology John Grotzinger presented new evidence of ancient habitability on Mars, based on the findings from the Curiosity rover, in a lecture on Thursday evening. On Tuesday, the Jet Propulsion Laboratory in Pasadena, Calif. announced that Curiosity's current location in Gale Crater very likely could have hosted microbial life.
Grotzinger explained that this particular location was chosen because it promised to have relevance to multiple interests in the search for habitability on Mars. The rover's eventual destination for the rover is Mount Sharp.
Researchers receiving Curiosity's findings back on Earth were first struck by the rock's surprising color — on the famous Red Planet, the rock in Gale Crater was gray.
"Red Mars turned gray at Gale Crater," Grotzinger said.
The rock found in Gale Crater has been notable to scientists because it suggests a long history of interaction with neutral pH water. This water, which would likely have had a low salinity concentration, would have been far more inviting to microbial life than any other location.
Researchers found that the magnetite found in the rock was not fully oxidized. The discovery of both oxidized and reduced substances in these samples suggests that microorganisms that subsist simply on the chemical energy potential present within a rock could have lived within the Gale Crater rock.
Back on Earth, scientists like Princeton's own Tullis C. Onstott have touted the importance and vitality of prokaryotes that live in extreme habitats like these in recent years. These so-called "extremophiles" were probably the first organisms on Earth, Grotzinger explained.
"This is the most complex spacecraft ever to be sent to the surface of another planet," Grotzinger said as he explained an image of Curiosity's insides. Curiosity is equipped with tools with names like CheMin, Curiosity's X-ray diffraction instrument, and Dust Removal Tool.
One of the challenges of the Mars mission has been the need for vigilant communication with the rover, Grotzinger explained. Furthermore, the scientists must take meticulous precautions in every action. Not only must every movement be simulated on Earth before it can happen on Mars, but every sample must be taken several times in order to prevent contamination.
This time commitment can become a problem when Mars begins its transit behind the Sun. For that period of about a month, the Earth will not be able to communicate by radio signals with Curiosity.
Grotzinger expressed his anticipation for the coming Mars Sample Return Mission scheduled for launch in 2020.
Image record on Mars proves ancient life was possible, if not likely
This set of images compares rocks seen by NASA's Opportunity rover and Curiosity rover at two different parts of Mars. On the left is " Wopmay" rock, in Endurance Crater, Meridiani Planum, as studied by the Opportunity rover. On the right are the rocks of the "Sheepbed" unit in Yellowknife Bay, in Gale Crater, as seen by Curiosity.
The rock on the left is formed from sulfate-rich sandstone. Scientists think the particles were in part formed and cemented in the presence of water. They also think the concretions (spherical bumps distributed across rock face) were formed in the presence of water. The Meridiani rocks record an ancient aqueous environment that likely was not habitable due the extremely high acidity of the water, the very limited chemical gradients that would have restricted energy available, and the extreme salinity that would have impeded microbial metabolism -- if microrganisms had ever been present.
In the Sheepbed image on the right, these very fine-grained sediments represent the record of an ancient habitable environment. The Sheepbed sediments were likely deposited under water. Scientists think the water cemented the sediments, and also formed the concretions. The rock was then fractured and filled with sulfate minerals when water flowed through subsurface fracture networks (white lines running through rock). Data from several instruments on Curiosity -- the Alpha Particle X-ray Spectrometer, the Chemistry and Camera instrument, the Chemistry and Mineralogy instrument, the Mars Hand Lens Imager, the Mast Camera, and the Sample Analysis at Mars instrument -- all support these interpretations. They indicate a habitable environment characterized by neutral pH, chemical gradients that would have created energy for microbes, and a distinctly low salinity, which would have helped metabolism if microorganisms had ever been present.
Both color images have been white-balanced using the same technique to show roughly what they would look like if they were on Earth.
The "true color" image from Opportunity's panoramic camera (Pancam) was acquired on Sol 250 (the 250th Martian day of Opportunity's operations, which was Oct. 6, 2004, on Earth).
The image from Sheepbed was from Curiosity's Mast Camera on Sol 192 (the 192d Martian day of Curiosity's operations, which was Feb. 18, 2013, on Earth).
Image Credit:
NASA/JPL-Caltech/Cornell/MSSS
Browse Image
|
Medium Image
|
Full Res Image (NASA's Planetary Photojournal)
SAM's Mars meal report awaits star-struck computer repair
PASADENA, Calif. - Two compact laboratories inside NASA's Mars rover Curiosity were fed the first sample of rock powder ever collected from the interior of a rock on Mars just a few hours before solar or other starry radiation shut down science for now Mars.
Either using the backup – the only backup – computer or by finding a way to restart the A computer, the Curiosity science team members hope to use the laboratories to analyze the rock powder in the coming days and weeks.
The rover's Chemistry and Mineralogy (CheMin) and Sample Analysis at Mars (SAM) instruments received portions of the sample on Friday and Saturday, Feb. 22 and 23, respectively, and began inspecting the powder.
"Data from the instruments have confirmed the deliveries," said Curiosity Mission Manager Jennifer Trosper of NASA's Jet Propulsion Laboratory, Pasadena, Calif.
The powder comes from Curiosity drilling into rock target "John Klein" on Feb. 8. One or more additional portions from the same initial sample may be delivered to the instruments as analysis proceeds.
During a two-year prime mission, researchers are using Curiosity's 10 science instruments to assess whether the study area in Gale Crater on Mars ever has offered environmental conditions favorable for microbial life. With one computer damaged, the two year mission might be dramatically shortened as the solar storm cycle increases this year, bombarding Mars and Curiosity with damaging plasma and particles traveling at a million miles-an-hour.
Scientific investigations by the rover were suspended Wednesday ending the week-long internal study of the Mars powder. The spacecraft remained in communications at all scheduled communication windows on Wednesday, but it did not send recorded data, only current status information.
The status information revealed that the computer had not switched to the usual daily "sleep" mode when planned. Diagnostic work in a testing simulation at JPL indicates the situation involved corrupted memory at an A-side memory location used for addressing memory files. Memory corruption in space is often caused by damage from solar or other forms of intense, penetrating and damaging radiation.
NASA scientists were aware of the risks to launching the MSL mission two years late of its planned launch date and into the teeth of a growing solar storm cycle. Curiosity survived the first peak of the Solar Maximum during its flight to Mars but is now showing how vulnerable delicate electronics can be in an environment for which they were not designed.
Solar Cycle Update: Twin Peaks? Things are looking testy for Curiosity (see below)

March 1, 2013: Something unexpected is happening on the sun. 2013 is supposed to be the year of Solar Max, the peak of the 11-year sunspot cycle. Yet 2013 has arrived and solar activity is relatively low. Sunspot numbers are well below their values in 2011, and strong solar flares have been infrequent for many months.
The quiet has led some observers to wonder if forecasters missed the mark. Solar physicist Dean Pesnell of the Goddard Space Flight Center has a different explanation:
"This is solar maximum," he suggests. "But it looks different from what we expected because it is double peaked."
A new ScienceCast video explores the puzzling behavior of ongoing Solar Cycle 24. Play it
Conventional wisdom holds that solar activity swings back and forth like a simple pendulum. At one end of the cycle, there is a quiet time with few sunspots and flares. At the other end, Solar Max brings high sunspot numbers and solar storms. It's a regular rhythm that repeats every 11 years.
Reality, however, is more complicated. Astronomers have been counting sunspots for centuries, and they have seen that the solar cycle is not perfectly regular. For one thing, the back-and-forth swing in sunspot counts can take anywhere from to 13 years to complete; also, the amplitude of the cycle varies. Some solar maxima are very weak, others very strong.
Pesnell notes yet another complication: "The last two solar maxima, around 1989 and 2001, had not one but two peaks." Solar activity went up, dipped, then resumed, performing a mini-cycle that lasted about two years.
The same thing could be happening now. Sunspot counts jumped in 2011, dipped in 2012, and Pesnell expects them to rebound again in 2013: "I am comfortable in saying that another peak will happen in 2013 and possibly last into 2014," he predicts.
Another curiosity of the solar cycle is that the sun's hemispheres do not always peak at the same time. In the current cycle, the south has been lagging behind the north. The second peak, if it occurs, will likely feature the southern hemisphere playing catch-up, with a surge in activity south of the sun's equator.
Recent sunspot counts fall short of predictions. Credit: Dr. Tony Philips & NOAA/SWPC [full plot]
Pesnell is a leading member of the NOAA/NASA Solar Cycle Prediction Panel, a blue-ribbon group of solar physicists who assembled in 2006 and 2008 to forecast the next Solar Max. At the time, the sun was experiencing its deepest minimum in nearly a hundred years. Sunspot numbers were pegged near zero and x-ray flare activity flat-lined for months at a time. Recognizing that deep minima are often followed by weak maxima, and pulling together many other threads of predictive evidence, the panel issued this statement:
"The Solar Cycle 24 Prediction Panel has reached a consensus. The panel has decided that the next solar cycle (Cycle 24) will be below average in intensity, with a maximum sunspot number of 90. Given the date of solar minimum and the predicted maximum intensity, solar maximum is now expected to occur in May 2013. Note, this is not a unanimous decision, but a supermajority of the panel did agree."
Given the tepid state of solar activity in Feb. 2013, a maximum in May now seems unlikely.
"We may be seeing what happens when you predict a single amplitude and the Sun responds with a double peak," comments Pesnell.
Incidentally, Pesnell notes a similarity between Solar Cycle 24, underway now, and Solar Cycle 14, which had a double-peak during the first decade of the 20th century. If the two cycles are in fact twins, "it would mean one peak in late 2013 and another in 2015."
No one knows for sure what the sun will do next. It seems likely, though, that the end of 2013 could be a lot livelier than the beginning.
As predicted: Mars Rover Curiosity Has First Big Malfunction afflicted by solar storm
Cook said, similar problems were caused by high-energy solar and cosmic ray strikes. He said that's probably what happened this time.
Marc Kaufman
Published March 1, 2013
The Mars rover Curiosity experienced its first significant malfunction on Wednesday, when one of its two onboard computers became corrupted and failed to turn off and enter "sleep mode" as planned.
The Curiosity team at NASA's Jet Propulsion Laboratory sent up commands to switch all operations from the corrupted A computer to the twin B computer early Thursday morning, according to a Thursday NASA statement.
Most spacecraft have a backup computer to step in if the primary computer fails. (Related: Meet One of Curiosity's Earthbound Twins.)
Richard Cook, project manager for the Curiosity project, said the problem was the most serious experienced by the rover so far in its nearly 7 months on the red planet.
Cook said the team was most concerned Wednesday night, before they got a handle on the nature of the problem. But once they began to understand better, it became clear that switching to the other computer was necessary and unlikely to have long-term consequences.
He said he hoped Curiosity would resume science work in about a week. (Related: Manned Mars Mission Announced by Dennis Tito Group.)
On other space missions, Cook said, similar problems were caused by high-energy solar and cosmic ray strikes. He said that's probably what happened this time.
Curiosity has protections against such high-energy disruptions, but the problem was compounded by what appears to have been the location of the strike—in the directory, or "table of contents," of the computer's memory. Cook said the location of the strike appears to have caused the computer to get stuck in an endless loop.
While previous rovers experienced many so-called "anomalies" during the early part of their treks, the much larger and more complex Curiosity has been almost trouble-free since its dramatic, pinpoint landing last August. (Related: Psychological Challenges of Manned Mars Mission.)
That changed Wednesday when the spacecraft stopped sending recorded data back to Earth, though it did continue sending "current status" information.
The problem was sent to the Curiosity "anomaly team," which decided the computer swap was needed. The swap occurred around Thursday around Pacific Time.
"While we are resuming operations on the B-side, we are also working to determine the best way to restore the A-side as a viable backup," said Magdy Bareh, leader of the mission's anomaly resolution team and a JPL engineer.
After switching to the B computer—which was used during part of Curiosity's flight to Mars but has never been used on the surface—the rover went into "safe mode" and stopped almost all activities.
The vehicle is currently holding powder from the first rock ever drilled on Mars, and analysis of that precious content will now have to wait.
Even if the rover is fully operational again in a week, the amount of science it can perform is limited. That's because the sun comes between Mars and the Earth in early April, partially blocking the path for radio commands for an entire month.
The Curiosity team had planned to send back science data from Mars during that period-called "solar conjunction"-but had decided not to send up any commands. The team was concerned that the commands could be disrupted by the sun and consequently harm the rover computer.
In Memoriam: David S. McKay
Posted By Bruce Betts
2013/02/21 06:11 CST
Topics: obituary, Phobos and Shuttle LIFE
I am sad to report that NASA scientist David S. McKay passed away yesterday, Feb. 20, 2013 at age 77. I got to know David in his role as a Co-Investigator on The Planetary Society's Phobos LIFE (Living Interplanetary Flight Experiment) project. David was engaged early on in the project and was engaged particularly in recommendations of organisms to fly in space, and in suggestions for members of our science team. He was enthusiastic about science and a pleasure to work with. He had long been a friend of the Society prior to the LIFE experiment.
More broadly, David made significant contributions to planetary science over his long career, as discussed more below. He is most famous with the public for being the lead author on the 1996 paper that announced possible evidence for life in a Martian meteorite. There has been and continues to be considerable debate and research into that particular finding, but there is no doubt that that paper and those that followed helped spawn a more robust Mars program, helped direct the program's course more towards searching for past habitibility of Mars, and helped lead to increasing the profile and funding for astrobiology research at NASA. In addition, let us not forget that his contributions to planetary science were much broader as well, particularly his contributions to lunar studies in a 47 year career at NASA.
Below, I reproduce an email from Stephen Mackwell, the Director of the Lunar and Planetary Institute, which does a nice job of discussing David's career. Godspeed, David McKay.
David S. McKay, Chief Scientist for Astrobiology at the NASA Johnson Space Center, passed away on February 20, 2013. During the Apollo program, McKay gave the first men to walk on the Moon training in geology. In recent years, McKay was perhaps best known for being the first author of a scientific paper postulating past life on Mars on the basis of evidence in martian meteorite ALH 84001. This paper has become one of the most heavily cited papers in planetary science. The NASA Astrobiology Institute was founded partially as a result of community interest in this paper and related topics.

As a graduate student in geology at Rice University, McKay was present at John F. Kennedy's speech in 1962 announcing the goal of landing a man on the Moon within the decade. Kennedy's speech inspired his interest in helping to train the Apollo astronauts in geology. He was a chief trainer for Neil Armstrong and Buzz Aldrin during their last geology field trip in West Texas. On July 20, 1969, McKay was the only geologist present in the Apollo Mission Control Room in Houston when Armstrong and Aldrin walked on the Moon.

McKay studied lunar dust since the return of the first Apollo 11 samples in 1969, and has contributed over 200 publications on this topic. As a result of this effort, McKay contributed major discoveries, including the source of vapor deposition on lunar soil grains, the formation of nanophase iron globules on lunar soil grains, the processes on the Moon that contribute to grain size distribution, and insight into space weathering and the chemically activated nature of in situ lunar dust.

McKay was honored by the International Astronomical Union (IAU) by having an asteroid named after him in 2002. His IAU citation mentions his years of work on lunar samples as well as the positive effect his research on martian meteorites has had on planetary research. McKay was also a recipient of the Outstanding Graduate Student Award at Rice University, the NASA Superior Achievement Award for Lunar Science Contributions; the Laurels Award from Aviation Week and Space Technology, the NASA Exceptional Scientific Achievement Medal, and the Distinguished Texas Scientist Award from the Texas Academy of Science.

McKay was with NASA for more than 47 years, and made substantial contributions to science during his career. He will be missed.


NASA Rover Confirms First Drilled Mars Rock Sample
02.20.13
This image from NASA's Curiosity rover shows the first sample of powdered rock extracted by the rover's drill. Image credit: NASA/JPL-Caltech/MSSS › Full image and caption › Latest images › Gallery › Videos
This image from the Mars Hand Lens Imager (MAHLI) on NASA's Mars rover Curiosity shows details of rock texture and color in an area where the rover's Dust Removal Tool (DRT) brushed away dust that was on the rock. Image credit: NASA/JPL-Caltech/MSSS/Honeybee Robotics/LANL/CNES
› Full image and caption


This full-resolution image from NASA's Curiosity shows the turret of tools at the end of the rover's extended robotic arm on Aug. 20, 2012. Image credit: NASA/JPL-Caltech
› Full image and caption


This image shows the location of the 150-micrometer sieve screen on NASA's Mars rover Curiosity, a device used to remove larger particles from samples before delivery to science instruments. Image credit: NASA/JPL-Caltech/MSSS
› Full image and caption


PASADENA, Calif. -- NASA's Mars rover Curiosity has relayed new images that confirm it has successfully obtained the first sample ever collected from the interior of a rock on another planet. No rover has ever drilled into a rock beyond Earth and collected a sample from its interior.
Transfer of the powdered-rock sample into an open scoop was visible for the first time in images received Wednesday at NASA's Jet Propulsion Laboratory in Pasadena, Calif.
"Seeing the powder from the drill in the scoop allows us to verify for the first time the drill collected a sample as it bore into the rock," said JPL's Scott McCloskey, drill systems engineer for Curiosity. "Many of us have been working toward this day for years. Getting final confirmation of successful drilling is incredibly gratifying. For the sampling team, this is the equivalent of the landing team going crazy after the successful touchdown."
The drill on Curiosity's robotic arm took in the powder as it bored a 2.5-inch (6.4-centimeter) hole into a target on flat Martian bedrock on Feb. 8. The rover team plans to have Curiosity sieve the sample and deliver portions of it to analytical instruments inside the rover.
The scoop now holding the precious sample is part of Curiosity's Collection and Handling for In-Situ Martian Rock Analysis (CHIMRA) device. During the next steps of processing, the powder will be enclosed inside CHIMRA and shaken once or twice over a sieve that screens out particles larger than 0.006 inch (150 microns) across.
Small portions of the sieved sample later will be delivered through inlet ports on top of the rover deck into the Chemistry and Mineralogy (CheMin) instrument and Sample Analysis at Mars (SAM) instrument.
In response to information gained during testing at JPL, the processing and delivery plan has been adjusted to reduce use of mechanical vibration. The 150-micron screen in one of the two test versions of CHIMRA became partially detached after extensive use, although it remained usable. The team has added precautions for use of Curiosity's sampling system while continuing to study the cause and ramifications of the separation.
The sample comes from a fine-grained, veiny sedimentary rock called "John Klein," named in memory of a Mars Science Laboratory deputy project manager who died in 2011. The rock was selected for the first sample drilling because it may hold evidence of wet environmental conditions long ago. The rover's laboratory analysis of the powder may provide information about those conditions.
NASA's Mars Science Laboratory Project is using the Curiosity rover with its 10 science instruments to investigate whether an area within Mars' Gale Crater ever has offered an environment favorable for microbial life. JPL, a division of the California Institute of Technology, Pasadena, manages the project for NASA's Science Mission Directorate in Washington.
An image of the drill's rock powder held in the scoop is online at: http://www.nasa.gov/mission_pages/msl/multimedia/pia16729.html.
For more about the mission, visit: http://www.nasa.gov/msl .
You can follow the mission on Facebook and Twitter at: http://www.facebook.com/marscuriosity and http://www.twitter.com/marscuriosity .
Forget Mars, Researchers Want to Explore Europa for Signs of Life
by Brandon Russell | February 18, 2013
<:article jquery183031820400504554824="44"><:header>
While Curiosity continues to comb Mars for life, scientists are actively sketching out plans to explore other potentially habitable regions. And on the list, much closer than that so-called Earth-like planet that's 44 light years away, is the moon Europa, which researchers for years have considered a leading candidate for life after it was discovered the surface is composed of water and ice.
The moon, which is the sixth closest to the planet Jupiter, is the "most promising in terms of habitability," according to Robert Pappalardo, a planetary scientist at JPL. It's not exactly a new sentiment, but with such emphasis lately on discovering the potential for alien life, Pappalardo sees Europa as an intriguing spot to explore.
According to io9, reddish oxidants on the moon's icy surface—you can see the satellite takes on a peculiar color palette—is often a sign of organic materials.
The reason researchers have so anxiously turned their gaze to Europa is because that life could currently be thriving on Jupiter's moon—that's the important part. So while Mars could have inhabited organisms, Europa might have some undiscovered ongoing ecosystem.
An exploration project known as "Clipper" has been developed— it could be launched by 2021—but funds are drought tight. If it does launch, however, the spacecraft is intended to orbit Europa and perform close flybys, and possibly even deploy a lander for closer inspection.
Until then, we'll have to be content with our own little planet, and the dangers that come with it.
The UN Braces for Stormy Space Weather

Feb. 13, 2013: Rewind to the late 1950s. The Soviet Union had just launched the first artificial satellite, Sputnik. The United States, caught short, was scrambling to catch up, kick-starting a Cold War space race that would last for decades. Space was up for grabs, and it seemed like anything could happen.
The UN Committee on the Peaceful Uses of Outer Space (UNCOPUOS). Credit: UN Information Service
Into this void stepped the United Nations. In 1958, the General Assembly "recognizing the common interest of mankind in furthering the peaceful use of outer space ... and desiring to avoid the extension of present national rivalries into this new field...." established the Committee on the Peaceful Uses of Outer Space (COPUOS). COPUOS became a forum for development of laws and treaties governing space-related activities. Moreover, it set the stage for international cooperation on problems that no one nation could handle alone.
As the years went by, COPUOS membership ballooned from 18 to 74 nations, while items such as space debris, near-Earth asteroids, space-based disaster management, and global navigation were added to the committee's regular agenda. At each annual meeting in Vienna, Austria, COPUOS members confer about these issues, which present some key challenge or peril to the whole planet.
This year, a new item is on the agenda: space weather.
"This is a significant development," says Lika Guhathakurta of NASA Headquarters in Washington. "By adding space weather to the regular agenda of the COPUOS Science and Technical Subcommittee, the UN is recognizing solar activity as a concern on par with orbital debris and close-approaching asteroids."
Space weather is the outer-space equivalent of weather on Earth. Instead of wind, rain and snow, however, space has radiation storms, the solar wind, flares and coronal mass ejections. The source of space weather is the sun, and although solar storms are launched 93 million miles from Earth, they can make themselves felt on our planet.
"Strong solar storms can knock out power, disable satellites, and scramble GPS," says Guhathakurta. "It's a global problem made worse by increasing worldwide reliance on sensitive electronic technologies."
This week, members of the Science and Technical Subcommittee heard about some of the potential economic impacts of space weather. For instance, modern oil and gas drilling frequently involve directional drilling to tap oil and gas reservoirs deep in the Earth. This drilling technique depends on accurate positioning using global navigation systems. Drill heads could go awry, however, if the sun interferes with GPS reception. Solar energetic particles at the magnetic poles can force the re-routing of international airline flights resulting in delays and increased fuel consumption. Ground induced currents generated by magnetic storms can damage transformers and increase corrosion in critical energy pipelines.
Permanent damage to the Salem New Jersey Nuclear Plant GSU Transformer caused by the severe geomagnetic storm of March 13, 1989. Photos courtesy of PSE&G.
"Space weather is a significant natural hazard that requires global preparedness," says Prof. Hans Haubold of the UN Office for Outer Space Affairs. "This new agenda item links space science and space technology for the benefit of all humankind."
The elevation of space weather on COPUOS's agenda coincides with the 10th anniversary of the International Living With a Star Program on Feb. 14. The program is an ad hoc group of nations that got together in 2003 to lay the groundwork for worldwide cooperation in the study of space weather. The UN will help take their efforts to the next level.
A key problem that the UN can help solve is a gap--many gaps, actually--in storm coverage around our planet. When a solar storm sweeps past Earth, waves of ionization ripple through Earth's upper atmosphere, electric currents flow through the topsoil, and the whole planet's magnetic field begins to shake.
A NASA-funded study by the National Academy of Sciences lays out the economic consequences of severe space weather. More
"These are global phenomena," says Guhathakurta, "so we need to be able to monitor them all around the world."
Industrialized countries tend to have an abundance of monitoring stations. They can keep track of local magnetism, ground currents, and ionization, and provide the data to researchers. Developing countries are where the gaps are, particularly at low latitudes around Earth's magnetic equator. With assistance from the UN, researchers may be able to extend sensor networks into regions where it was once politically unfeasible.
Space weather might play a role in Earth's climate, too.
For example, the Maunder minimum, a 70-year period almost devoid of sunspots in the late 17th to early 18th century, coincided with prolonged, very cold winters in the northern hemisphere. Researchers are increasingly convinced that variations in solar activity have regional effects on climate and weather that pay no attention to national boundaries, and thus can only be studied in meaningful detail by international consortia.
"The new permanent agenda item of the Science and Technology Subcommittee is an important opportunity to harness the effort of all Members to ensure coordinated global action," comments Terry Onsager of the United States' National Oceanic and Atmospheric Administration (NOAA).
Now that space weather has been elevated to a permanent place on the COPUOS agenda, it will be a matter of regular conversation among UN diplomats, scientists and emergency planners. This is important because, while space is no longer up for grabs, it is still true that in the realm of space weather almost anything can happen.
Learn more about the Committee on Peaceful Uses of Outer Space at: http://www.oosa.unvienna.org/oosa/COPUOS/copuos.html
Don't you just luv the Brits!!!
Delightful Candor and Detail As Curiosity Prepares for Drilling
Curiosity's Drill Undergoes Day and Night Load Testing As Rover Metals "Shrink" Under The Stress of Freezing Nights
PASADENA, Calif. - NASA's Mars rover Curiosity has placed its drill onto a series of four locations on a Martian rock and pressed down on it with the rover's arm, in preparation for using the drill in coming days.
The rover carried out this "pre-load" testing on Mars yesterday (Jan. 27). The tests enable engineers to check whether the amount of force applied to the hardware matches predictions for what would result from the commanded motions.
The next step is an overnight pre-load test, to gain assurance that the large temperature change from day to night at the rover's location does not add excessively to stress on the arm while it is pressing on the drill. At Curiosity's work site in Gale Crater, air temperature plunges from about 32 degrees Fahrenheit (zero degrees Celsius) in the afternoon to minus 85 degrees Fahrenheit (minus 65 degrees Celsius) overnight. Over this temperature swing, this large rover's arm, chassis and mobility system grow and shrink by about a tenth of an inch (about 2.4 millimeters), a little more than the thickness of a U.S. quarter-dollar coin.
The rover team at NASA's Jet Propulsion Laboratory, Pasadena, Calif., sent the rover commands yesterday to begin the overnight pre-load test today (Monday).
"We don't plan on leaving the drill in a rock overnight once we start drilling, but in case that happens, it is important to know what to expect in terms of stress on the hardware," said JPL's Daniel Limonadi, the lead systems engineer for Curiosity's surface sampling and science system. "This test is done at lower pre-load values than we plan to use during drilling, to let us learn about the temperature effects without putting the hardware at risk."
Remaining preparatory steps will take at least the rest of this week. Some of these steps are hardware checks. Others will evaluate characteristics of the rock material at the selected drilling site on a patch of flat, veined rock called "John Klein."
Limonadi said, "We are proceeding with caution in the approach to Curiosity's first drilling. This is challenging. It will be the first time any robot has drilled into a rock to collect a sample on Mars."
An activity called the "drill-on-rock checkout" will use the hammering action of Curiosity's drill briefly, without rotation of the drill bit, for assurance that the back-and-forth percussion mechanism and associated control system are properly tuned for hitting a rock.
A subsequent activity called "mini-drill" is designed to produce a small ring of tailings -- powder resulting from drilling -- on the surface of the rock while penetrating less than eight-tenths of an inch (2 centimeters). This activity will not go deep enough to push rock powder into the drill's sample-gathering chamber. Limonadi said, "The purpose is to see whether the tailings are behaving the way we expect. Do they look like dry powder? That's what we want to confirm."
The rover team's activities this week are affected by the difference between Mars time and Earth time. To compensate for this, the team develops commands based on rover activities from two sols earlier. So, for example, the mini-drill activity cannot occur sooner than two sols after the drill-on-rock checkout.
Each Martian sol lasts about 40 minutes longer than a 24-hour Earth day. By mid-February, the afternoon at Gale Crater, when Curiosity transmits information about results from the sol, will again be falling early enough in the California day for the rover team to plan each sol based on the previous sol's results.
NASA's Mars Science Laboratory Project is using Curiosity to assess whether areas inside Gale Crater ever offered a habitable environment for microbes. JPL, a division of the California Institute of Technology in Pasadena, manages the project for NASA's Science Mission Directorate in Washington.
More about Curiosity is online at http://mars.jpl.nasa.gov/msl/.
NASA offers 2 weeks notice for largest, closest astroid ever heading to earth
"we have never seen an object this big get this close....." NASA
Jan. 28, 2013: Talk about a close shave. On Feb. 15th an asteroid about half the size of a football field will fly past Earth only 17,200 miles above our planet's surface. There's no danger of a collision, but the space rock, designated 2012 DA14, has NASA's attention.
"This is a record-setting close approach," says Don Yeomans of NASA's Near Earth Object Program at JPL. "Since regular sky surveys began in the 1990s, we've never seen an object this big get so close to Earth."
A new ScienceCast video previews the close flyby of asteroid 2012 DA.
Play it
Earth's neighborhood is littered with asteroids of all shapes and sizes, ranging from fragments smaller than beach balls to mountainous rocks many kilometers wide. Many of these objects hail from the asteroid belt, while others may be corpses of long-dead, burnt out comets. NASA's Near-Earth Object Program helps find and keep track of them, especially the ones that come close to our planet.
2012 DA14 is a fairly typical near-Earth asteroid. It measures some 50 meters wide, neither very large nor very small, and is probably made of stone, as opposed to metal or ice. Yeomans estimates that an asteroid like 2012 DA14 flies past Earth, on average, every 40 years, yet actually strikes our planet only every 1200 years or so.
The impact of a 50-meter asteroid is not cataclysmic--unless you happen to be underneath it. Yeomans points out that a similar-sized object formed the mile wide Meteor Crater in Arizona when it struck about 50,000 years ago. "That asteroid was made of iron," he says, "which made it an especially potent impactor." Also, in 1908, something about the size of 2012 DA14 exploded in the atmosphere above Siberia, leveling hundreds of square miles of forest. Researchers are still studying the "Tunguska Event" for clues to the impacting object.
"2012 DA14 will definitely not hit Earth," emphasizes Yeomans. "The orbit of the asteroid is known well enough to rule out an impact."
A schematic diagram of the Feb 15th flyby.
More
Even so, it will come interestingly close. NASA radars will be monitoring the space rock as it approaches Earth closer than many man-made satellites. Yeomans says the asteroid will thread the gap between low-Earth orbit, where the ISS and many Earth observation satellites are located, and the higher belt of geosynchronous satellites, which provide weather data and telecommunications.
"The odds of an impact with a satellite are extremely remote," he says. Almost nothing orbits where DA14 will pass the Earth.
NASA's Goldstone radar in the Mojave Desert is scheduled to ping 2012 DA14 almost every day from Feb. 16th through 20th. The echoes will not only pinpoint the orbit of the asteroid, allowing researchers to better predict future encounters, but also reveal physical characteristics such as size, spin, and reflectivity. A key outcome of the observing campaign will be a 3D radar map showing the space rock from all sides.
During the hours around closest approach, the asteroid will brighten until it resembles a star of 8th magnitude. Theoretically, that's an easy target for backyard telescopes. The problem, points out Yeomans, is speed. "The asteroid will be racing across the sky, moving almost a full degree (or twice the width of a full Moon) every minute. That's going to be hard to track." Only the most experienced amateur astronomers are likely to succeed.
Those who do might experience a tiny chill when they look at their images. That really was a close shave.
For more information about 2012 DA and other asteroids of interest, visit NASA's Near-Earth Object Program web site: http://neo.jpl.nasa.gov
Great New Insight from Adam Mann
Crazy Alien Weather: Lightning-Filled Rocket Dust Storms of Mars
Scientists have modeled the internal workings of lightning-filled "rocket dust storms" on Mars that rise at speeds 100 times faster than ordinary storms and inject dust high into the Martian atmosphere.
The Red Planet is a very dry and dusty place, with global storms that sometimes obscure the entire surface. Satellites orbiting Mars have seen persistent dust layers reaching very high altitudes, as much as 30 to 50 km above the ground, though scientists are at a loss to explain exactly how the dust got there.
Using a high-resolution model, researchers have shown that a thick blob-like dust pocket inside a storm may become heated by the sun, causing the surrounding atmosphere to warm quickly. Because hot air rises, these areas will shoot skyward super fast, much like a rocket launching into space, hence "rocket dust storms."
"The vertical transport was so strong we want to come up with a kind of spectacular name, to give an idea of the very powerful rise," said planetary scientist Aymeric Spiga from the Institut Pierre Simon Laplace in Paris, France, who is lead author on a paper describing the phenomena in the Journal of Geophysical Research: Planets on Jan. 14.
These speedily rising dust blobs can soar from near the surface to 30 or 40 km into the atmosphere in a matter of hours at speeds in excess of 10 meters per second (22 mph). This is far faster than the typical convection speeds in a dust storm of 0.1 meters per second (0.2 mph). Since the dust particles rub up against one another and create friction, the rocket dust storms may become charged with electrostatic forces, which could which could trigger fantastic lightning bolts.
Spiga and his team used detailed models of winds and dust on Mars to determine exactly how these rocket dust storms behave. Most previous models of Mars' climate simulate large-scale global dust storms with fairly coarse resolution and so have not noticed the rocket storms. The team seeded their model with data from a dust storm observed by the OMEGA instrument aboard ESA's Mars Express orbiting satellite and watched the rise of rocket storms.
Similar dust storms can't happen on Earth. This is mainly because Mars' atmosphere is about 100 times thinner than our own, meaning that it gets quickly and efficiently heated when dust particles absorb sunlight and then emit thermal radiation.
But a comparable phenomenon occurs in grey cumulonimbus thunderstorm clouds on Earth. The large accumulations of water particles in such clouds release latent heat, causing strong vertical motions and an extensive tall structure. Spiga's team has used this Earthly analogy in the rocket dust storm's more technical name, conio-cumulonimbus, from the Greek conious, which means dust.
"But I prefer to call them rocket dust storms," Spiga said. "Then everyone knows what I'm talking about."
Other researchers are impressed with the physical modeling done in the work. "I was a little surprised that such a small dust disturbance could remain intact over such long distances," said planetary atmospheres scientist Scot Rafkin from the Southwest Research Institute in Boulder, Colorado. The mechanism could help explain how long-lasting layers of dust climb so high in the Martian atmosphere, he says.
Because they appear to be relatively rare, it may take a while to track down more rocket dust storms. But Spiga is hopeful they will be found by orbiting satellites, which may even image the lightning flashes inside them.
Video: Spiga, Aymeric, et al. "Rocket dust storms and detached dust layers in the Martian atmosphere," JGR:Planets, DOI: 10.1002/jgre.20046
NASA Orbiter Observations Point to 'Dry Ice' Snowfall on Mars
Carbon-Dioxide Snowfall on Mars
Observations by NASA's Mars Reconnaissance Orbiter have detected carbon-dioxide snow clouds on Mars and evidence of carbon-dioxide snow falling to the surface.

PASADENA, Calif. -- NASA's Mars Reconnaissance Orbiter data have given scientists the clearest evidence yet of carbon-dioxide snowfalls on Mars. This reveals the only known example of carbon-dioxide snow falling anywhere in our solar system.
Frozen carbon dioxide, better known as "dry ice," requires temperatures of about minus 193 degrees Fahrenheit (minus 125 Celsius), which is much colder than needed for freezing water. Carbon-dioxide snow reminds scientists that although some parts of Mars may look quite Earth-like, the Red Planet is very different. The report is being published in the Journal of Geophysical Research.
"These are the first definitive detections of carbon-dioxide snow clouds," said the report's lead author, Paul Hayne of NASA's Jet Propulsion Laboratory in Pasadena, Calif. "We firmly establish the clouds are composed of carbon dioxide -- flakes of Martian air -- and they are thick enough to result in snowfall accumulation at the surface."
The snowfalls occurred from clouds around the Red Planet's south pole in winter. The presence of carbon-dioxide ice in Mars' seasonal and residual southern polar caps has been known for decades. Also, NASA's Phoenix Lander mission in 2008 observed falling water-ice snow on northern Mars.
Hayne and six co-authors analyzed data gained by looking at clouds straight overhead and sideways with the Mars Climate Sounder, one of six instruments on the Mars Reconnaissance Orbiter. This instrument records brightness in nine wavebands of visible and infrared light as a way to examine particles and gases in the Martian atmosphere. The analysis was conducted while Hayne was a post-doctoral fellow at the California Institute of Technology in Pasadena.
The data provide information about temperatures, particle sizes and their concentrations. The new analysis is based on data from observations in the south polar region during southern Mars winter in 2006-2007, identifying a tall carbon-dioxide cloud about 300 miles (500 kilometers) in diameter persisting over the pole and smaller, shorter-lived, lower-altitude carbon dioxide ice clouds at latitudes from 70 to 80 degrees south.
"One line of evidence for snow is that the carbon-dioxide ice particles in the clouds are large enough to fall to the ground during the lifespan of the clouds," co-author David Kass of JPL said. "Another comes from observations when the instrument is pointed toward the horizon, instead of down at the surface. The infrared spectra signature of the clouds viewed from this angle is clearly carbon-dioxide ice particles and they extend to the surface. By observing this way, the Mars Climate Sounder is able to distinguish the particles in the atmosphere from the dry ice on the surface."
Mars' south polar residual ice cap is the only place on the Red Planet where frozen carbon dioxide persists on the surface year-round. Just how the carbon dioxide from Mars' atmosphere gets deposited has been in question. It is unclear whether it occurs as snow or by freezing out at ground level as frost. These results show snowfall is especially vigorous on top of the residual cap.
"The finding of snowfall could mean that the type of deposition -- snow or frost -- is somehow linked to the year-to-year preservation of the residual cap," Hayne said.
JPL, a division of the California Institute of Technology in Pasadena, provided the Mars Climate Sounder instrument and manages the Mars Reconnaissance Orbiter Project for NASA's Science Mission Directorate in Washington.
For more information about the Mars Reconnaissance Orbiter, visit: http://www.nasa.gov/mro and http://mars.jpl.nasa.gov/mro .
Subsurface lakes could be Mars lifesource, new study suggests
By Amina Khan
January 21, 2013,
If Mars once contained life, it might have existed in watery oases far beneath the surface, according to a new study analyzing a deep Martian crater holding signs of an ancient lake.
The research, published online Sunday in the journal Nature Geoscience, examined the 57-mile-wide McLaughlin Crater, which at 1.4 miles deep may have been low enough to allow underground water to well up into its bowl.
Though Mars looks like a dry, dusty planet, scientists believe the planet once held enough water that it left signs of streambeds on the surface. If Mars also held organic molecules like carbon, nitrogen, hydrogen and oxygen, it could have held locations suitable for life. NASA's Curiosity rover, which landed Aug. 5, is on a mission to search Mt. Sharp in Gale Crater for just such habitable environments.
But perhaps a better place to look for microbial life would be beneath the surface, said study leader Joseph Michalski, a planetary scientist at the National History Museum in London.
"There are a lot of people who think up to half of life on Earth exists as microbes in the subsurface of the planet," Michalski pointed out.
Michalski's team analyzed data from the Mars Reconnaissance Orbiter, which revealed layers of rock at the crater's bottom rich in clays and carbonate – materials that form in the presence of water. The lake likely filled from the bottom, given that there don't appear to be channels funneling down into the crater. However, smaller channels within the crater end about 500 meters from the bottom, a sign of a past water line, a geological bathtub ring.
Many scientists think that the sulfates detected on the surface could be a sign of water welling up from beneath the ground. But Michalski's team argued that the sulfates could actually be indicative of a water-poor, highly acidic environment – hardly friendly to life as we know it.
Spots like McLaughlin Crater, on the other hand, are rich in clays and low in acidity — signs of a much more bio-friendly environment, he said. Such are the pockets where water (and perhaps life) could have existed, welling up from the beneath the dirt and leaving their mark on the surface, he said.
If there was a biosphere underneath the Martian terrain, the authors surmise, it would be in these rare spots of just-right conditions, rather than spread throughout the Red Planet's crust. Deep craters rich in clays, he added, would be the right places to start looking.
"It's perfectly reasonable," said Norman Pace, a biochemist at the University of Colorado who was not involved in the study. "The next step is getting samples."
Finding biological evidence on Mars, Michalski said, would help scientists on Earth who are trying to understand the origins of life. Earth has been through so much -- tectonic turmoil, erosion, recycling by later life on Earth -- that life's earliest history on our own planet is exceedingly difficult to trace.
Mayan Leap Year
By Rick Eyerdam
Let's hope the Mayans did not forget about leap year.
The most interesting and exciting events in recent solar system history will put on a sky- wide light show beginning this summer.
Let's hope the Mayans did not forget about leap year.
If all goes well the giant "recently discovered object known as comet ISON," will fly harmlessly within 1.2 million miles (1.9 million km) from the center of the sun on Nov. 28, 2013, or about 78 million miles from crashing to Earth, a brilliant near miss.
If the historic pattern continues, the predicted gigantic solar eruptions from Solar Cycle 24 that began in early 2011 will reach their predicted peak of activity in the summer of 2013, just a mere second in galactic time before ISON flies close by.
In any case, the 2013 solar storm is considered very important by the NASA scientists, engineers and geologists who will be trying to communicate with the Mars lander Curiosity this summer as it sends back its results from drilling and analyzing Martian soil for evidence of past Martian life.
The dimensions and the consequences of the potential convergence of ISON and the Solar Maximum have not been defined as yet.
If the worst possible thing happens, if ISON passes very near the Sun while the Sun is exploding with an X class coronal mass ejection, ISON – a giant rock larger than a mile long, covered with snow – will be struck by a nuclear blast at close range. It will be hit with millions of tons of super-heated plasma moving faster than a million-miles-a-second with the force of thousands of hydrogen bombs exploding at once.
If the worst possible thing happens and ISON is not blown to smithereens but instead is set off course or deflected toward earth, we might want to start checking to see if the Mayans forgot to add a leap year to their global recycling calendar that ended in December of 2012. Perhaps they were off a year.
Astronomer Donald Yeomans, head of NASA's Near Earth Object Program at the Jet Propulsion Laboratory in Pasadena, Calif., explains what will happen if all goes well. "As the comet approaches, heat from the sun will vaporize ices in its body, creating what could be a spectacular tail that is visible in Earth's night sky without telescopes or even binoculars from about October 2013 through January 2014."
Even without a blast from a Solar eruptions NASA predicts ISON will pass by Earth on Nov 21, missing by 0.845 AU (78.5 million miles) on it way in to missing the surface of the Sun by about 800,000 miles, and again on the way out on Dec 27 missing the Earth by 0.427 AU ( a mere 39.7 million miles).
Normal temperatures in the outer layer of the sun, known as the corona, typically vary around a few million Kelvins. As solar flares push through the corona, they heat its gas to anywhere from 10 to 20 million K, occasionally reaching as high as a hundred million K.
The biggest X-class flares are by far the largest explosions in the solar system and akin to a small super-nova. Magnetic loops of almost pure energy, tens of times the size of Earth leap up off the sun's surface when the sun's magnetic fields cross over each other and reconnect. In the biggest events, this reconnection process can produce as much energy as a billion hydrogen bombs.
Although X is the last letter, there have been Solar flares more than 10 times the power of an X1, so X-class flares can go higher than 9. The most powerful flare measured with modern methods was in 2003, during the last solar maximum, and it was so powerful that it overloaded the sensors measuring it. The sensors cut out at X28. This solar cycle has been predicted to exceed the 2003 events in magnitude.
But then NASA has been less than successful predicting the high points of Solar Cycle 24 which arrived much earlier than expected then fell asleep.
On August 9, 2011 at , the sun emitted an Earth-directed X6.9 flare, as measured by the NOAA GOES satellite.
On Feb. 13, 2012, while the Mars Science Laboratory was on its way to Mars, sunspot 1158 unleashed the strongest solar flare of the year, an M6.6-category X-ray irradiance magnitude blast. NASA's Solar Dynamics Observatory recorded an intense flash of extreme ultraviolet radiation.
.
According to the experts comet ISON is following a very similar path to the famous comet of 1680, which was bright enough to be visible in the middle of the day. It is following such a similar orbit that researchers theorize that they may both originate from the same fragmented parent body.
"Comet ISON could be the brightest comet seen in many generations – brighter even than the full moon," wrote British astronomer David Whitehouse.
And the experts add that ISON is not the only large, hard object that could be impacted by a Coronal Mass Ejection. "In 2013, Earth has two shots at a comet show. Comet Pan-STARRS is due to pass by the planet in March, eight months before ISON's arrival," they predict.
Mars Rover Curiosty finds warmer lifezone beneath the Martian surface.
John Grotzinger called it serendipity. And he was correct but no one asked him what the discovery meant.
Within ten feet on the Martain surface the ground temperature has changed. The data shows the mean temperature is lower and the low temperature is higher.
How can this happen without instrument failure?
Can it only be a change in the color of the surface strata?
Or can it be:
Ice in the soil at sufficient quantity to constrain the temperature variance that occurs a few feet away.
Water in the soil at sufficient quantity to constrain the temperature variance.

Geothermal activity.
A biological mat below the surfiace suffient to constrain temperature variance.
For planetary surface materials, thermal inertia is the key property controlling the diurnal and seasonal surface temperature variations and is typically dependent on the physical properties of near-surface geologic materials. In remote sensing applications, thermal inertia represents a complex combination of particle size, rock abundance, bedrock outcropping and the degree of induration. A rough approximation to thermal inertia is sometimes obtained from the amplitude of the diurnal temperature curve (i.e., maximum minus minimum surface temperature). The temperature of a material with low thermal inertia changes significantly during the day, while the temperature of a material with high thermal inertia does not change as drastically. Deriving and understanding the thermal inertia of the surface can help to recognize small-scale features of that surface. In conjunction with other data, thermal inertia can help to characterize surface materials and the geologic processes responsible for forming these materials.
01.15.2013
Curiosity's Traverse into Different Terrain
This image maps the traverse of NASA's Mars rover Curiosity from "Bradbury Landing" to "Yellowknife Bay," with
an inset documenting a change in the ground's thermal properties with arrival at a different type of terrain.

Between Sol (Martian day) 120 and Sol 121 of the mission on Mars (Dec. 7 and Dec. 8, 2012), Curiosity crossed over a terrain boundary into lighter-toned rocks that correspond to high thermal inertia values observed by NASA's Mars Odyssey orbiter.
The green dashed line marks the boundary between the terrain types. The inset graphs the range in ground temperature recorded each
day by the Rover Environmental Monitoring Station (REMS) on Curiosity. Note that the arrival onto the lighter-toned terrain corresponds with an abrupt shift in the range of daily ground temperatures to a consistently smaller spread in values. This independently signals the same transition seen from orbit, and marks the arrival at well-exposed, stratified bedrock.
Sol 121 (Dec. 8, 2012) marks the arrival at the Shaler Unit where scientists saw cross-bedding that is evidence of water flows. Sol 124 (Dec. 11, 2012) marks the arrival into an area called "Yellowknife Bay," where sulfate-filled veins and concretions were discovered in the Sheepbed Unit, along with much finer-grained sediments. The thin dashed line is based on Odyssey thermal inertia mapping in 2005 by Robin Fergason and co-authors.
The mapped area is within Gale Crater and north of the mountain
called Mount Sharp in the middle of the crater. After the first use of the drill, the rover's main science destination will be on the lower reaches of Mount Sharp. For broader-context images of the area, see PIA16064 and PIA16058.
The base image from the map is from the High Resolution Imaging Science Experiment Camera (HiRISE) in NASA's Mars Reconnaissance Orbiter.
NASA likely to drill first in John Klein Rock
PASADENA, Calif. -- NASA's Mars rover Curiosity is driving toward a flat rock called John Klein that offers pale veins that may hold clues to the wet history of the Red Planet.
Worried about the capabilities of the first-of-its-kind drill, the Mission managers are leaving the call of when and exactly where to drill to the engineers and not the geologists.
Curiosity landed inside Mars' Gale Crater five months ago to investigate whether the planet ever offered an environment favorable for microbial life, primarily a search for the water that has now become ubiquitous.
According to NASA, "If the rock meets rover engineers' approval when Curiosity rolls up to it in coming days, it will become the first to be drilled for a sample during the Mars Science Laboratory mission."
The drill cannot be directly controlled nor was there any apparatus built into the rover to hold the rock target still or prevent it from spinning or splintering while the impact drill does its thing.
"Drilling into a rock to collect a sample will be this mission's most challenging activity since the landing. It has never been done on Mars," said Mars Science Laboratory project manager Richard Cook of NASA's Jet Propulsion Laboratory in Pasadena, Calif. "The drill hardware interacts energetically with Martian material we don't control. We won't be surprised if some steps in the process don't go exactly as planned the first time through."
Curiosity will first drill into the target rock to gather powdered samples from inside the rock that will be used to "scrub the drill," then discarded. Once the engineers declare the drill operational the rover will drill and then transport the pellet-sized sample from the rock into one of several experiments to analyze its mineral and chemical composition. A test for hydrocarbon is also possible.
The area chosen for rock selection was nominated by Curiosity's Mast Camera (Mastcam) and other cameras because it revealed diverse unexpected features, including veins, nodules, cross-bedded layering, a lustrous pebble embedded in sandstone, and possibly some holes in the ground, according to NASA.
The rock chosen for drilling will be called "John Klein" in tribute to former Mars Science Laboratory deputy project manager John W. Klein, who died in 2011.
"John's leadership skill played a crucial role in making Curiosity a reality," said Cook.
The target is on flat-lying bedrock within a shallow depression called "Yellowknife Bay."
The terrain in this area differs from that of the landing site, a dry streambed and perfect microbial habitat about a third of a mile (about 500 meters) to the west. Curiosity's science team decided not to look for a drilling site at the streambed early in the mission and instead decided to look where orbital observations showed fractured ground that cools more slowly each night than nearby terrain types do.
"The orbital signal drew us here, but what we found when we arrived has been a great surprise," said Mars Science Laboratory project scientist John Grotzinger, of the California Institute of Technology in Pasadena. "This area had a different type of wet environment than the streambed where we landed, maybe a few different types of wet environments."
One line of evidence comes from inspection of light-toned veins with Curiosity's laser-pulsing Chemistry and Camera (ChemCam) instrument, which found elevated levels of calcium, sulfur and hydrogen.
"These veins are likely composed of hydrated calcium sulfate, such as bassinite or gypsum," said ChemCam team member Nicolas Mangold of the Laboratoire de Planétologie et Géodynamique de Nantes in France. "On Earth, forming veins like these requires water circulating in fractures."
Researchers have used the rover's Mars Hand Lens Imager (MAHLI) to examine sedimentary rocks in the area. Some are sandstone, with grains up to about peppercorn size. One grain has an interesting gleam and bud-like shape that have brought it Internet buzz as a "Martian flower." Other rocks nearby are siltstone, with grains finer than powdered sugar. These differ significantly from pebbly conglomerate rocks in the landing area.
"All of these are sedimentary rocks, telling us Mars had environments actively depositing material here," said MAHLI deputy principal investigator Aileen Yingst of the Planetary Science Institute in Tucson, Ariz. "The different grain sizes tell us about different transport conditions."
Meteorite carries ancient water from Mars
Rock is among the oldest known from the planet and matches findings from NASA rovers.
(actually, dating from 2.1 billion years ago, NWA 7034 is the second-oldest suspected Martian meteorite, )
· Ron Cowen
It may just look like your average rock, but in fact it's an extra-special delivery from the red planet. Laboratory analysis has revealed that a specimen bought from a Moroccan meteorite dealer in 2011 is the first sample of Martian origin that is similar to the water-rich rocks examined by NASA's rovers.
The meteorite, dubbed Northwest Africa (NWA) 7034, contains a concentration of water by weight about ten times higher than in any of the other 100 or so known Martian meteorites — those rare rocks that get ejected from the Martian surface into space when an asteroid hits the planet, and eventually find their way to Earth. It's also the only known Martian sample on Earth that hails from a critical period, about 2 billion years ago, when Mars is thought to have become colder and drier than it was originally.
Carl Agee of the University of New Mexico in Albuquerque and his colleagues report their findings from samples of the meteorite in Science online today1.
Water clues
"Agee and his collaborators have thrown open the door to a whole new part of Mars," says planetary scientist Munir Humayun at Florida State University in Tallahassee, who was not involved in the study. The meteorite, he adds, is "the first of a new class of Martian meteorites that provides more direct clues to the surface history of Mars."
Moreover, Humayun says, NWA 7034 may provide the only direct corroboration for the rovers' observations for some time to come, as the fate of a long-delayed mission to bring samples of Mars back to Earth is still uncertain.
Carl Agee
The elemental composition of the meteorite strongly resembles that of rocks examined in 2005 by NASA's Spirit rover at Gusev Crater2. Those rocks showed evidence of chemical alteration by interactions with liquid water, notes Agee. The composition of NWA 7034 also matches that of rocks studied by Curiosity, NASA's newest rover, as described in preliminary reports from members of that mission.
Missing link
Dating from 2.1 billion years ago, NWA 7034 is the second-oldest Martian meteorite, and provides a "missing link" in the planet's geological record, according to Agee. (The oldest prospective Martian meteorite, ALH 84001, is 4.5 billion years old, whereas all other Martian meteorites are 1.3 billion years old or younger.) Several lines of evidence indicate that parts of Mars were warmer and wetter, and therefore a possible haven for carbon-based life, some 4 billion years ago. The relatively high water content of NWA 7034, which could be as much as 0.6% by weight, suggests that "crustal or surface processes involving water may have lasted" well beyond the 4-billion-year mark, Agee adds.
Related stories
· Dreams of water on Mars evaporate
· Mars rover finds conditions 'more conducive to life'
That is not a surprise, given the map of hydrogen (a stand-in for water) generated by an instrument on the Mars Odyssey orbiting spacecraft and the presence of small amounts of water in younger Martian meteorites, notes Harry McSween at the University of Tennessee in Knoxville.
The meteorite is made of volcanic rock, and the presence of water in it suggests that crustal rocks on Mars interacted with surface water that was delivered by volcanic activity, near-surface reservoirs or by impacting comets, Agee says. But Jeffrey Taylor of the University of Hawaii in Honolulu says that whether that water content truly reveals an abundance of surface water on Mars 2.1 billion years ago awaits further study.
Journal name:
Nature
DOI:
doi:10.1038/nature.2013.12145
Soil 'cocktail' suggests Viking found life on Mars
USC (US) — Mathematical analysis of soil from Mars indicates there may be life on the planet.
In 1976, the National Aeronautical Space Agency launched the Viking program, sending space probes to Mars to determine whether there was life on the red planet. Thirty-six years later the debate about life on Mars is not over.
Joseph D. Miller, associate professor of cell and neurobiology at the Keck School of Medicine at the University of Southern California (USC) and colleagues conducted an independent analysis of the labeled release (LR) data from the Viking 1 and 2.
Straight from the Source
The researchers applied mathematical measures of complexity to the data, which indicate a high degree of order that is more characteristic of a biological rather than a non-biological, purely physical process.
The research was published online in the International Journal of Aeronautical and Space Sciences.
In the experiments, the Viking landers dropped on Mars about 4,000 miles apart, scooped up soil samples and applied a radiolabeled nutrient cocktail to the soil. If microbes were present in the soil, they would likely metabolize the nutrient resulting in the release of CO2 or possibly methane (CH4).
The active experiments did indicate metabolism, and control experiments on sterilized soil samples produced little or no gas release. But due to lack of support from two other Viking experiments that did not find any organic molecules in the soil, most scientists believed the data had been compromised by a non-biological oxidizing property of Mars soil.
Miller and colleagues did not accept this interpretation, and over the last six years applied measures of mathematical complexity to the data from active and control Viking data, as well as terrestrial biological and non-biological data sets.
Not only did the active Viking LR experiments exhibit higher complexity than the control experiments, but the active experiments clearly sorted with terrestrial biological data series whereas the Viking LR control data sorted with known terrestrial non-biological data.
"To paraphrase an old saying, if it looks like a microbe and acts like a microbe, then it probably is a microbe," says Miller, who is a neuropharmacologist, but also studies circadian rhythms at USC and is an author on the research.
"The presence of circadian rhythmicity and a high degree of mathematical complexity or order in the LR data most likely means Viking discovered microbial life on Mars over 35 years ago."
Without a protective atmosphere similar to Earth's, life on Mars is more likely to exist underground, where it is safe from ultraviolet radiation, Miller said. If life does exist on Mars, the knowledge could unlock secrets of life here on Earth.
"We have only one example of life in the universe — we are it," says Miller. "Finding another example of life somewhere else could be the biggest step forward in biology since the delineation of the genetic code by Crick and Watson."
Though the research offers tantalizing proof, much more is needed. Miller thinks it's time to send a probe back to Mars to make the definitive determination.
"This research is not a smoking gun," he says. "A smoking gun would be taking a picture under a microscope of Mars bacteria. But the case is getting stronger. We know there is sub-surface water ice, and perhaps liquid water in regions that seem to release methane gas into the atmosphere.
"Water is necessary for life and methane is a potential signature of biology. There's enough circumstantial evidence that strongly suggests NASA or the European Space Agency should consider explicit life detection experiments on Mars."
Joining Miller in the new research is Viking principal investigator Gilbert V. Levin, adjunct professor, Arizona State University, Giorgio Bianciardi, researcher in human pathology and oncology at University of Siena, Italy, and Patricia A. Straat, co-investigator on the Viking LR studies (retired).
More news from USC: http://uscnews.usc.edu/
Scientists show that microbes from Earth can survive conditions found on Mars
George Dvorsky
Astrobiologists have been worried for quite some time now that the Martian surface has been conta